By S. Jolene Hui, LCSW, Director of Membership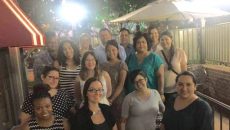 On Friday, July 22, 2016 Region G's San Fernando Valley Local Unit had their annual networking mixer and elections night at Claim Jumper in Burbank.
Students and professionals networked, enjoyed food and drinks, and voted on new leaders for the unit. Leaders for the unit are elected annually and assist with the planning of events throughout the year as well as serving as NASW-CA local contacts in the San Fernando Valley.
Results were as follows: Nadia Grissom and Marina Johnson-Rhoades are the new unit co-chairs, Kyla Fallin is Secretary, Jackie Zachary is Treasurer, Miriam Quintanilla will be the Communications contact, Carmen Gonzalez is School Liaison, and Shauna Riley and Keyla Decos are Members at Large.
The unit typically hosts a number of networking and CE events each year and most recently hosted a panel at California State University, Northridge on private practice entitled, "I'm Licensed; Now What?" Other events include a holiday party and a social work month awards event, which has previously been at Flappers Comedy Club in Burbank in March.
For more information and to keep up with the unit, please visit their Facebook group at: https://www.facebook.com/groups/nasw.sfvlu/
Jolene Hui, LCSW, is NASW-CA's Director of Membership and can be reached at jhui@naswca.org.