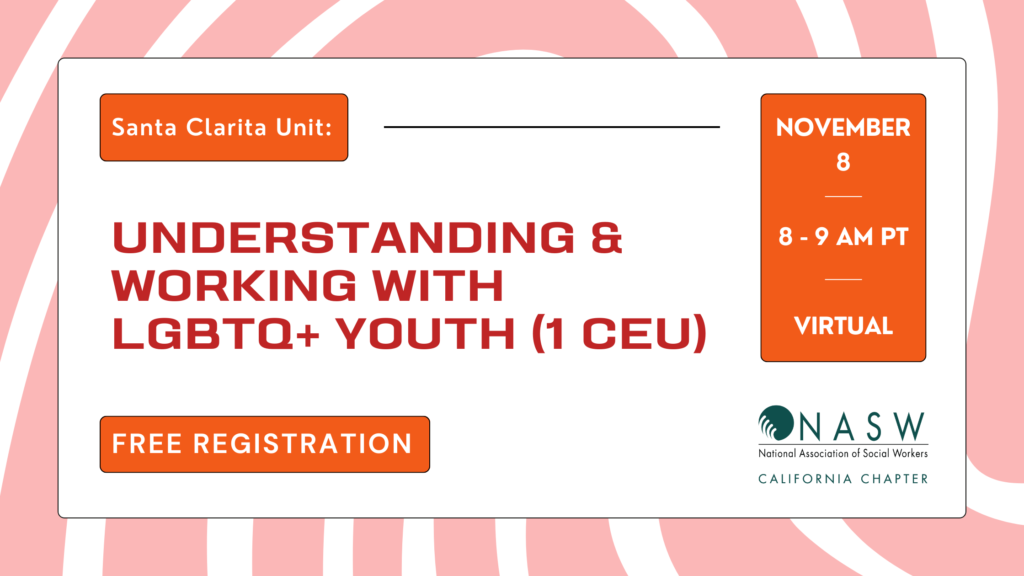 Santa Clarita NASW-CA Unit is excited to announce in collaboration with the Hart District Therapeutic Counseling Department, a free virtual CEU presentation with special guest speaker, Roberta Rubin, PhD, and Tracie Tewksbury, LMFT, on Wednesday, November 8, 2023, from 8 to 9am. Dr. Rubin and Ms. Tewksbury will be presenting on working with LGBTQ+ youth in the school setting. This will include discussion on how to work with parents, best practices for educating and collaborating with school staff, and supporting the student in learning to access their support system. This free event is reserved for 50 registrants.
Learning objectives:
Learn a new approach for collaborating with parents, educating the school staff, and providing clinical interventions in sessions when working LGBTQ+ youth
About the Presenters:
Dr. Rubin has a background of working in community mental health as a clinician, supervisor, and assistant director. She also led the psychological assessment department for a community mental health agency. She has been working most recently for many years as a licensed anchor within the Hart School District as both a clinician and supervisor.
Tracie Tewksbury, LMFT, is also a licensed substance abuse counselor. She has also worked in community mental health but most recently she has worked many years as a clinician at a small school for students with Emotional Disturbance. She also has a private practice on the side where she is both a clinician and a supervisor.
Please contact Stephanie Cotcher, LCSW at santaclaritanasw@gmail.com with any questions about the event.
CEU Provider Statement: Course meets the qualifications for 1 hour of continuing education credit for MFTs, LPCCs, LEPs and/or LCSWs as required by the California Board of Behavioral Sciences, provided by NASW-CA.
Chapter Event Policy: NASW-CA is dedicated to providing a harassment-free experience for everyone, regardless of gender, gender identity and expression, age, sexual orientation, disability, physical appearance, body size, race, ethnicity, religion (or lack thereof), nationality, level of experience or technology choices. We do not tolerate harassment of program participants in any form, nor do we tolerate behavior that would reasonably lead to another participant being made to feel unsafe, insecure, or frightened for their physical or emotional well-being. All communication should be appropriate for a professional audience. Program participants, vendors, and stakeholders, violating these rules may be expelled from the program without a refund at the discretion of the conference organizers. By registering, you are agreeing to follow the code of conduct at NASW-CA virtual events.
NASW-CA Refund Policy: To receive a refund, requests must be emailed to naswca@socialworkers.org at least one (1) week prior to the event date. No refunds granted after the event, no exceptions. This policy also applies to group registrants. The refund for group registrations will go directly to the original payer of the registration fee. Refunds may take up to 10 days to process. If attendees pay with a credit card, the refund will be made to the same card. If attendees pay with a check, the refund will be made by check to the person or organization that originally paid for the registration.