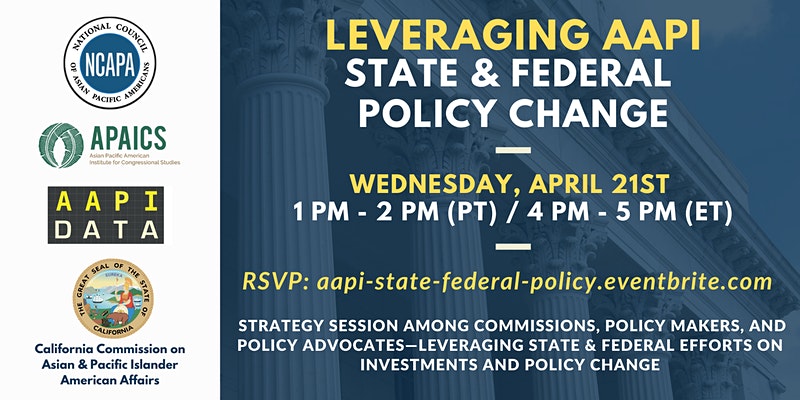 Public attention and policy responses to the tragic murders in Atlanta and other hate incidents have demonstrated the resilience and civic power of community. However, many AAPI communities still struggle to navigate the health and economic impacts of COVID-19. There is a pressing need to bridge policy gaps and missed connections.
It is time to develop and move a joint policy agenda that connects federal, state, and local work so that victories at any level builds momentum for all.
Join us on Wednesday, April 21 at 4pm ET / 1pm PT, as we bring together policy leaders, policy advocates, and commissioners from state and federal levels to jointly strategize on how we can best SUPPORT and LEVERAGE each other's efforts in this critical time.
Important priority areas include health equity, economic relief, data equity, language access, and investments in community organizations.
WHEN: Wednesday April 21, 4pm ET / 1pm PT
WHO: Commissioners, legislators, government agencies, and policy advocates from state and federal levels
RSVP: https://aapi-state-federal-policy.eventbrite.com
This is a non-partisan event sponsored by the National Council of Asian Pacific Americans (NCAPA), Asian Pacific American Institute for Congressional Studies (APAICS), AAPI Data, and the California Commission on Asian & Pacific Islander American Affairs