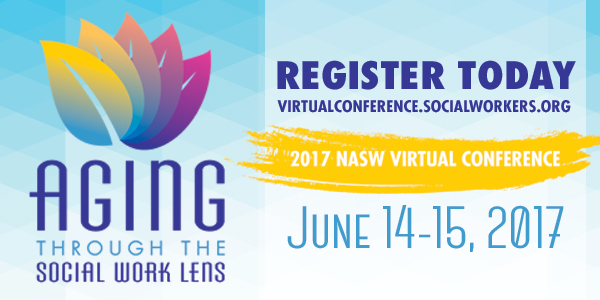 NASW is hosting the 2017 NASW Virtual Conference on June 14-15, 2017.
The focus will be on Aging-related issues with the theme of "Aging Through the Social Work Lens."
While we have hosted live-stream events in the past, including portions of last year's National Conference, this is the first time where the program has been constructed solely for a virtual audience. The event will include components typically associated with a site-based conference, including plenary sessions, breakout sessions, networking (through a chat feature), and an exhibit hall. Participants will be able to earn up to 8 CEUs, including essential Ethics Credits.
Here is a link to the promotional toolkit to help support your efforts:
Here are some additional talking points on the conference:
Continuing Education Credits
o    Up to 8 CEUs available (including essential Ethics CEUs)
Unique Professional Development Workshops
o   4 Plenary Sessions and 8 Breakout Sessions that will focus on best practices, policies, and research findings that incorporate aging through assessment, HIV/AIDS, interdisciplinary collaboration, the LGBTQ landscape, palliative care, trauma-informed services, self-neglect, mental and behavioral health, and social work in healthcare. You can view the full agenda here.
o   Virtual Chat Feature—chat with attendees from across the nation during the live event.
o   Virtual Exhibit Hall—explore the latest social work-related products and services and meet with exhibitors.
 For additional information, please visit the Virtual Conference website at https://virtualconference.socialworkers.org/