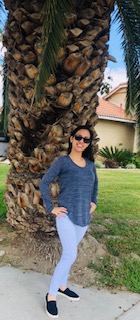 Rebecca J. Chavez, MSW Candidate 2019, California State University, Long Beach
When did your social work career start?
My social work career started in 2009, when I received an opportunity to be a youth advocate at Latino Family Center for teen moms. I was a mentor to young females who were in distress about their families and lives. I helped over 25 young women understand the importance of continuing their education with hopes they would graduate with a high school diploma.
What does the scholarship award mean to you?
It means an opportunity to be an example and a positive role model to represent my community. This scholarship has also helped me with the healing of my family. I see a difference in the lives of my family—especially my 12-year-old son. Since I began my Masters in social work, I have learned the importance of the NASW Code of Ethics, and the financial backing of NASW helps me feel part of something greater than me.
Are there any personal/professional accomplishments you would like to share?
Learning who I am and what my identity means to me is an accomplishment. To know who I am and to be the best version of myself makes me a great social worker.
What goals do you have for your future in social work?
My current goal is to begin working in the mental health setting with the Native American Community in Los Angeles County. My long-term goal is to work with politicians to help change legislature in California.
Any other comments?
Thank you to the NASW-CA Birdwoman Scholarship for this opportunity
and your interest in my accomplishment and goals.
The Birdwoman Scholarship is a monetary grant awarded to Native American/Native Alaskan master's or bachelor's social work degree candidates in California. Birdwoman Scholarship recipients in the past have worked or volunteered in both public and nonprofit agency settings.
Interested in applying for next year?
Applicants must be a member of NASW or join NASW to apply.
Graduate and undergraduate students must be enrolled in a Council on Social Work Education (CSWE) accredited school of social work in California.
If applying as an undergraduate, you must be in your senior year with a declared social work major.
If applying as a graduate student, you must be enrolled or accepted into a MSW program starting in the fall.
Previous scholarship recipients are welcome to apply again with the understanding that applicants with no history of receiving this scholarship will have priority.
Application Deadline: October 31, 2019
Please apply here: http://www.naswca.org/?page=NativeAmericanApp
Email all attachments or inquiries to membership@naswca.org
To become an NASW member: https://www.socialworkers.org/join/?WebsiteKey=b350ee4f-61b2-422f-88e1-7ee5f718de56