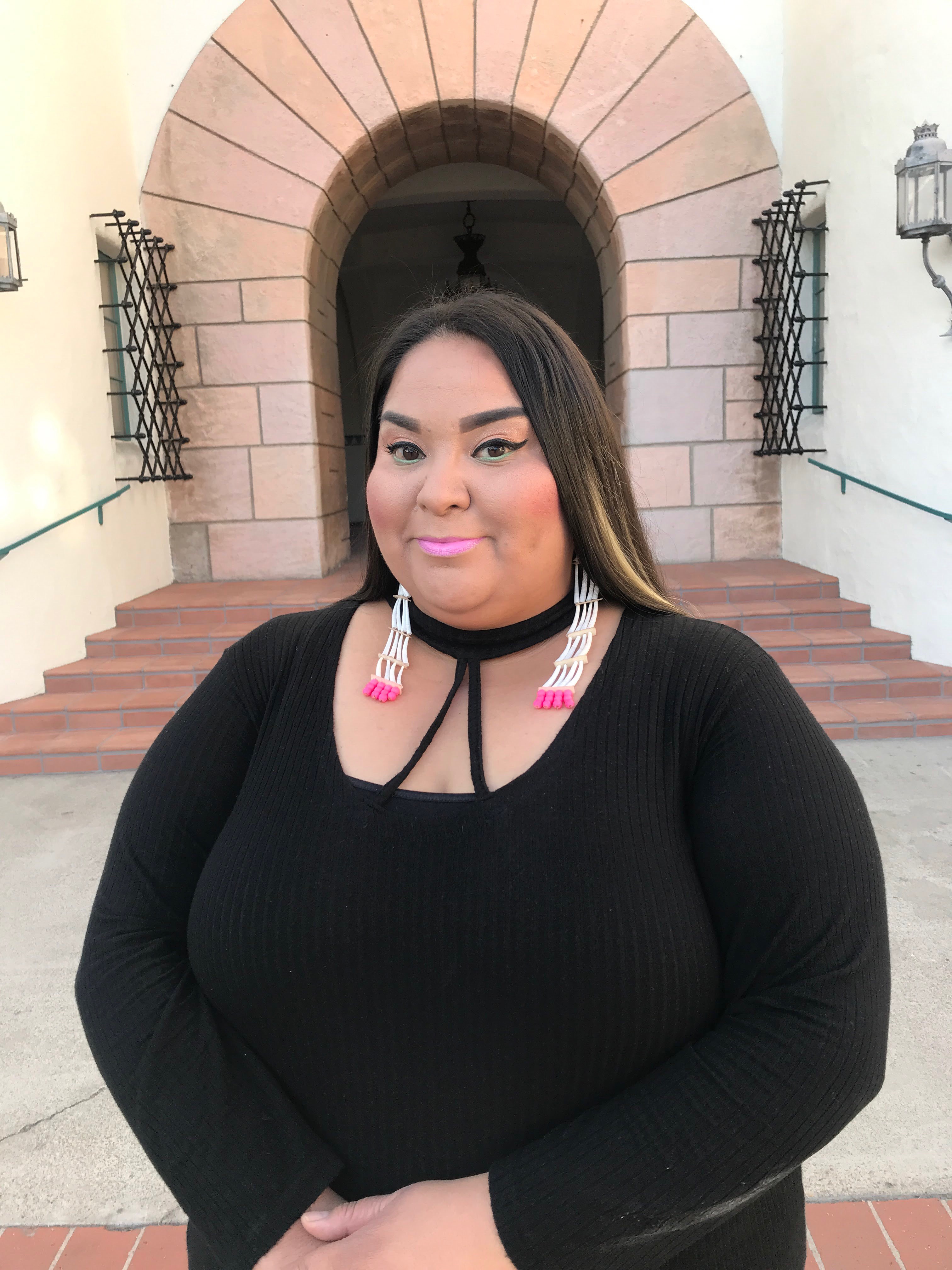 Shurene Premo, BSW Candidate 2019, San Diego University
Haganee Mum! Ne Naneehaa Shurene Premo, Ne Toka Badi Nythe. Hello everyone!
My name is Shurene Premo, and I am from Duck Valley, Nevada. I come from the Great Basin Territory and I carry the Tosa Wihi (White Knife) clan in my bloodline. I am representing the great Newe-Numa (Shoshone Paiute) Nation.
I first want to thank you for this opportunity. I am a double major in social work and American Indian Studies (AIS).
My social services career started when I made the best decision of my life. On September 15, 2011 I decided to clean up my life and walk in Wellbriety on this beautiful Red Road. Next, in January 2012 I was enrolled in community college at Cuyamaca College. I have been in school ever since. I climbed the ladder from the very bottom.
Since then, I have met so many beautiful people in the social work field as well as Native Americans striving for success. It has been an honor working in Indian Country every summer with my own Tribal Nation, as well as all of the people I have met in my social work internships and at school. It has been a pure joy being in school and learning how to help our people heal.
Presently, I am working towards my Bachelor's degree in social work, and along this educational path, I will also be gaining my hours as a certified drug and alcohol treatment counselor. The decision for the substance use certification is because I recognize that nearly all child removal on my reservation and in Indian Country are related to substance use. Due to this realization, I chose my undergraduate social work internship at an outpatient treatment facility at Stepping Stone Rehabilitation center for the LGBTQ+ community. I am gaining invaluable experience in working with people in early recovery.
Furthermore, this is the first time I am working with the LGBTQ+ community, and I have vastly expanded my cultural awareness, humility, and ability to work with diverse populations. Along with my experience with ICWA and Tribal social work for the past five summers in Duck Valley, Nevada on my original homelands, I also worked summer of 2018 part-time with our Behavioral Health Department as a prevention specialist where I assisted in educating our community on topics such as historical trauma, intergenerational trauma, suicide, alcohol & drug abstinence, and advocating healing for our community through our Indigenous teachings.
Along with my process of obtaining degrees, I will continue to assist my tribe with seeking funding to devote a treatment center. The treatment center will work with those suffering from substance use disorders as well as trauma, or mental illness. The program will also use traditional healing aspects as well as Indigenous customs. When I return home, I will be armed with the knowledge of policy and practice to not only have the ability to supervise both Tribal social workers and alcohol and drug centers all under the larger umbrella of historical healing trauma among my people!
I would like to thank the NASW Birdwoman Scholarship for being a part of my college career and success thus far. Receiving this scholarship reminds me that I am on the right path to manifesting the job of my dreams, which is helping people as well as Native communities. Although I am always taught to stay humble, I am very honored to carry this scholarship as I have worked very hard with the help of family, my Native communities, and all my support from my mentors, as well as school family. Receiving this scholarship shows me that my hard work is being noticed. There is not a doubt in my mind that I won't do everything that I have visualized and expressed.
My heart is in the right place and my determination is resilient. Thank you to the California NASW chapter for all of your support! I hope I will make you all proud! Oose!
The Birdwoman Scholarship is a monetary grant awarded to Native American/Native Alaskan master's or bachelor's social work degree candidates in California. Birdwoman Scholarship recipients in the past have worked or volunteered in both public and nonprofit agency settings.
Interested in applying for next year?
Applicants must be a member of NASW or join NASW to apply.
Graduate and undergraduate students must be enrolled in a Council on Social Work Education (CSWE) accredited school of social work in California.
If applying as an undergraduate, you must be in your senior year with a declared social work major.
If applying as a graduate student, you must be enrolled or accepted into a MSW program starting in the fall.
Previous scholarship recipients are welcome to apply again with the understanding that applicants with no history of receiving this scholarship will have priority.
Application Deadline: October 31, 2019
Please apply here: http://www.naswca.org/?page=NativeAmericanApp
Email all attachments or inquiries to membership@naswca.org
To become an NASW member: https://www.socialworkers.org/join/?WebsiteKey=b350ee4f-61b2-422f-88e1-7ee5f718de56