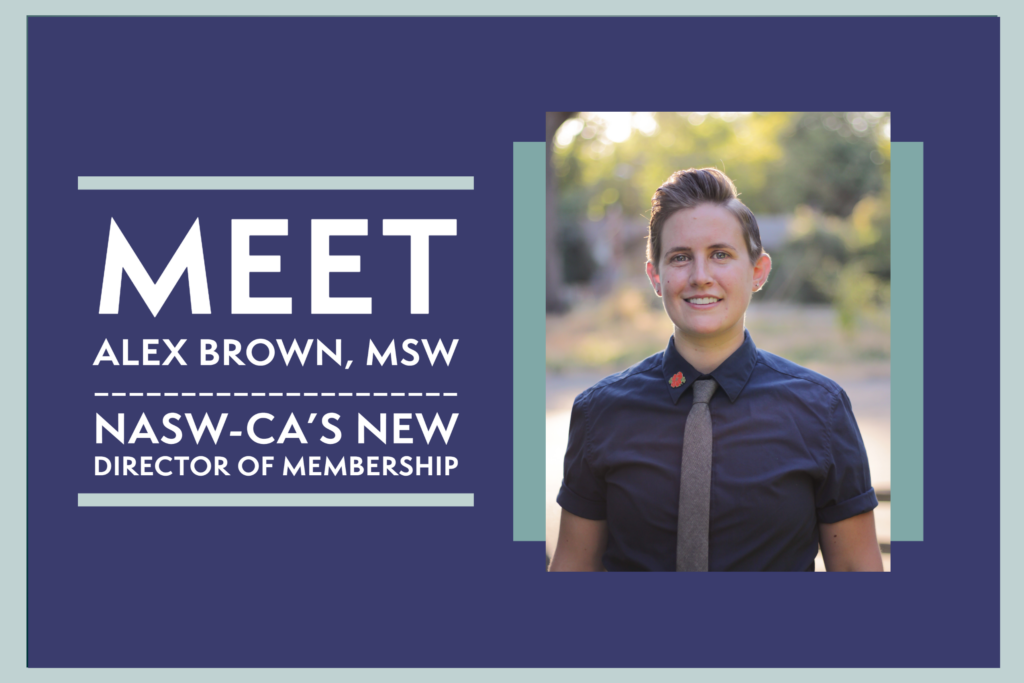 Alex Brown (she/her/they/them) was recently named Director of Membership & Communications for NASW-California Chapter! We would like to give a warm welcome to Alex and introduce you to them! Alex will start her position this Monday, December 20, 2021.
Alex's career has moved through the worlds of micro, mezzo, and macro social work practice, then blended with marketing, communications, and policy. She graduated with her Master's in Social Work from California State University, Chico, and spent several years working as an advocate and prevention educator in the domestic field for nonprofits and in higher education. In 2017, using her community organizing and program development background as a foundation, she launched successful marketing and communications consulting business specializing in nonprofits and social change efforts. She has worked with social service providers, arts organizations, educational institutions, candidates for elected office, and local businesses to share their missions and stories with the world and help build stronger connections to the communities they serve.
In 2018, Alex ran for and was elected to the Chico City Council, serving as the Vice Mayor from 2018-2020. She is passionate about climate action policy, housing justice, youth engagement in government, and uplifting the work of social service providers as key to addressing local issues.
While social work values have always been the lens Alex applies to her marketing work and policymaking role, she is ready to re-center social work and social workers as part of her new position with NASW-CA. She looks forward to continuing the good work of supporting social workers across the state in building capacity as leaders and change-makers in the field, and telling our story with impact.
You can reach Alex via email at abrown.naswca@socialworkers.org.