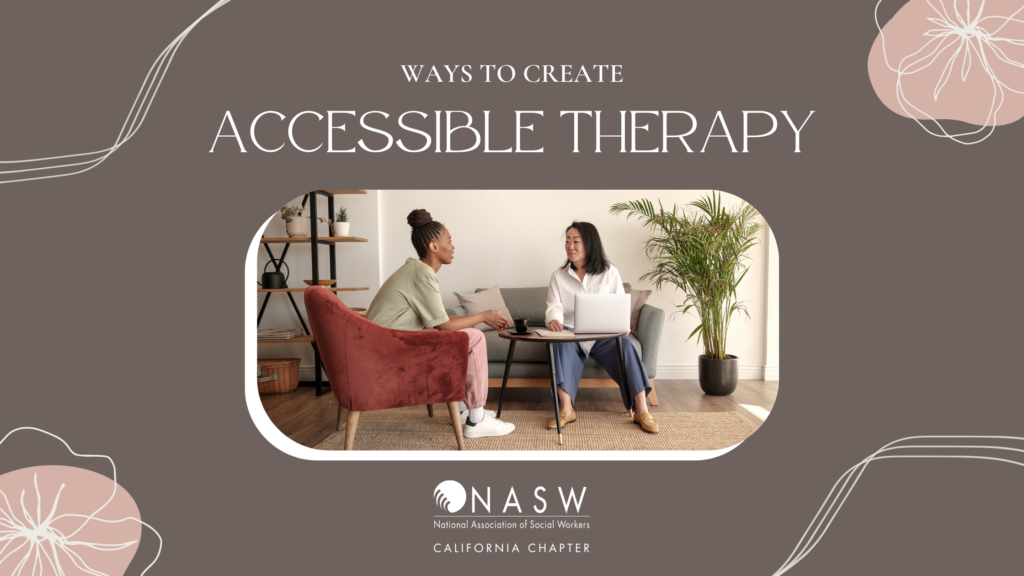 The process of seeking therapy or counseling can be challenging for folks. On top of that, people with marginalized identities are challenged with finding the right therapist that is accessible and inclusive. NASW-CA believes that people deserve equal access to responsive care. Here are a few ways to create accessible therapy for people with disabilities.
Make sure people using mobility aids can access your hallways, bathrooms, and doorways.

This includes people who use walkers, wheelchairs, canes, and crutches can navigate your office easily with handrails and ramps.
Stick to basic pieces of furniture and avoid cluttering your space.

Make sure signs relevant to your practice includes Braille .

Be sure to offer Braille documents or larger printed documents as well.

If your client has speech or hearing impairments, ask them what is the best way to communicate.

Ex. Sign language interpreter, writing notes, electronic devices.

If your client experiences sensory overload, reduce unnecessary stimuli.

Keep your hand soap unscented.
Minimize scented air fresheners, incense, and candles.
Avoid wearing perfume or strong scented lotion to your office.
Avoid playing any background music that may be too stimulating.

Ask your clients what works best for them instead of assuming. Communication is key!
It's important to have accommodations, and these are a few options to ensure that your office space is accessible and welcoming to everyone.
Sources:
GoodTherapy's How to Make Your Office More Accessible for People with Disabilities
Bowling Green State University's Creating Accessible Environments for People with Disabilities