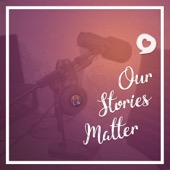 Featuring diverse storytellers, Trauma Informed LA's new podcast furthers community healing and restoration. Access the podcast at https://traumainformedla.org/subscribe. 
Los Angeles, CA, May 28, 2020—Trauma Informed LA (TILA) presents Our Stories Matter, a new podcast in partnership with Lokels Only, beginning on Sunday, May 31, 2020 with new episodes releasing every two weeks. Our Stories Matter celebrates the complex lived experiences of activists and healers by sharing their inspiring stories. The podcast centers on healing through activism, art, poetry, film, music, breath, movement, and more.
More than 70% of adults have experienced one or more traumatic experiences. Unresolved or untreated trauma can lead to increased distress in mental and physical health with significant long-term impacts. Out Stories Matter promotes a support system and healing process through community care, acknowledging that trauma does not occur in a vacuum and is more than an isolated victim narrative. Rather than placing the onus on the individual to manage trauma on their own, episodes promote collective healing, modeling techniques that build personal and community resilience and restoration.
Out Stories Matter is hosted by Samuel "Sam" Lazalde and Susan "Susie" Hess. Sam Lazalde is a native of Los Angeles born into an environment of gang violence, leading him to Juvenile Hall, juvenile encampments, and ultimately a hospital bed with a gunshot wound. He shifted his detrimental trajectory by earning his master's degree in social work from the University of Southern California (USC) and working in various capacities for the City of Los Angeles Mayor's Office of Gang Reduction and Youth Development. Susie Hess is an advocate, consultant and relational organizer in the areas of trauma informed approaches and the intersections of intimate partner violence. A clinical assistant professor at the USC Suzanne Dworak-Peck School of Social Work, she is the co-founder of TILA and was awarded the Dr. Marjorie Braude Award from the City of Los Angeles Domestic Violence City Task Force in 2013 for her innovative collaboration in serving victims of domestic violence. Both Lazalde and Hess mentor youth and adults who were formerly incarcerated.
"Our Stories Matter focuses on healing centered engagement, which is political rather than clinical," said Hess. "We acknowledge that communities experience trauma, and that communities have developed healing strategies as a result of exposure to structural violence. Our Stories Matter aims to create empathy, connection, healing and activism from and within community stories. We can't wait for systems to change; communities must rise up and be the change." 
The first episode of the podcast, Healing Through Storytelling, features Alexus Rhone, writer, producer, artistic theologian and revolutionary artist who explores the power of story. Other episodes in the first season focus on healing through poetry, art, activism, and embodiment. Each guest brings a unique story, but one with the global theme of community healing and liberation through storytelling. The storytellers featured on the podcast represent diverse backgrounds, identities, experiences and, often, marginalized voices.
Trauma Informed LA (TILA) is an all-volunteer, grassroots organization founded in 2014. Our mission is to foster resilient communities that promote healing and well-being through collaboration, education, and community engagement. Our vision is a trauma-informed Los Angeles. For more on Trauma Informed LA (TILA)'s work, visit https://traumainformedla.org/ and follow us on Facebook, Instagram and Twitter. 
Access the Our Stories Matter podcast at https://traumainformedla.org/subscribe.