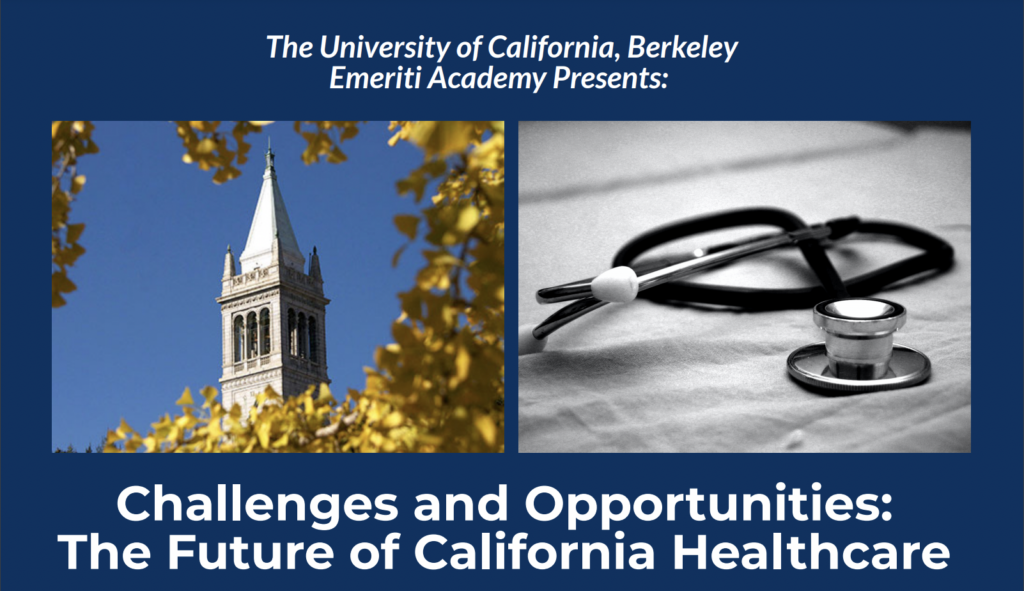 Although the Affordable Health Care Act (Obamacare) has improved health care delivery, unfortunately many Californians still do not have accessible, equitable, affordable, or quality health coverage. The challenges to improving healthcare are significant, however, there are opportunities to improve the current system. To discuss some of the key issues and paths forward, the UC Berkeley Emeriti Academy has invited 3 speakers to share with us some of the most critical issues facing California Healthcare Policy.
Topics include:
(1) California Healthcare Today: How Healthy Are We?,
(2) Access, Affordability, and Equity: How recent changes in law are positioned to impact people with mental health and illness issues,
(3) How Much Does California Spend on Healthcare and What Can We Do About It?
Discussion among the panelists, and audience participation will follow each speaker.
Panelists: Professor Stephen M. Shortell, UC Berkeley; Mayor Darrell Steinberg, Sacramento, California; Professor Richard Scheffler, UC Berkeley
Moderator: Dr. Robin Flagg, UC Berkeley
Emeriti Academy Panel Organizing Committee:
Professors Philip Cowan, Michael Harris, Kenneth Polse, Steven Segal, & Stephen ShortellTime
Apr 22, 2021 01:00 PM in Pacific Time (US and Canada)
Registration is available here!
For more detailed information about this event and the panel of speakers, a PDF Flyer is available for download below: