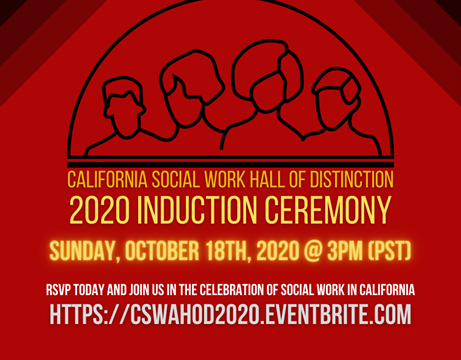 Please join us for the virtual 18th Annual California Social Work Hall of Distinction Induction Ceremony on Sunday, October 18, 2020 at 3 pm Pacific Time live-streamed from the beautiful Bovard Auditorium at the University of Southern California.
The ceremony honors and preserves the legacy of individuals who have made outstanding contributions to California social welfare, and the social work profession. It is a tribute to the positive impact of social work practice, policy, and research addressing health and welfare problems in California's most vulnerable communities.
This year's virtual Induction Ceremony honors the service, commitment, and contributions of the following seven extraordinary individuals:
Shirley J. Better
Jillian Jiménez
Robert Ketch
Annette Smith
Monika White
Marleen Wong
Tetsu Sugi
To find out more and to register for the event please use the following link:
https://cswahod2020.eventbrite.com (We recommend that you register early as space is limited.)
Please note that login instructions and more details will be provided closer to the event to registered attendees.
We also invite you to be a featured sponsor in our first-ever virtual event platform. Please see attached document for more information on sponsorship and tribute ad purchase opportunities.
Please contact Shirley Aldana at aldanasc@usc.edu if you have any questions about registrations, and Jennifer Chung-Vanzini at j.vanzini@usc.edu if you have questions regarding sponsorships or tribute ads.
Sponsorship opportunities available at the PDF below: