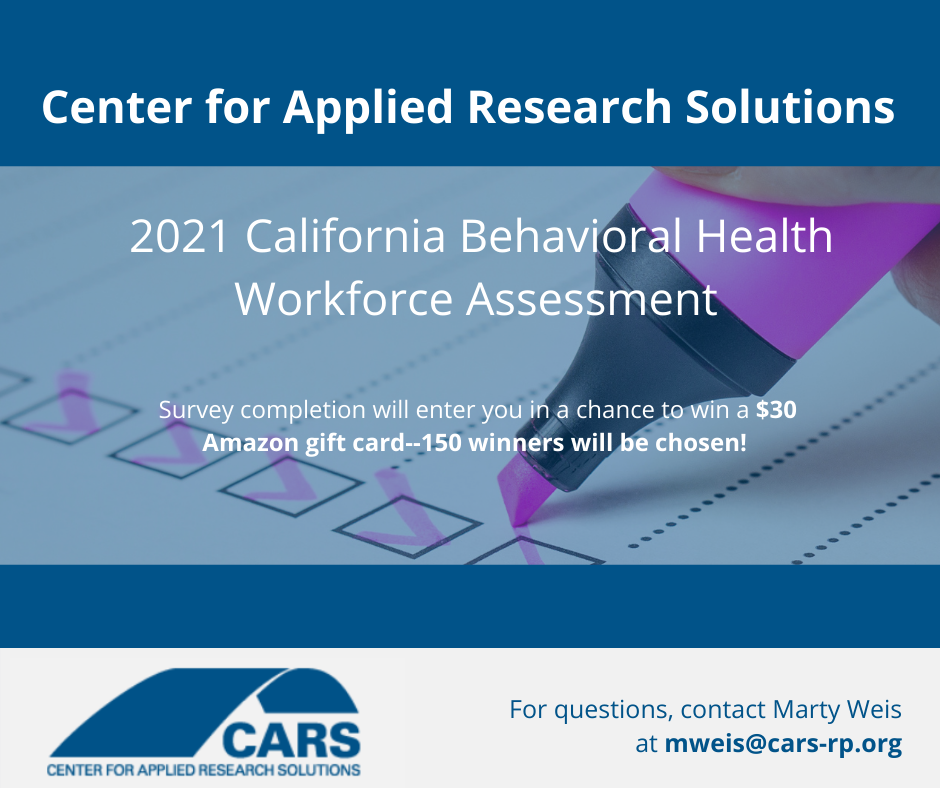 Do you work in mental health or substance use prevention, treatment, or recovery services in California? Are you a clinician, peer specialist, social worker, school counselor, nonprofit leader, or other member of the behavioral health workforce? If so, you are warmly invited to share your insights, experiences, and expertise through the California Behavioral Health Workforce Assessment (2021), funded by California Department of Health Care Services (DHCS). One hundred survey respondents will win a $30 Amazon gift card, and those who respond in the first week have a greater chance to win!
Please complete the survey by 11:59 p.m. PT on Wednesday, November 10. For questions, contact Marty Weis (mweis@cars-rp.org).
The goal of the survey is to better understand the workforce's gaps, challenges, and underutilized strengths. We will use the findings from the survey to recommend supports such as trainings, resources, policy, and practice.
We want to make sure that DHCS hears the voices of the full range of mental health and substance use workers in our state. It is critical that this includes all facets of the behavioral health workforce and care continuum—from prevention to recovery, from current to retired workers, from clinicians and peer specialists to administrators and technicians. And we're asking for your help to make that happen.