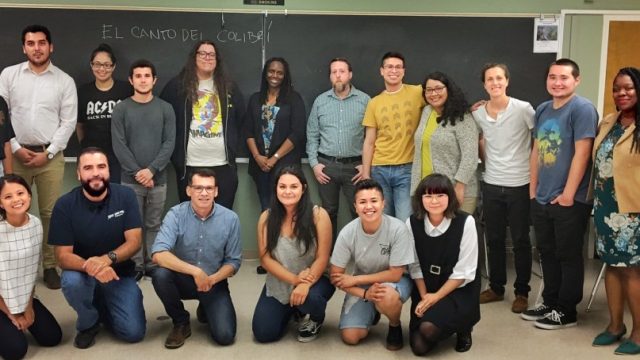 By Lainey Sevillano, Membership Coordinator
NASW-CA Region G collaborated with California State University, Northridge (CSUN) Department of Social Work's Docs and Talks Committee to host a special screening of the documentary, El Canto Del Colibrí. 
The film's director, Marco Castro-Bojorquez describes the film as "a story of Latino fathers dealing with issues of immigration, faith, marriage equality, machismo, culture, and the process of their LGBTQ children coming out."
Marco intends for the film to "address political issues about LGBTQ families, social oppression, shared responsibility and acceptance of LGBTQ people as members of Latino families." View the trailer at http://bit.do/trailercolibri
After the screening, Marco openly shared the process of creating his beautiful film. Marco also willingly fielded questions about his life experiences, his passion for social justice and his advocacy work. The room was full of social justice leaders ranging from professors and students from CSUN's Social Work and Deaf Studies departments, to representatives from the Dream Center, Strengths United and the Pride Center. The space was filled with warmth, acceptance and inspiration. In a political climate that is continuously adding challenges to our field, Marco and El Canto Del Colibrí remind us that there is always hope and that we should call on our ancestors to rise up and stand up to oppression.
For more information on Marco and his films, please check out the following sites:
https://www.facebook.com/marco.castrobojorquez