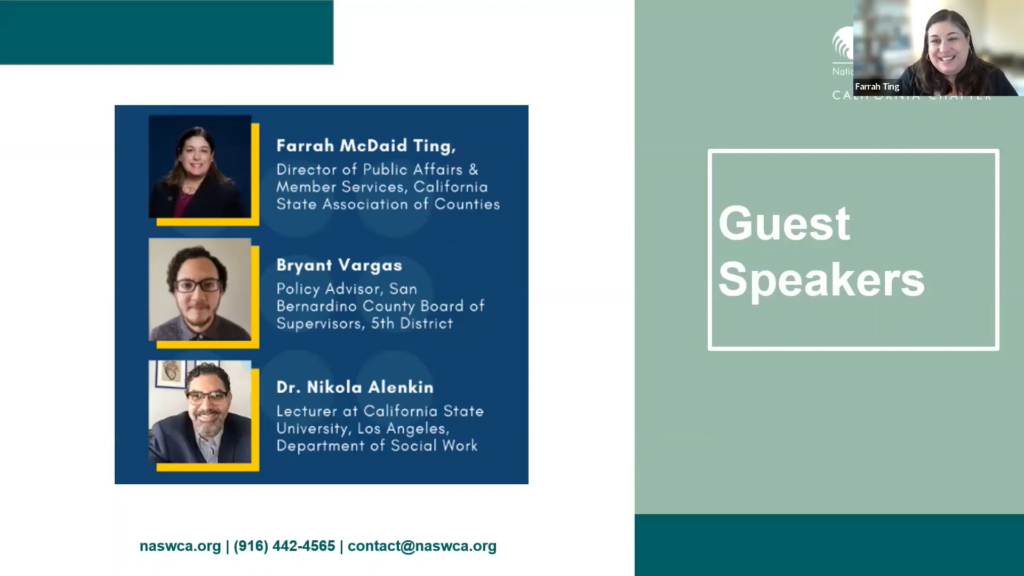 Thank you to those who attended our quarterly Social Work Policy Consortium: Where is the Power? on August 17! This free workshop explored what power structures look like at the county level, and how social workers can lead change in their local communities. For those who could not attend or would like to review the convening, we have the recorded event available to stream.
Are you a social work policy instructor interested in planning these quarterly convenings? Consider joining the Steering Committee! The committee helps plan and inform the quarterly Social Work Policy Consortium convenings, which are built to center the needs of social work policy instructors. The committee meets virtually for one hour every month. If you are interested, please email us at contact@naswca.org with your policy teaching experience and/or your resume for consideration. Our goal is to have representatives that reflect all diverse regions of the state.
Not a policy instructor but would like to participate in other NASW-CA's Social Work Policy Consortiums? Check out our upcoming workshops below and stay tuned as we provide updates and additional details in the coming weeks.
A Story About Necessary Change: The Los Angeles Men's Central Jail | October 2022
In 2021, the Los Angeles County Board of Supervisors voted to establish a plan that would close the Men's Central Jail, an institution fraught with a history of mistreatment of inmates and ill planning that forced dangerous conditions and overcrowding.
Learn about this case story, hear from frontline advocates involved, and ask important questions about the change needed.
Panelists TBD.
---
Where Do Social Workers Fit In? | January 2023
Social Workers have the power to move change in our criminal justice systems, housing resources, healthcare policies, and much more at the local level.
Hear from staffers of local elected officials about ways you can ensure the Social Work voice is heard as you lead change in your community.
Panelists TBD.
---
Lead Change and Advocate with NASW-CA at Legislative Lobby Days | April 16 & 17, 2023
A special opportunity will be announced for consortium members to learn about local-level change they can drive in their own communities. Stay tuned for more information!