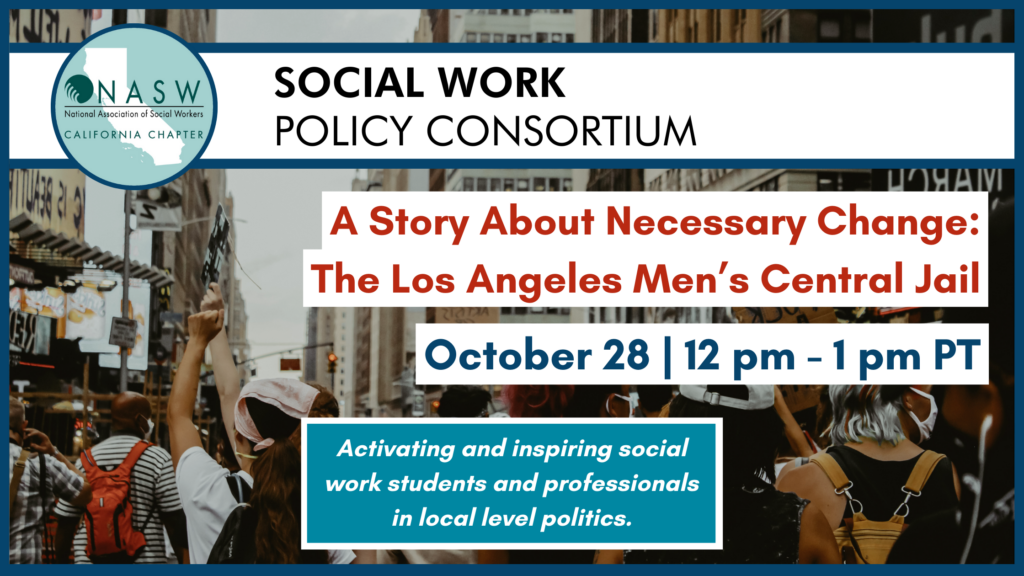 As part of our Social Work Policy Consortium series, we are excited to invite you back for a free upcoming panel discussion: A Necessary Change: The Los Angeles Men's Central Jail, on Friday, October 28th from 12:00 pm to 1:00 pm. Register today, and discover how social workers can participate in advocacy and local level politics.
On July 7, 2020, the Los Angeles Board of County Supervisors voted to close the Men's Central Jail within twelve months. However, continuous reports of mental, physical, and sexual abuse occurring within the jail demonstrate that the plan has not been implemented and conditions have not improved for those incarcerated.
Hear from fellow social workers and advocates who have been involved in the fight to close the facility after a long history of mistreatment and ill-planning that has led to increasingly inhumane conditions.
Join us to learn:
What led to the decision to close the jail
How social workers have played a role in this struggle
What barriers policymakers face as they seek to actualize this plan
Guest Speakers:
Dr. Nikola Alenkin; Lecturer at California State University, Los Angeles, Department of Social Work
Ahmanise Sanati, LCSW, PPSC; Student Support Services Counselor, LAUSD; NASW-CA Region H Director
Melissa Camacho-Cheung; Senior Staff Attorney at the ACLU of Southern California
TBD
The Policy Consortium series is designed to support social work faculty and the broader social work community in engaging in powerful conversations about necessary change and reform, critical dialogue, and system analysis.
Please contact Raquel Ibarra at ribarra.naswca@socialworkers.org with any questions.
Interested in more of NASW-CA's Social Work Policy Consortiums? Check out our past events on YouTube! Previous convenings have explored the topics of local-level political issues and how social workers and social service professionals can get involved, and what power structures at the county level look like.
About the Steering Committee
The Steering Committee helps plan and inform the quarterly Social Work Policy Consortium convenings. These workshops are built to center and support the needs of social work policy instructors.
If you are a policy instructor who wants to network with other professionals and contribute to our quarterly Social Work Policy Consortium programming, consider joining the Steering Committee! The committee meets virtually for one hour every month. If you are interested, please email us at contact@naswca.org with your policy teaching experience and/or your resume for consideration. Our goal is to have representatives that reflect all diverse regions of the state.
Don't miss our next Social Work Policy Consortium Convenings!
In January 2023, learn how social workers can use their voice to lead chance in their local community. Stay connected with us as we update our members with more information.