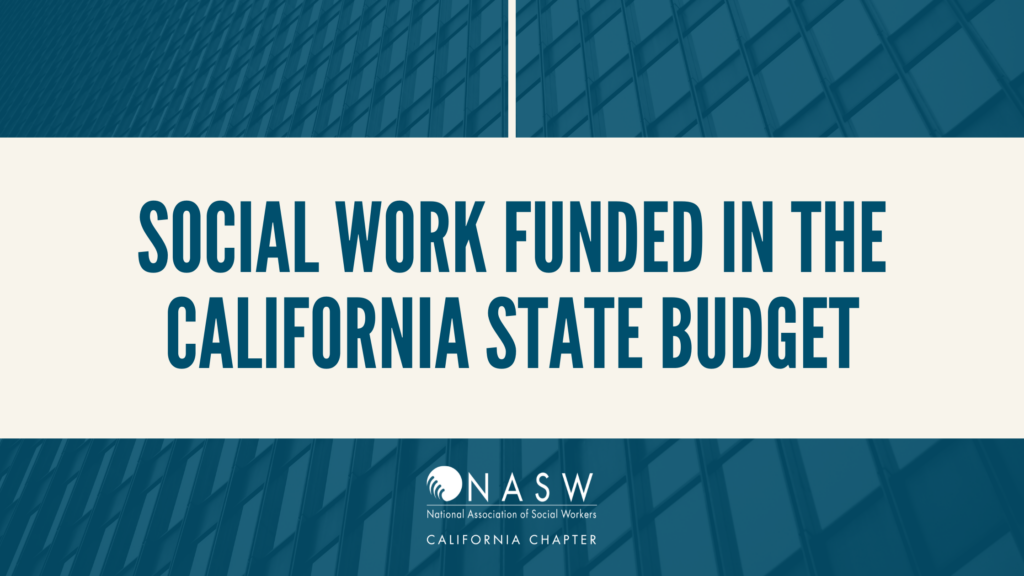 The National Association of Social Workers, California Chapter (NASW-CA) would like to thank Governor Newsom and the California State Legislature for passing a budget which honors and funds the work done by social workers, by investing in our workforce and recognizing the crucial services we provide across many systems. In January, the Governor introduced a Proposed Budget which included significant investments in the social work workforce. The Legislature included the Governor's investments in their own version of the budget and added new proposals for the social work workforce, including proposals sponsored by NASW-CA.
NASW-California Chapter's Executive Director, Deborah Son, affirms, "Social workers have been at the frontlines for decades, advocating for and ensuring individuals have access to the behavioral health, economic, and social resources they deserve and need to thrive. Our workforce is often the lifeline for marginalized communities to access the capacity for wellness, and yet social work has been woefully under-resourced for far too long. The burnout and severe underpayment of social workers is truly an injustice to our communities because we have not been resourcing them to succeed and yet ask them to move mountains. These investments are overdue. And, these investments speak volumes to the merit of our public systems finally recognizing that investing in social work is synonymous to investing in our communities."
The final budget includes the initial $210 million investment in our workforce proposed by the Governor which provides training, stipends, and scholarships to support diverse social workers who may need the extra support to complete their education. The Legislature recognized the need for more social workers, especially those that reflect our diverse communities, and kept this proposal in the final budget. Another proposal from January in the final budget agreement is $40 million (out of $90 million) specifically targeted to social workers in the Healthcare Workforce Advancement Fund to support job entry and career advancement. Lastly, $60 million in Multilingual Health Initiatives to expand scholarships and loan repayment programs in healthcare and social work for multilingual applicants is in the final budget agreement.
The Legislature then augmented this proposal by adopting our co-sponsored proposal to increase MSW slots at public schools of social work. Our co-sponsors were the County Welfare Directors Association (CWDA), the Service Employees International Union (SEIU), and the California Association of Deans and Directors of Social Work Programs (CAAD). This proposal reflects the Legislature's understanding that we need more MSWs, and particularly those who reflect the communities served, in Child Welfare Services, Adult Protective Services, behavioral health, and across many other systems including work with those who are unhoused or living in economic instability.
This recognition of the social work profession by providing money to public schools of social work is groundbreaking. With the health and human services workforce shortage deepening in distress, there is meaningful recognition that the issue is not just that workplace conditions and social program models need to be reimagined and transformed, but educational opportunities need to be expanded to widen and strengthen entry points into these professional roles. The interest is there; yet the capacity to enroll and support the success of Black, Indigenous, and People of Color (BIPOC) identifying individuals and those with powerful lived experiences to access these professions is not. This investment carves out the pathways to address these limitations and broaden equitable access in exciting and novel ways that maintain the cogence to be a model for the rest of the nation to address workforce needs.
The Legislature also included $26 million in university and college training grants for behavioral health professionals over two years to support 4,350 licensed behavioral health professionals through grants to existing university and college training programs. In addition, NASW-CA successfully advocated for SB 1229 (McGuire), which is reflected in the budget to expand the Golden State Teacher's Grant Program. This program will provide one-time grants of up to $20,000, for those applying for a teaching credential, or to those seeking a Pupil Personnel Services Credential (PPSC) — which includes school social workers – or to a community-based agency that partners with the local education agency (LEA). 
The work done by social workers is often unappreciated and undercompensated. The budget passed by the Legislature and signed by the Governor reflects the importance of our profession to improving the health and well-being of our communities, and the necessity for public opportunity to meet the moment and be responsive to community need.
The National Association of Social Workers, California Chapter represents approximately 9,000 professional social workers in California who have degrees from accredited social work programs across the country. NASW-CA advocates, on behalf of our members and their clients, for the implementation and improvement of programs and policies designed to enhance human well-being and help meet the basic needs of all people.