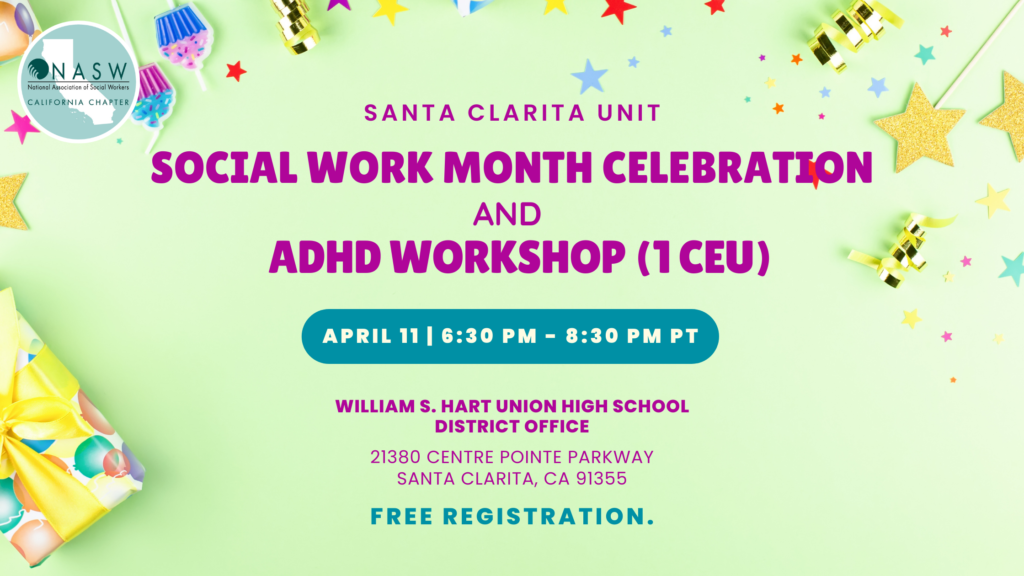 Please join NASW Santa Clarita Unit in celebration of National Social Work Month with honors, awards, and a CEU presentation on Tuesday April 11 at 6:30 pm! The evening will begin with a renewing activity "The Gifts I Bring" by Jacqueline Rousseaux-Pershing, MSW, ASW, PPSC, followed by a free CEU presentation "Managing the Ugh: A New Approach to ADHD" by Heather DeAngelis Hambleton, LCSW.
The climax of the evening will include a presentation of awards and certificates to our awardees and nominees for Social Worker of the Year, Organization of the Year, Community Member of the Year, Social Work Student of the Year, and NASW Professional of the Year.
Agenda
6:30 pm: The Gifts I Bring Social Work Month Celebration Experience – Jacqueline Rousseaux Pershing, MSW, ASW, PPSC
7:00 pm: ADHD: Managing the Ugh! – Heather DeAngelis Hambleton, MSW, LCSW-R, LCSW, CEAP
8:00 pm: Presentation of Honors and Awards
This event is free to attend! Registration is required. Please note that NASW-CA requires all attendees to provide an attestation and fill out the COVID-19 Waiver form during event registration.
Download or print the flyer below to share with your networks!
William S. Hart Union High School District office(Free parking in the lot)
21380 Centre Pointe Parkway
Santa Clarita, CA 91355
​The CEU will be provided by Heather DeAngelis Hambleton, LCSW-R, LCSW, CEAP. You must attend, sign in & sign out, and complete a course evaluation in order to earn a certificate.
Learning objectives:
ADD or ADHD? What's the difference?
Learn strategies and treatment approaches for neuroatypical brains.
Recognize ADHD symptoms and challenges in children and adults.
Presenter Bios
Heather DeAngelis Hambleton, LCSW, LCSW-R
Heather is a premier specialist in the assessment and treatment of Attention deficit Hyperactivity Disorder (ADHD) and neurodivergent brains. Heather, a native of New York, graduated from Columbia University with a Master's Degree in social work, and holds an Advanced Certificate in Family & Couples Therapy from the world-renowned Ackerman Institute for the Family in New York City. She is a graduate of UCLA's Mindful Awareness Research Center (MARC) Intensive Practice Program which she credits for deepening her knowledge of mindfulness meditation and its impact on ADHD symptoms and executive function skills. Heather served as resilience chief for behavioral health programs at Fortune 500 companies, and is a preferred provider for employee assistance programs (EAPs) nationwide. Heather is a Certified Employee Assistance Professional (CEAP), and has trained supervisors and staff in a variety of settings, including outpatient mental health centers and nonprofit organizations. With a background in corporate counseling, executive coaching, and leadership development, Heather is highly sought-after by companies and organizations to address mental health challenges in the workplace, helping to improve employee productivity and company profitability. You can learn more about Heather and her practice at https://heatherdeangelis.com/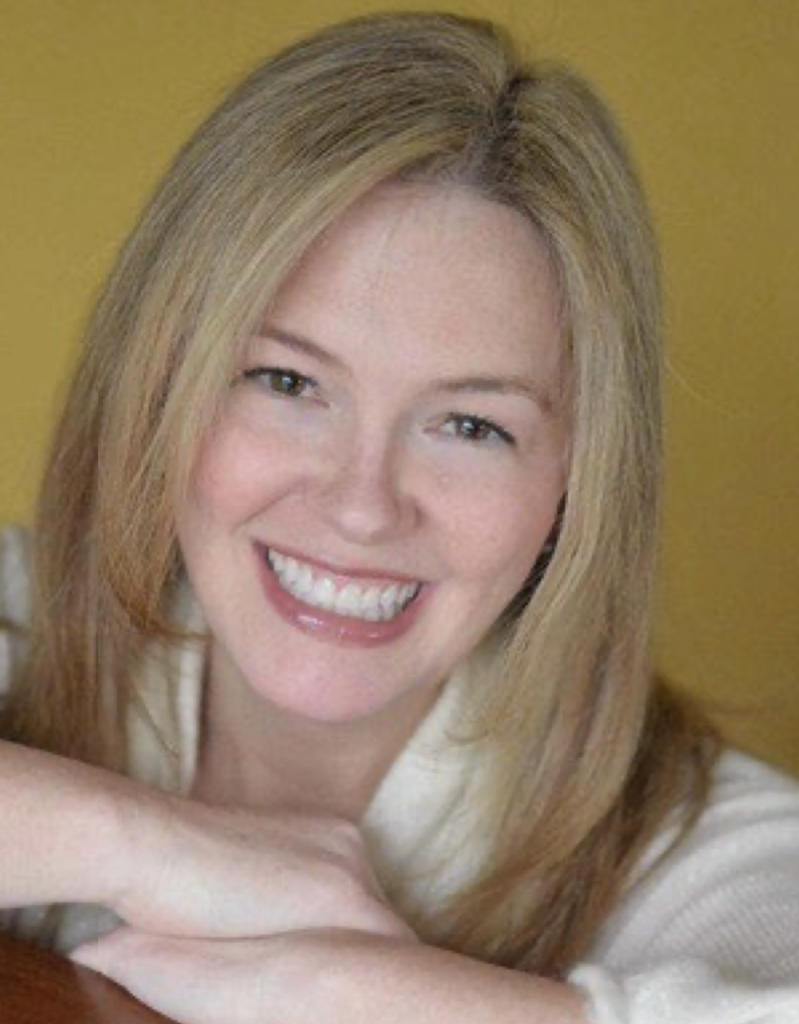 Jacqueline Rousseaux-Pershing, MSW, ASW, PPSC
Jacqueline Pershing is a passionate social worker who works for the William S Hart Union School District. She is dedicated to improving the lives of young people and helping them achieve their full potential. Jacquie is currently responsible for running the wellness program at Valencia High School and supporting students with their social, emotional, and academic needs. She has developed a keen understanding of the social and emotional needs of students and has been instrumental in designing and implementing programs to support every student's holistic development. Overall, Jacquie Pershing is a dedicated and passionate social worker who is committed to supporting the academic and personal growth of all students. She is a fierce advocate for students and believes strongly in student voice, working tirelessly to ensure that all students are heard and seen.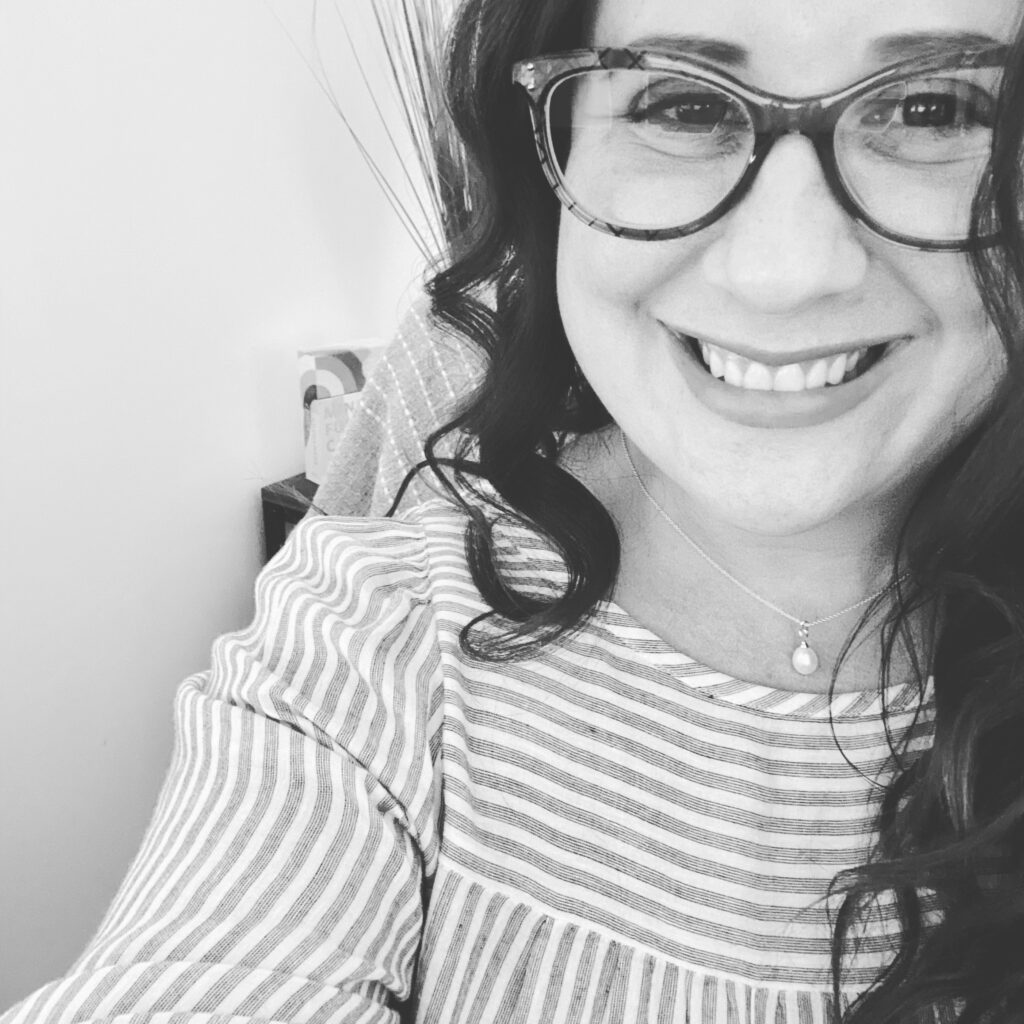 Please contact Stephanie Cotcher, LCSW at santaclaritanasw@gmail.com with any questions.