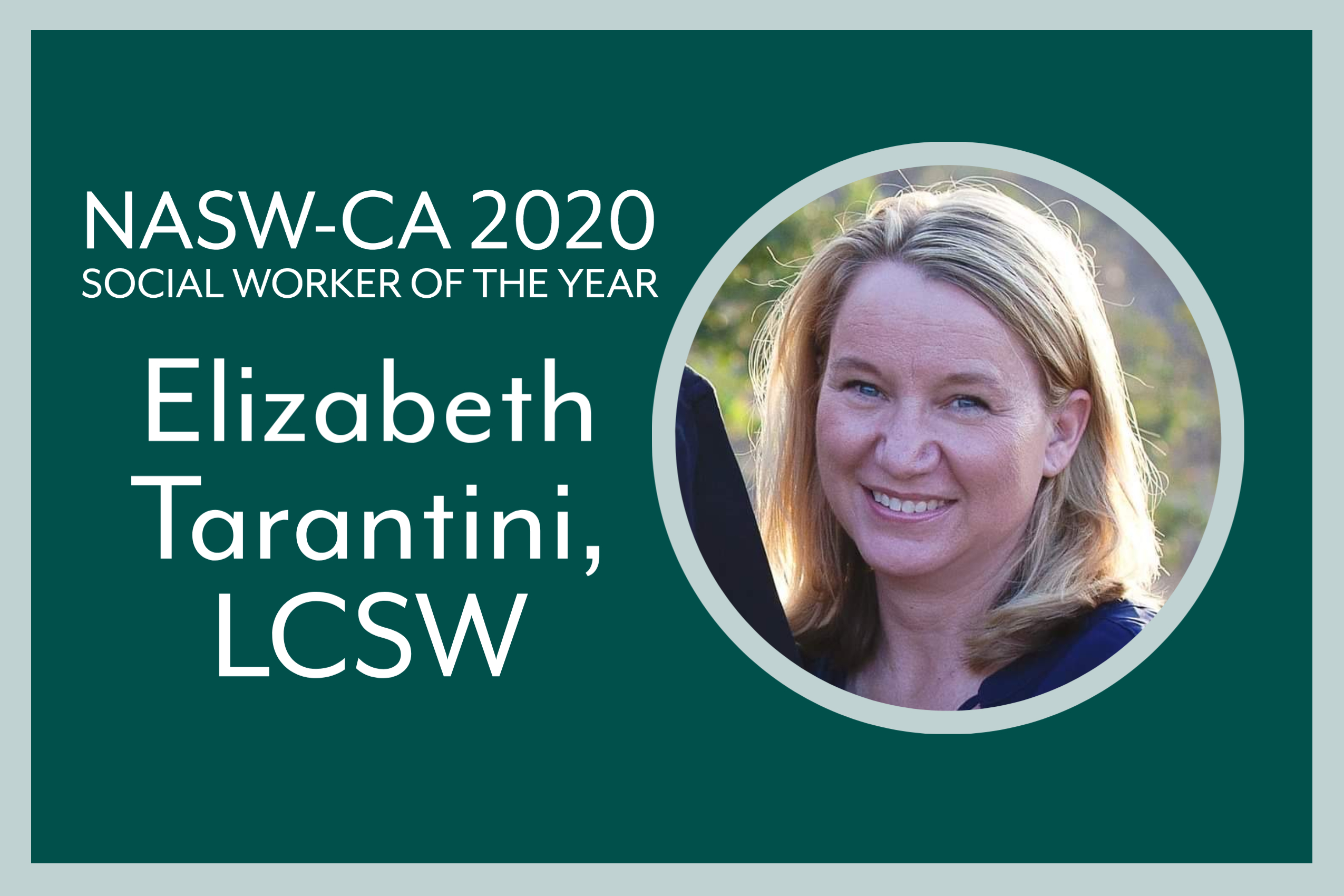 FOR IMMEDIATE RELEASE
SACRAMENTO, CA – NASW-CA has announced the 2020 award winners for their annual state awards that will be presented at their virtual conference on October 17.
This year's Social Worker of the Year, Elizabeth Tarantini is a Licensed Clinical Social Worker who has practiced in healthcare settings for 25 years. For the past eight years she has been a Perinatal Social Worker and supervisor at Henry Mayo Newhall Hospital where she was instrumental in creating and facilitating the New Mom's Support Group and the Bereavement Support Group. Tarantini began her teaching career at University of California Los Angeles' David Geffen School of Medicine, System Based Healthcare program. After many years mentoring MSW interns in the field, she began teaching at California State University, Northridge's MSW program. Tarantini was recently nominated by her peers for the HMNH Service Excellence Award and has been commended for her work supporting those affected by the Saugus High School Shooting in 2019.
The Lifetime Achievement awardee is Dr. Robert Bray who has been a social worker for over 40 years. A graduate of the MSW program at San Diego State University, Dr. Bray has had an extensive career including being the Director of Project Oz, and a Social Worker at San Diego County Adoptions Unit, Southern Indian Health Council, Children's Home Society, Southwood Psychiatric Residential Treatment Center, Pathways/Mid-City, Parents United, and Navy Family Advocacy Program. He is a mental health specialist responding to disasters and traumatic incidents and has served on numerous coalitions and boards and is a Deputy Team Leader for the Disaster Medical Assistance Team of the US Department of Health and Human Services.
Lori Hartwell is being honored with Public Citizen of the Year. Living with kidney disease since age two, having survived 50-plus surgeries, 13 years of dialysis and now living with her fourth kidney transplant, Hartwell has made a difference in the lives of countless people with Chronic Kidney Disease. In 1993, because of her struggle to find social and peer support to manage her condition, Hartwell founded the Renal Support Network (RSN). She is also a published author, a podcast host, and has created and maintained numerous programs.
This year, NASW-CA will present the Organization of the Year award to the William S. Hart Union High School District. The School District is located in the Santa Clarita Valley in the northern part of Los Angeles County and serves 7th through 12th grades.
The awards will be presented during a ceremony during our Virtual Conference on Saturday, October 17 at 12:30pm. For more information or to register visit: https://bit.ly/3131nos or email CRaynak.naswca@socialworkers.org
####
Contact Information:
S. Jolene Hui, LCSW
NASW-CA Director of Membership
916-379-7577
jhui.naswca@socialworkers.org