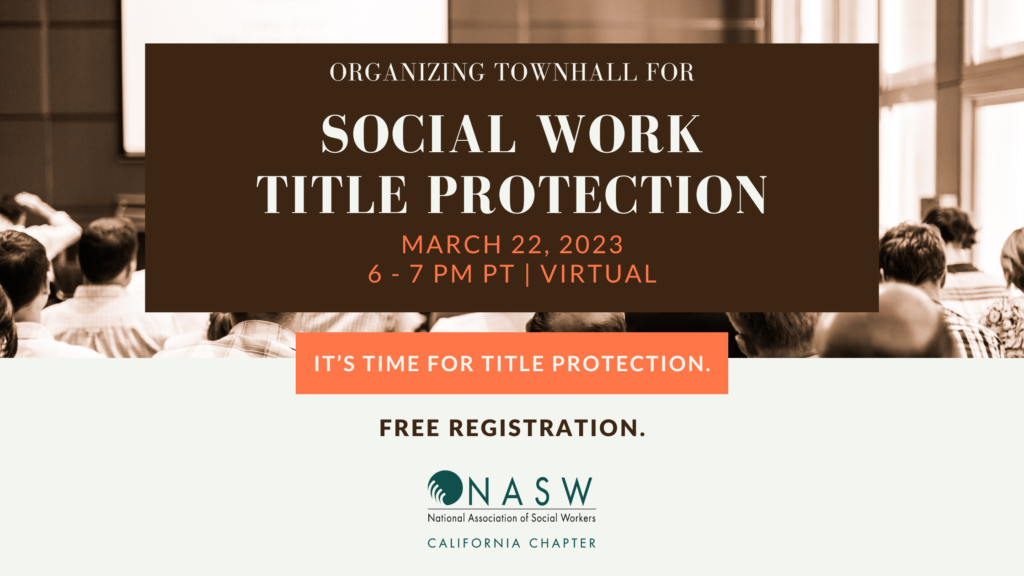 It's time for Title Protection.
Join NASW-CA for an evening discussion and training about having Title Protection for Social Workers written into state law. NASW-CA staff and partners will:
Overview Social Work Title Protection, its history in California, and its importance to the social work community and the populations we serve
Discuss the legislative process and important milestones as Social Work Title Protection moves through committees and votes
Provide strategies, methods, and scripts for building relationships with, engaging, and lobbying your state representatives to build support for Social Work Title Protection throughout the legislative process
Support our social work community in building a grassroots movement to pass Social Work Title Protection in California
With a record number of social workers in the state legislature, social workers at the forefront of legislative conversations related to community well-being, and a growing number of social workers entering the profession and stepping into advocacy roles, we have the power to uplift our profession and break barriers, together.
We look forward to hosting you on Wednesday, March 22 from 6-7PM to kick off our grassroots effort. This event is free for all to attend. We invite all NASW-CA members, social work students, and social work professionals.
Please contact Rebecca Gonzales, Director of Government Relations and Political Affairs at rgonzales.naswca@socialworkers.org with any questions.