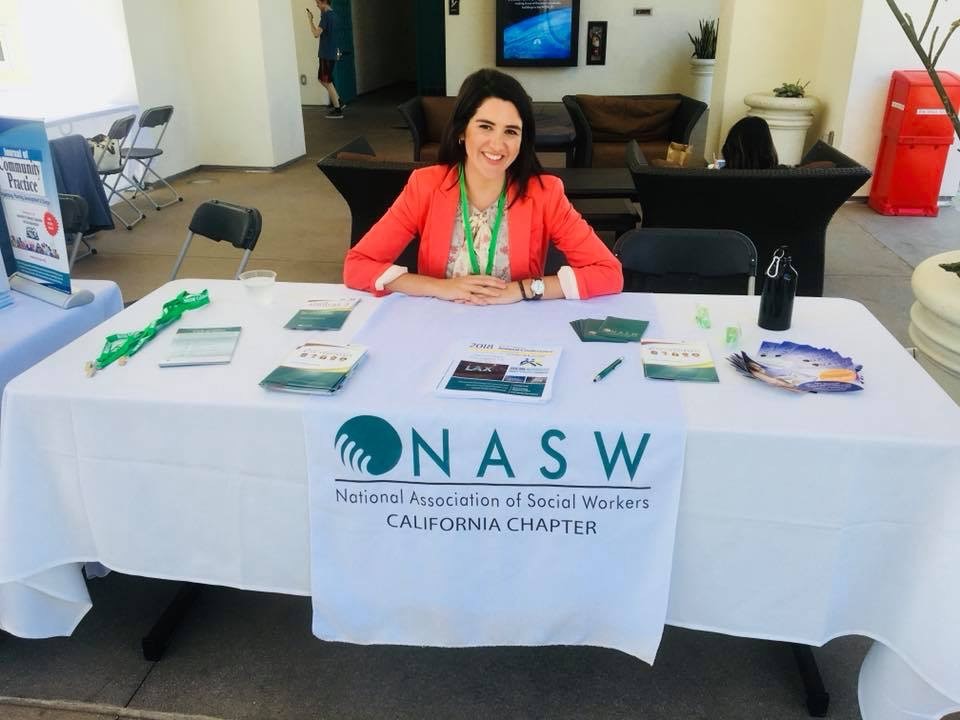 Molly Zive staffs the NASW-CA exhibit table at the recent NSWM Annual Conference in San Diego.
By Molly Zive, LCSW
On June 14, more than 400 human service professionals gathered on San Diego State University's campus to attend the Network for Social Work Management (NSWM) 29th Annual Management Conference. This year's theme was "Disruptive Leadership; Maximizing Inclusion, Invention and Innovation Human Service."
The conference menu was packed with research findings regarding management to improve teams, disrupt systems, emotional intelligence and job satisfaction.
The welcoming program was kicked off by the dedicated NSWM team who organized this event. Our keynote speaker, Antonia Jiménez, Director of Public Services in Los Angeles, inspired the crowd with her disruptive processes throughout her career.
Jimenez reiterated the theme of this year's conference "Disruptive Leadership" adding "with meaningful purpose." She offered resounding affirmations of "Everybody doesn't have to get your vision at first" and "We have to be intentional about change."
She highlighted various points in her career where she performed disruptive leadership, including a project where receiving an EBT card in Los Angeles went from a 2 ½ hour wait to a half hour wait. Jimenez inspired the crowd with permission to use creativity, knowing the difference between visionaries and implementers and how language matters. Words including "poor" or "mental health" keep consumers stuck or stigmatized. She explained that mental health is demonstrated through our coping skills, so why not refer to mental health as coping strategies?
I was inspired by the amount of human service professional managers who wanted to create a better environment for their team and consumers. Although I'm not currently in a management role, I aspire to help with macro social work. Being a part of something like this left me feeling so hopeful about the future of social services.
A professor of mine always used to say, "We always want to work ourselves out of a job." Having empathy and feeling the human struggle so intensely gives me a hopeful perspective about the future of on a micro, mezzo and macro level. It's reassuring to know that even individuals who are executives at their agencies are continuing to learn and expand their understanding of becoming better leaders thus creating better communities throughout the United States.
Thank you NSWM for working hard to provide such an encouraging experience for the attendees.