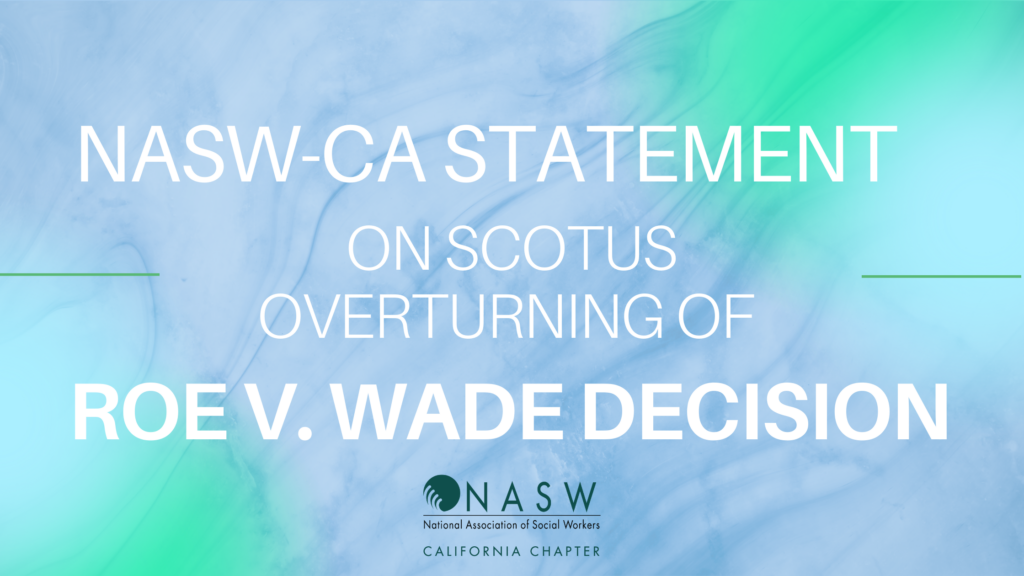 On Friday, June 24, the official decision to overturn Roe v. Wade by the Supreme Court of the United States dismantled nearly five decades of national protections for child-bearing people to access comprehensive reproductive healthcare. This decision, which is expected to roll back reproductive rights in nearly half of the states immediately (with more likely to follow), will limit or remove safe access to abortion for millions of women and child-bearing people, and will disproportionately harm communities of color, young people, undocumented people, rural Americans, low-income people, and people with disabilities throughout our country. While this was the expected outcome after the leaked SCOTUS opinion in May of this year, the news is not easy for any of us to absorb and the implications are far-reaching.
Issues like these are not felt in a vacuum. Social workers in California and across the country are affected personally, professionally, directly and indirectly by this news. We encourage you to take the time and space to process your experiences, honor where you are, and take action if and when you are ready. Please remember that this work is not only about those we serve and advocate for; it is about us as human beings whose health and wellness need sustenance to succeed. The road ahead is long, and the well-being of helping professionals is critical as we navigate our next steps.
NASW-CA stands firmly in the value that abortion access is healthcare and that every person should have the right to choose for themselves whether or not to carry a pregnancy to term. Bodily autonomy, healthcare access and privacy, the right to self-determination and the dignity and worth of those who must make the difficult decision to terminate a pregnancy are fundamental to well-being and safety. We are deeply saddened by this devastating blow, and particularly for women and our most vulnerable communities who are affected.
The right to abortion access is firmly secured in California, and we are actively following and supporting numerous bills to further solidify this right in our state and to provide aid to those living in anti-choice states. We will continue to be on the frontlines of advocating to affirm the right to choose in the California Legislature on behalf of the social work profession.
For those of you who are motivated by education and action at this time, please consider joining NASW-CA this Wednesday, June 29 from 12-1:30PM PST for "Harm Reduction & Social Worker Discretion: Fighting Client "Criminalization For Self-Managed Abortion," presented by two experts in the field of self-managed abortion, Lauren Palk, J.D. and Tamara Marzouk, LCSW, MPH. Lauren and Tamara will overview key data around self-managed abortion, harm reduction and its relationship to reproductive justice, legal issues and considerations related to self-managed abortion, and how the NASW Code of Ethics can inform social work practice around these critical issues. This presentation is free to NASW members, and we look forward to sharing space and learning alongside you.
There is time and space to feel, to take care of yourselves, and to fight, and we honor your process during a devastating time for our country. We are with you.
If you would like to read the National statement on this SCOTUS decision, you can view it on the NASW website.