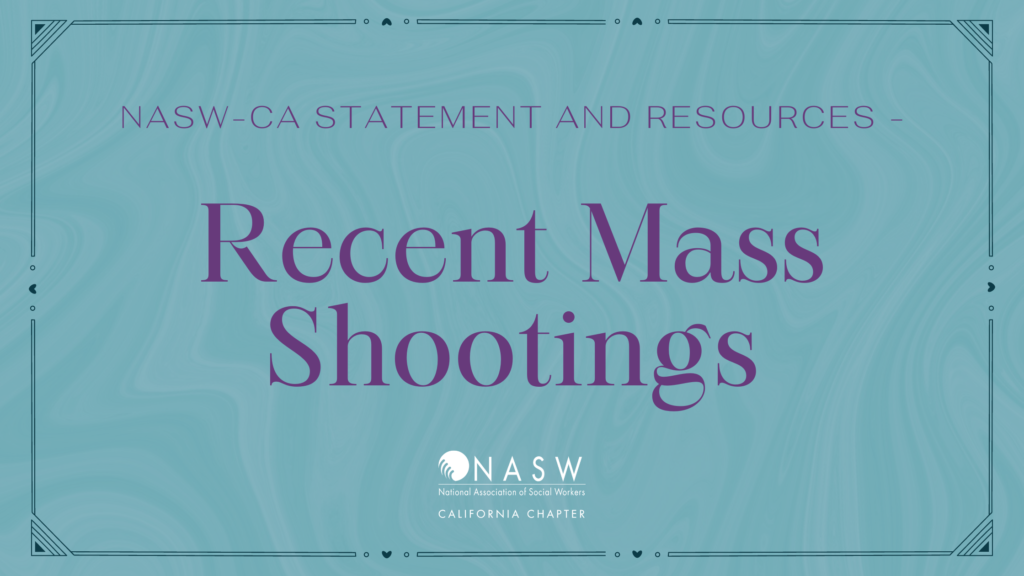 NASW-CA Statement on the Half Moon Bay Shooting
The National Association of Social Workers, California Chapter grieves yet again after another mass shooting on Monday afternoon in Half Moon Bay, which took the lives of seven Chinese farmworkers less than 48 hours after a shooting in Los Angeles in Monterey Park. These tragedies deeply impact all of us on personal and professional levels, and we share your outrage and sadness at this loss of innocent lives and the epidemic of gun violence in America. Further, many of us are feeling the weight of the fact that numerous mass shootings took place within a mere matter of days. The sentiments are justifiably shock and utter fatigue.
Our communities deserve better, and we continue to urge social workers to be at the forefront of conversations about cultivating a country where gun violence and mass shootings are preventable. We will continue to advocate tirelessly alongside you for sensible gun reform legislation, at the state level and beyond, and we encourage and support social workers to create space for themselves and the people we serve to feel, grieve, and process these frightening and senseless acts of violence.
NASW-CA Statement on the Monterey Park Shooting
Over the weekend, numerous individuals and families prepared to celebrate Lunar New Year, a time for shared reflections and blessings for the year ahead. Tragically, however, our communities across the state and the country are now reeling from the deadly shooting in Monterey Park that took 11 lives and injured 10 others. NASW-CA shares the outrage, grief, and utter frustration that yet more lives were senselessly lost by another mass shooting. These events are shattering. The harm and murders that target and impact Asian American communities are terrifying and real. Our thoughts and prayers are with the families and communities of the victims. We encourage and call upon social workers everywhere to step in and support your clients, your communities, your colleagues, and yourselves during this time to allow space for pause and grief. Help us share and elevate the resources available to Asian American and Pacific Islander communities and allies everywhere. Now is the time to offer support and demand change. Explore our list of resources below to find mental health guidance and support.
The Asian Americans Advancing Justice Southern California started a GoFundMe to support the victims of the Monterey Park shooting.
Please access the list of resources we are cultivating to support you in your work and processing of these events. We welcome you to share additional resources with us so that we can equip social workers and community members to respond and take care of themselves and others during this time.
Bay Area Resources
Asian Health Services: They provide health, social, and advocacy services regardless of income, insurance status, immigration status, language, or culture.
Chinese American Counseling Services: Assists in finding community resources to local therapists, support groups, and agencies that provide help for individuals, couples, and families.
Los Angeles County Resources
General Resources