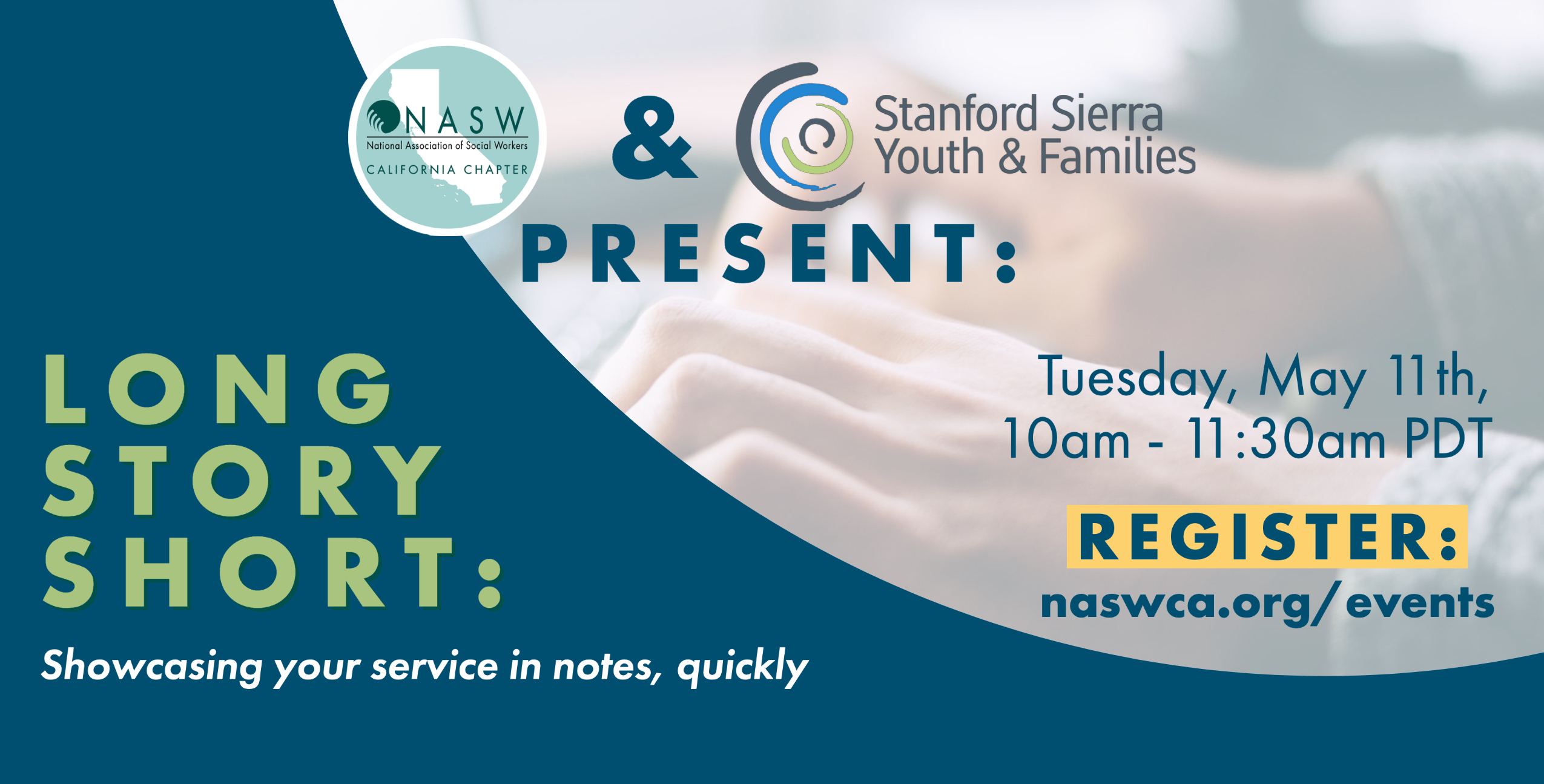 Documentation?!? I didn't take this course in Grad School! What I learned was how to memorize all the Theories and become a Pro at role-playing with a hypothetical client, but learning how to write a progress note was not on the course schedule.
NASW-CA Chapter is proud to collaborate with Stanford Sierra Youth & Families on a new training course, "Long Story Short: Showcasing your Service in Notes, Quickly", where attendees will be learning about how to properly perform documentation when seeing clients.
This is a foundational course that meets criteria towards Certification for NASW-CA Documentation Integrity. Attendees will receive proof of attendance. NASW-CA and SSYF are committed to diversifying the behavioral health field and invite providers that represent BIPOC and marginalized communities to join us without cost. Fees should not act as a barrier and we invite you to apply for a scholarship as needed. To apply for a scholarship, click here!
In this training you will learn to answer:
Understand the Purpose of Documentation
Q&A Spotlight
How to Document with Integrity
Utilize Audit Proofing Validation Measures as a Tool for Success
Build-Your-Own Intervention Formula
Training Material Packet Provided:
Intervention Action Words
Progress Note Guide
Over 50+ Intervention Examples
Student Fees:
$15 NASW Student members
$20 Student non-members
Fees:
$30 for NASW members
$40 for non-members
This course meets the qualifications for 1.5 CEUs in the state of California. If licensed elsewhere, please check with your state licensing board to verify their criteria for California units.
PDF Version of our flyer for social work professionals and graduate students are available for download:
Presented by: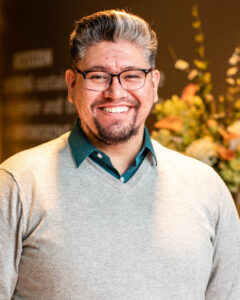 Gibrán Méndez, LMFT,
Director of Quality Improvement,
Stanford Sierra Youth & Families
Gibrán Méndez, LMFT is the Director of Quality Improvement at Stanford Sierra Youth & Families and an Adjunct Professor of Counseling Psychology at University of San Francisco. He is an experienced bilingual and bicultural therapist who has worked in community-based mental health settings serving youth and families. In his leadership role at Stanford Sierra Youth & Families, he provides oversight of all aspects of program quality improvement, evaluations and outcomes, and clinical practices. He is highly skilled at developing documentation standards and strategies to support staff in conceptualizing their services. Gibrán earned a Bachelor's Degree in Psychology and Spanish and a Master's Degree in Psychology with emphasis in Marriage and Family Therapy at California State University, Chico.
---
April Ludwig, LMFT,
Chief Compliance Officer,
Stanford Sierra Youth & Families
April Ludwig, LMFT is the Chief Compliance Officer at Stanford Sierra Youth & Families. She received her undergraduate degree from the University of California, at Davis and her graduate degree from the University of Phoenix. April has been an Adjunct Professor for more than 10 years, and is currently an instructor at the University of San Francisco, in the Department of Education. As the Chief Compliance Officer at Stanford Sierra Youth & Families, April provides administrative oversight to the Human Resources and Quality Improvement departments, as well as the Training program. She is also responsible for the organizations' compliance towards program practices, laws, regulatory requirements, policies and procedures, and risk mitigation. April continues to be a vigorous learner, with a passion for organizational leadership and development.