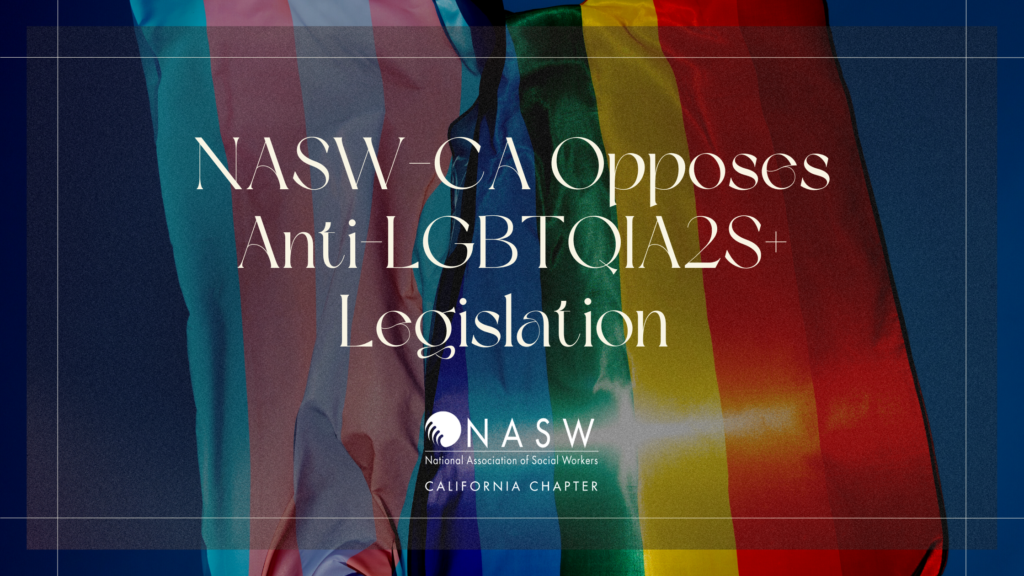 The National Association of Social Workers, California Chapter (NASW-CA) is deeply disturbed by the overwhelming amount of anti-LGBTQIA2S+ bills that have been introduced across the country. Within four months of 2023, there have been over 300 anti-LGBTQIA2S+ bills introduced in 37 states. According to Human Rights Campaign, 150 bills would stop gender-affirming health care and restrict the rights of transgender people.  
NASW-CA condemns the rise of anti-LGBTQIA2S+ extremism and violence across the country. These relentless attacks, many directly targeting the transgender community, are harmful and in many cases, life-threatening.
We stand with the NASW Indiana, Texas, Wisconsin, Ohio, Kentucky, and North Dakota Chapters and their efforts to push back against the attacks on the LGBTQIA2S+ community. NASW-CA applauds their fight to advocate for the well-being of LGBTQIA2S+ youth and communities.
Social workers are committed to social justice and equity to all populations, including the LGBTQIA2S+ community. We encourage all NASW-CA members and California social workers to review the NASW statement on this matter, take the actions listed in the statement, and to stand in solidarity with us alongside the LGBTQIA2S+ community throughout the United States. We will continue to fight for all LGBTQIA2S+ folks, who deserve to exist freely, be visible and celebrated, and have access to the resources and supports necessary for health and well-being.