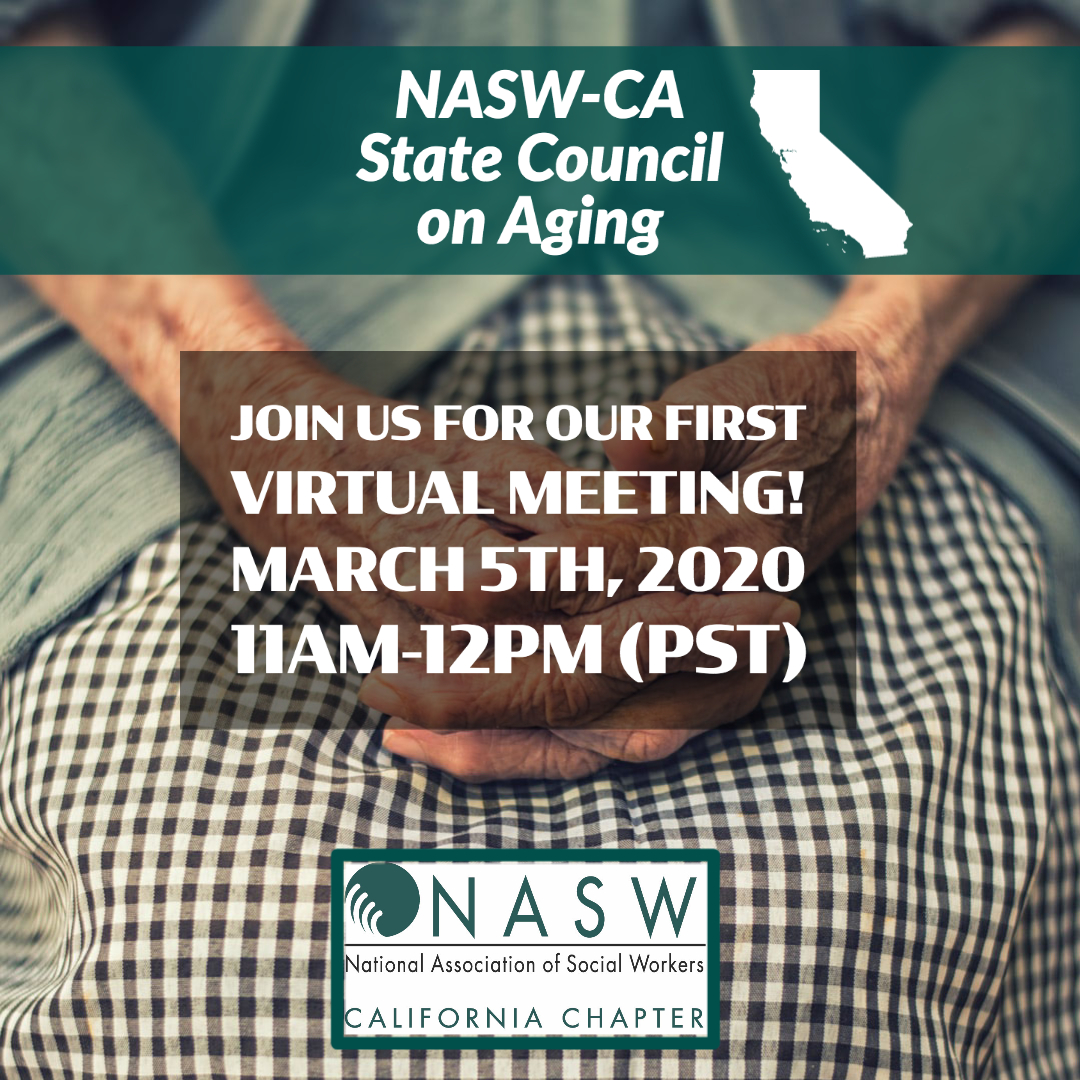 The American Academy of Social Work & Social Welfare (AASWSW) tackled a scientific review to bring focus for our social work profession's actions; allowing us to see the most compelling and critical social issues of our day (https://grandchallengesforsocialwork.org/). Each of the 12 grand challenges is a broad but discrete concept where social work expertise and leadership can be brought to bear on bold new ideas, scientific exploration and surprising innovations. All but one of the grand challenges directly impacts older adults, as well as their families and other supports.
Gerontological social work focuses on the response to these timely life course challenges. Each day we are faced with advancements for assessment and interventions coming from research, technology, business, policy, and directly from our clients. A clear role for NASW has been to synthesize important changes to ensure we as social workers can be competent providers.
In concert with California's plans for a Master Plan on Aging (Gov. Newsom), grassroots efforts are forming an NASW-CA State Council on Aging. These efforts focus on our annual conference to assure that aging content is provided to support our profession staying abreast of practice and policy that impacts older adults. The state council will also be a hub of information to more easily inform members of opportunities for resources such as fellowships and trainings, as well as information that briefs them on policy proposals and advocacy needs.
Liaisons from schools of social work will be natural sources of communication. To date the Southern California Geriatric Social Work Education Consortium (GSWEC) unanimously voted in favor of this NASW-CA State Council on Aging petition.  Our Board will be reviewing the launch plans in April to provide input and approval.  If you would like more information or to contribute to the next steps, a virtual meeting will take place on March 5th from 11am to 12pm (PT). 
For more information contact Jolene Hui, MSW, LCSW, Director of NASW Membership at jhui.naswca@socialworkers.org or Adria Navarro, PhD, LCSW, Associate Professor at Azusa Pacific University at anavarro@apu.edu.