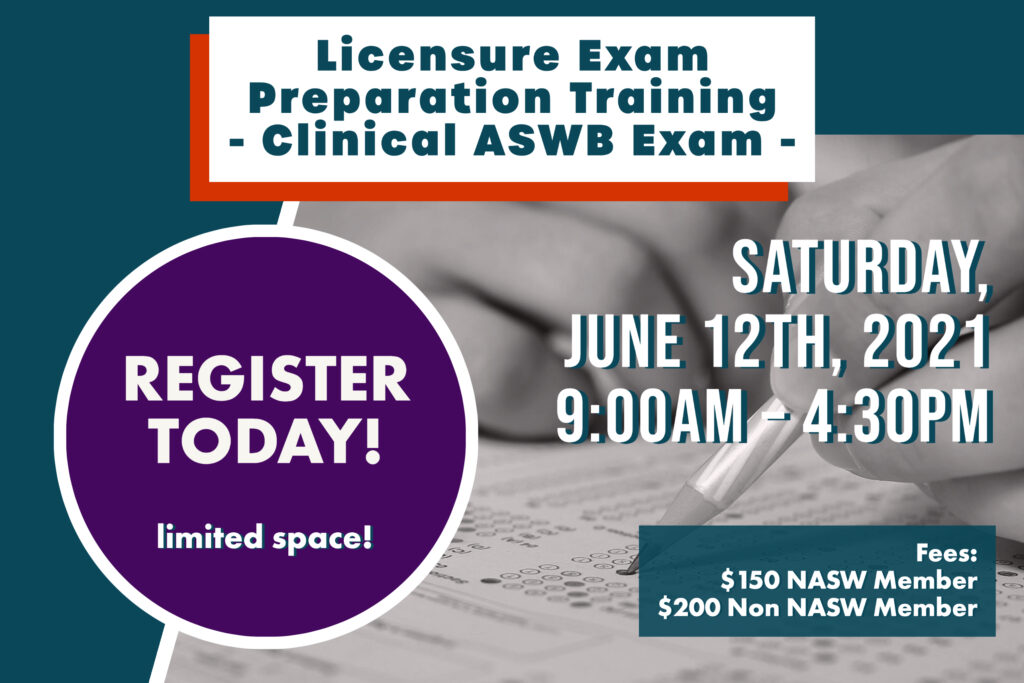 Learn the content and strategies to pass the Clinical ASWB exam for social work licensing. This one-day workshop will walk social workers through the necessary steps to pass the ASWB exam and reduce test anxiety.
Register by clicking here: www.cvent.com/d/hjqcn5
This 6-hour course includes:
• Full day comprehensive virtual workshop that covers key exam content areas
• Six-month access to full Exam Guides and learning management system with access to book author, discussion board, study games, flashcards, and interactive study features
• Fifty question pretest that provides feedback on exam readiness
• Sample questions reviewed during the full day online, interactive session with Exam Guides' author
• Comprehensive Study Guide Book – $95 value! – Social Work ASWB Clinical Exam Guide: A Comprehensive Study Guide for Success, 2021 – THIRD EDITION. Springer Publishing
Key Features:
• Covers all the content areas on the examination, including new content from the DSM-5 added in 2015
• Includes a 170 question complete practice test (with explanations of the correct answers) that mirrors the exam
• Begins with a self-assessment section to help identify areas of strength and weakness
• Offers a wealth of test-taking tips and strategies to foster exam confidence, including tips on dealing with test anxiety
• Developed by a highly respected educator of social work licensure candidates Registration Fees – includes course manual and 6 months access to full Exam Guides and learning management system.
Please note:
• Please plan to join at 8:45am; Seminar runs 9:00am – 4:30pm
• A link for the pretest and information to join will be sent prior to the training
• A hardcopy of the manual will be mailed to the shipping address provided in registration
• Please make sure that you have access to a computer with a webcam – webcams should be on during the session
• Access to study products is good for six months from the time of activation – refunds cannot be given once you use the online access code and/or the book has been received. There are no exchanges of books once they are shipped and all items are non-refundable after May 28, 2021.
Americans with Disabilities Act: Accommodation requests should be emailed to eventreg@naswca.org no later than May 12, 2021 in order to allow time to process requests. 
Event cancellation policy: To receive a refund, requests must be emailed to: eventreg@naswca.org by 5:00pm on Friday, May 28, 2021. A $35 cancellation fee will be applied. Non-refundable after May 28, 2021, no exceptions. 
 Please note this training does not cover the California Law and Ethics Exam.