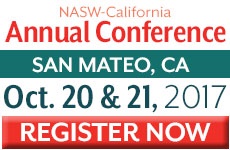 Join your fellow social workers at the NASW-CA 2017 Annual Conference on Friday, October 20 at the Marriott Hotel in San Mateo, CA. The conference schedule was designed to offer an affordable and diverse range of continuing education, professional development and networking opportunities for all!
Conference Highlights Include

Frederic Reamer, PhD, national expert on ethics, will give the keynote speech at this year's conference. His presentation, "Cutting-edge Ethical Issues in Social Work: Challenges in the Digital Age," will provide an engaging overview of remarkable developments in professional ethics, including in-depth examination of compelling ethical challenges in social work and behavioral health.  Dr. Reamer will also present a breakout session on Boundary Issues and Dual Relationships in the Human Services.
Workshop Sessions and Licensure Classes
The conference offers a variety of workshop topics offered in three time slots throughout the day, including: Shots Fired, Suspect Down: The Street Cop's Experience and the Role of Social Work; Exploring & Experiencing the Difference of Change for a Transgender girl via the Use of Creative and Expressive Arts; Medical Assistance in Dying: California's End of Life Option Act and much more!
Licensure classes are also available, including Aging and Long Term Care, Law and Ethics, Human Sexuality, Clinical Supervision, Substance Dependency, and Child Abuse (some classes carry over to Saturday).
Awards Luncheon – Celebrate the Profession!
Friday's luncheon offers an opportunity to relax with colleagues, meet new friends and congratulate the social work award recipients! The Social Work Awards Ceremony will honor outstanding individuals for NASW-CA Social Worker of the Year, Lifetime Achievement Award, Public Citizen of the Year and Public Organization of the Year.
Exhibits Reception Prizes and More
Visit more than 40 recruiters and vendors in the exhibit hall on Friday. Planned activities include continental breakfast, refreshment breaks, the CalPACE Silent Auction and an evening closing reception with door prizes!
Learning and networking opportunities extend into the evening hours with Council meetings.
Discounts and volunteers needed
Registration discounts are offered to NASW members, social work students, retired social workers and early registrants. Discounts are also available to volunteers who serve as classroom monitors.   The San Mateo Marriott is offering discounted hotel rates to conference attendees.
Click here for complete conference details and to register online
San Mateo/San Francisco Area Attractions and Activities
Click here for local attractions including dining options, arts and culture, shopping and more!
The registration deadline is September 29.
Early birds register by August 31 for maximum savings!