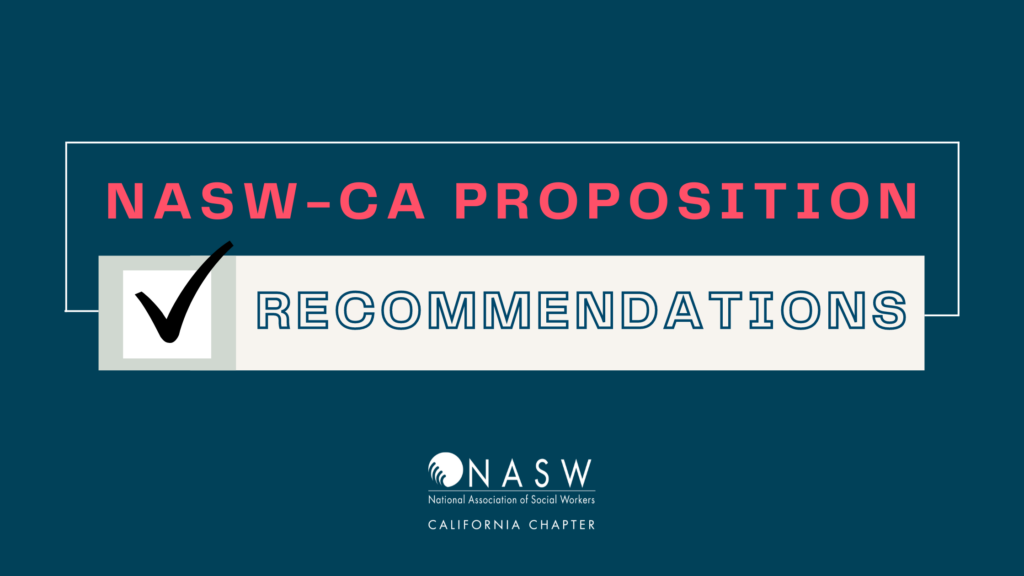 NASW-CA is committed to equipping social workers with the best information possible so they can make informed decisions about elections. Our Legislative Committee recently convened to decide which propositions they support, oppose, or are neutral to, and we are sharing our proposition recommendations with social workers to help guide your voting efforts leading to the November 8th election.
When social workers vote, our values are prioritized in legislative efforts. Register to vote, get informed about your local and statewide elections, and vote in every election.
About NASW-CA CalPACE & Legislative Committees
NASW-CA's positions on Propositions are determined by our Legislative Committee in consultation with the Director of Government Relations and Political Affairs. Members of this committee are also NASW-CA members who are appointed by our Board President. We evaluate propositions that have a nexus to social work and we determine our positions based on their correlation with our Code of Ethics and our organizational positions detailed in "Social Work Speaks."
The Director of Government Relations and Political Affairs works with the Chapter CalPACE committee to determine what state and local candidates we will endorse for election and what candidates will receive a financial contribution. The CalPACE committee is made up of volunteer NASW-CA members who apply for the role and are appointed by the Board President of NASW-CA.
The CalPACE committee chooses candidates based on a candidate questionnaire, their score on our annual legislative scorecard, and their viability as a candidate. They also give special consideration to Social Workers running for elected office.
NASW-CA's Recommendations on 2022 California Propositions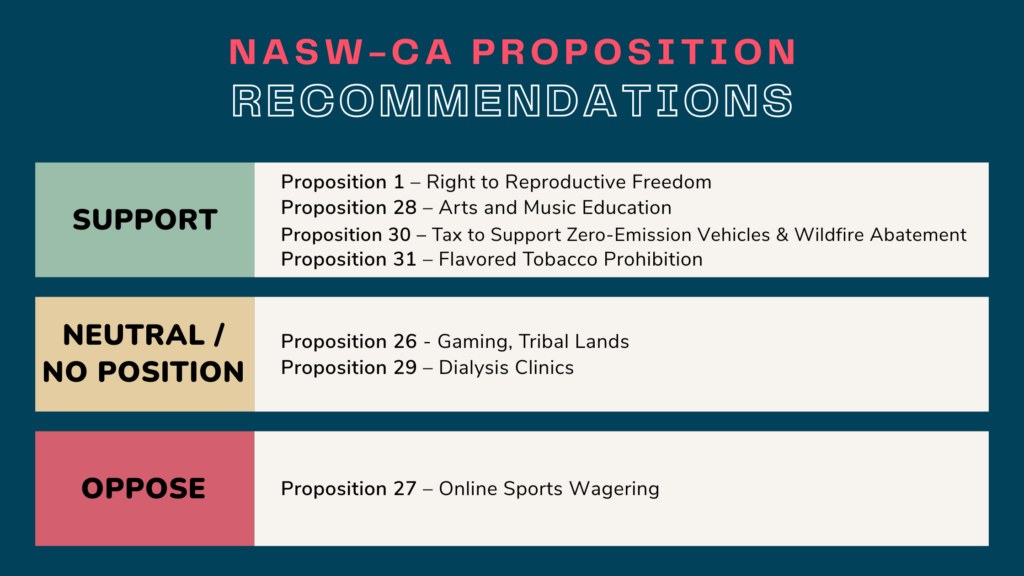 2022 Propositions
Proposition 1: Right to Reproductive Freedom – SUPPORT
This proposition will enshrine in the California State Constitution the right to reproductive freedom, including the right to choose an abortion or to choose or refuse contraceptives.
NASW has a clear policy on choice and the right to self-determination. NASW affirms all individuals have a right to bodily autonomy, that abortion is health care, and that all individuals have the right to freedom of choice in accessing essential health care services most especially their reproductive health.
Proposition 26: Gaming, Tribal Lands – Neutral/No Position
This measure will expand sports waging at certain horseracing tracks and tribal casinos could offer in-person sports betting, roulette, and games played with dice.
NASW-CA took a Neutral/No Position on this measure because we balanced the benefit to the tribes with the negative impacts from gaming which impoverishes communities and leads to addiction.
Proposition 27: Online Sports Wagering – OPPOSE
This proposition allows for online sports wagering outside tribal lands. It dedicates part of the revenue to regulatory costs and homelessness programs as well as nonparticipating tribes.
NASW-CA took an Oppose position on this measure because it is masquerading as a measure to help the homeless population while in reality, 90 percent of the money would go to out of state sport betting operations. Many tribes oppose this measure, and it would increase gaming in this state which has negative impacts as noted above.
Proposition 28: Arts and Music Education – SUPPORT
Increases State General Fund support for K-12 public schools, including charter schools, for arts and music education. This funding, estimated to be about $1 billion annually, will be outside the Proposition 98 school funding guarantee, therefore, the funding will be above and beyond current funding levels.
NASW-CA sees the need for art and music education which supports the intellectual and mental health needs of our students.
Proposition 29: Dialysis Clinics – Neutral/No Position
Increases staffing requirements at dialysis clinics by mandating on-site licensed medical professionals defined as a physician, nurse practitioner, or physician assistant, on site during treatment. Clinics must also disclose physicians' ownership interests in the clinics and report infection rates.
While there are some admiral goals in this proposition for patient care that matches our values, it could result in decreased access to care, especially for mom-and-pop dialysis clinics which cannot afford the additional staffing. In addition, it will be impossible to implement because of the workforce shortage.
Proposition 30: Tax to Support Zero-Emission Vehicles and Wildfire Abatement – SUPPORT
Increases the tax on personal income above $2 million by 1.75% and dedicates the revenue to zero-emission vehicle subsidies; zero-emission vehicle infrastructure, such as electric vehicle charging stations; and wildfire suppression and prevention programs.
NASW-CA is concerned about climate change and the increased wildfires in California. This measure taxes the richest Californians and dedicates the revenue to encourage more people to buy zero-emission vehicles and to help with our firefighting efforts.
Prop 31: Flavored Tobacco Prohibition – SUPPORT
A "yes" vote on this referendum will keep in place a law passed by the Legislature which prohibits the retail sale of certain flavored tobacco products.
NASW-CA supports a ban on flavored tobacco which is marketed to kids to get them hooked on smoking.
View the California Secretary of State's Voter Handbook on the Initiatives to stay educated and up to date about each of these initiatives
For more information about this or other legislative advocacy efforts at NASW-CA, email rgonzales.naswca@socialworkers.org.