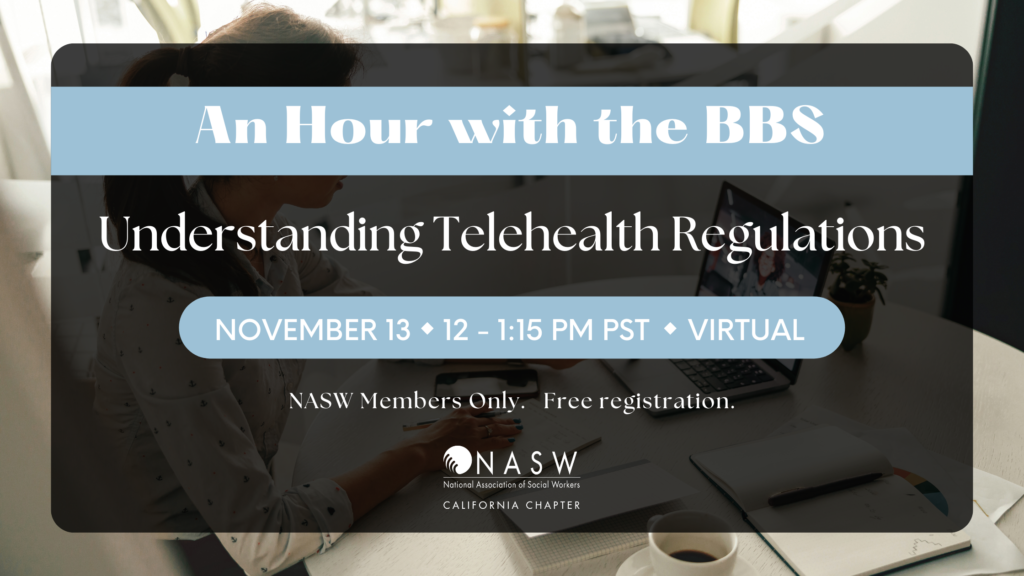 NASW-CA, in partnership with the Board of Behavioral Sciences (BBS) welcomes NASW Members to "An Hour with the BBS," a free webinar series dedicated to supporting licensed and pre-licensed practitioners and ensuring understanding and compliance with the clinical licensure process, BBS regulations, and best practices.
On Monday, November 13 from 12-1:15PM PST, join us for a session on telehealth. This session will include an overview of telehealth regulations and restrictions, tips and best practices for telehealth practices within California (including supervision via telehealth), and current telehealth policy discussions, presented by the team at the BBS. Ample time for consultation and Q&A will be provided, and all Hour with the BBS sessions are recorded and made available on-demand to NASW members. We are proud to bring this member offering to you, and to support you in your professional development and clinical journey.
Please submit questions for this presentation in advance to Alex Brown at abrown.naswca@socialworkers.org.
This free event is NASW member exclusive. Membership will be reviewed and confirmed after registering. If you are not a member but want to participate, consider joining the largest association for social workers at www.joinnasw.org.