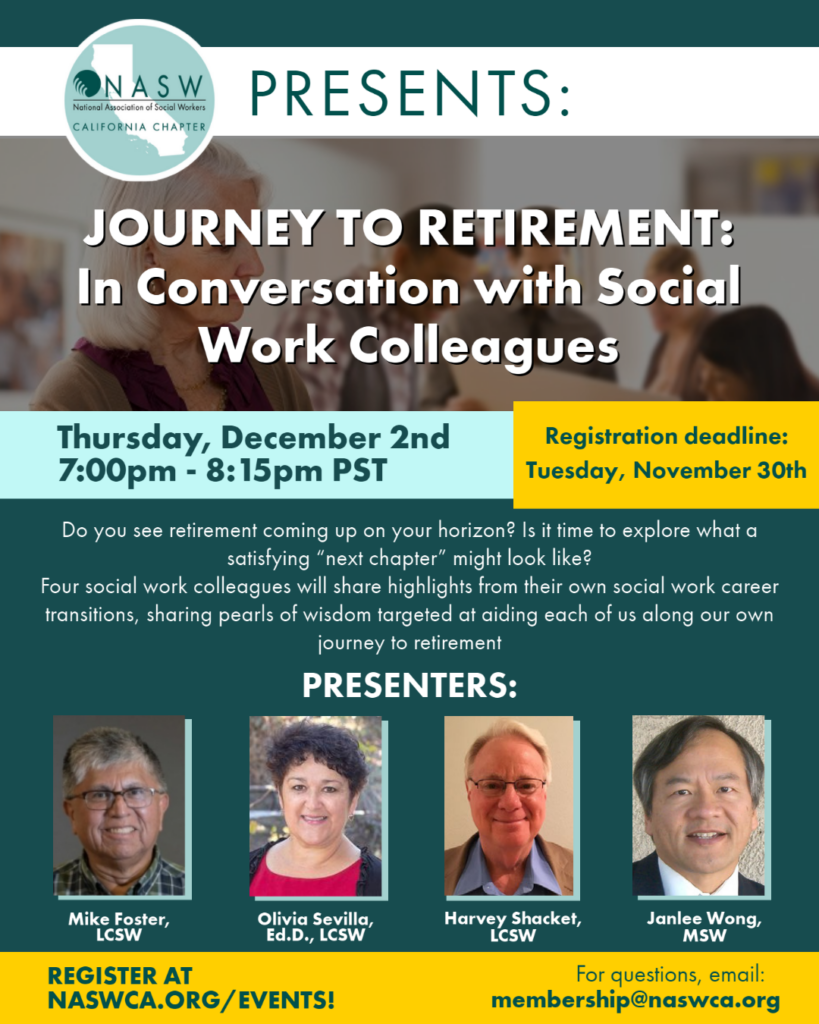 Do you see retirement coming up on your horizon? Is it time to explore what a satisfying "next chapter" might look like? Cozy up virtually with NASW-CA and friends on 12/2, from 7-8:15 pm for a conversation among four social work colleagues. Each will share highlights from their own social work career transitions, sharing pearls of wisdom targeted at aiding each of us along our own journey to retirement.
This event is free to attend and open to all!
Presenters:
Olivia Sevilla, Ed.D., LCSW
For more than 25 years, until she retired in 2016 from that position, Ms. Sevilla was a clinical therapist and executive director of Bilingual Family Counseling Service, Inc., a community-based outpatient mental health clinic. She currently teaches full time as an Assistant Professor at Azusa Pacific University in the Social Work Department, MSW program. She also serves on multiple nonprofit and foundation boards in her local community, and has a private practice providing clinical supervision in the area of child welfare.
Janlee Wong, MSW
Janlee Wong, MSW is the former Executive Director of the California Chapter, National Association of Social Workers (NASW). Mr. Wong received his MSW from San Francisco State University and has worked in the field of social work for over 40 years with community based organizations, county and federal government and private consulting firms. Mr. Wong served on the Board of Directors for the Council on Social Work Education. the NASW Presidential Initiative on Diversity and the Board of Directors for the California Social Work Education Center. Mr. Wong has participated in a number of racial equity and social justice panels including several in 2020 addressing the racial injustice and anti-AAPI hate.
Mike Foster, LCSW
Fredrick Michael "Mike" Foster, LCSW,  is an emeritus Field Faculty member, California State University Long Beach, School of Social Work. Mike taught Field Seminars to undergraduate seniors and first and second year MSW students from 1994 to 2016. He also served as the Title IV-E Field Consultant to the CSULB School of Social Work Distance Education program in Ventura and Sonoma Counties. He currently holds an Adjunct Lecturer position in Field Education at the USC Suzanne Dworak-Peck School of Social Work where he teaches a Field Seminar and serves as a Field Instructor for the SAFE-T Telehealth program.  Mike has worked in the field of foster care and adoptions providing the range of micro, mezzo, and macro social work. He has an interest in Latino and LGBT issues as well mentoring, leadership and clinical supervision. Mike has been an active member of NASW since 1975 and recently served as the elected Chair for the Committee on Nominations and Leadership Identification, the Awards Committee, and was the former Chair and Co-Chair of the Jane Addams Council of NASW California.  He now serves on Delegate Assembly as member-at-large. 
Harvey Shacket, LCSW
I received my MSW from the McGill University School of Social Work in Montreal, Canada. I moved to Los Angeles in 1984, and resumed my social work career in 1985, after a 10 year hiatus. I have been working in medical social work for 30 years. In 2017 I retired from Huntington Memorial Hospital in Pasadena, where I worked in most parts of the hospital for 18 years. I was 70 years old at the time and had always wanted to start a private practice. I have kept my practice small enough to be manageable, yet keeping me busy. I had a large learning curve to surmount in the various methods of psychotherapy. I combined my experience in medical social work with psychotherapy, to serve clients with adjustment to medical issues. My clients are mostly of retirement age, although I have younger ones as well. The transition has been challenging, but very rewarding.