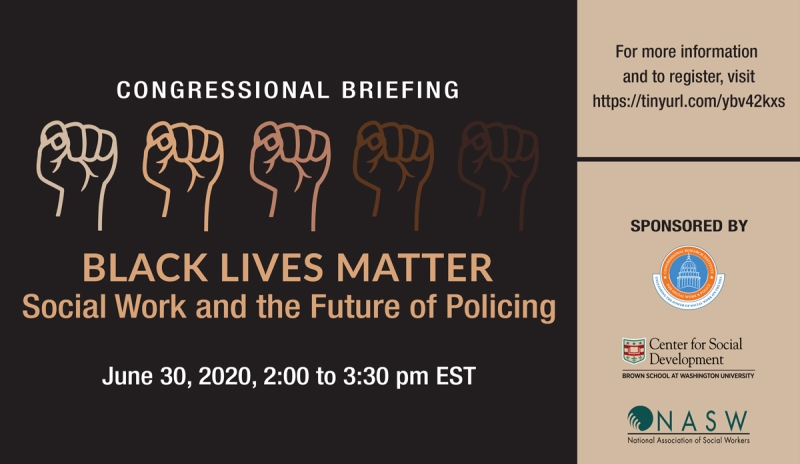 Black Lives Matter: Social Work and the Future of Policing
June 30, 2020 | 2:00 p.m. – 3:30 p.m. ET | Register

Virtual briefing is limited to the first 3,000 registrants. Reserve your spot now.  

Calls to "defund the police" have spawned initiatives to rethink and reimagine policing. Social workers have been engaged in efforts to create more equitable and effective systems for public service for years. Please join us to hear from social work and criminal justice scholars as well as law enforcement about current practices and models for transformation.

Click here to Register


SPONSORS: This briefing is sponsored by the Center for Social Development (CSD) at the Brown School of Social Work at Washington University in St. Louis, the National Association of Social Workers (NASW), and the Congressional Research Institute for Social Work and Policy (CRISP) in conjunction with the offices of Rep. Barbara Lee, MSW (D-CA-13), Chair of the Congressional Social Work Caucus, and Rep. Karen Bass, MSW (D-CA-37).  

POST-EVENT RECORDING: After the event, a recording will be viewable online on the NASW, CSD, and CRISP websites and social media pages.