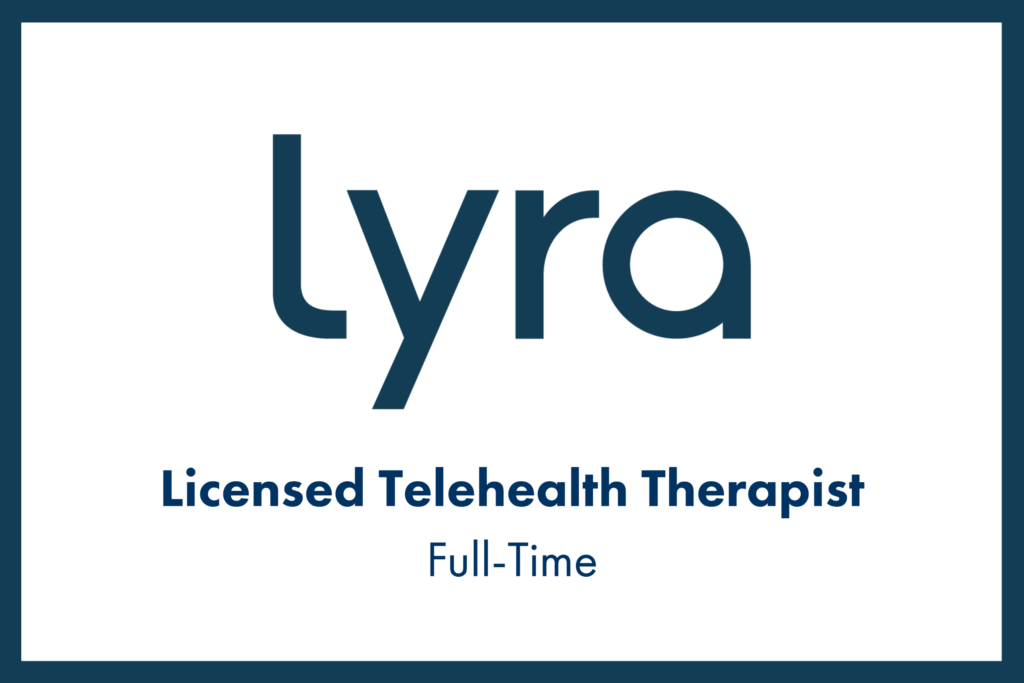 About Lyra
Lyra is transforming mental health care, from start to finish. It begins with accessible and effective evidence-based mental health care provided by best-in-class coaches and therapists. As a result, our clients experience improved outcomes—feeling better, faster. Lyra was recently included in the Top Startups of 2021 by LinkedIn and Best Product by Forbes Healthcare Awards.

To scale access to effective mental health care, Lyra has an opportunity to help solve this problem by expanding its international offering to bring its leading comprehensive solution to more members around the world. The World Health Organization estimates a $1 trillion annual cost to the global economy due to loss in productivity from depression and anxiety alone. Play an active role in helping to solve this global crisis, and join us as we continue to grow.

Now hiring for June 2022
Full-Time Employee Role & Responsibilities: Lyra offers an innovative video therapy program called Blended Care Therapy: blending live video sessions with between-session digital lessons and content.
As a Blended Care Therapist you would:
Work full-time (typically 40 hours per week)
Provide short-term, evidence-based treatment via live video
Assign digital lessons, videos, and assessments to your clients between video-based sessions to enhance learning and monitor outcomes
Conduct peer-based quality assurance reviews to ensure high-quality outcomes in the program
Attend one-on-one and peer group clinical consultation meetings
Attend ongoing training to enhance your clinical skills
Lyra Employee Benefits : We manage the operations end of the business, so you can focus on what you do best: providing high-quality mental health care. Our perks and benefits package includes:
Competitive compensation for your session work and administrative work
Medical, dental, and vision insurance; Lyra coaching and clinical services
Flexible scheduling to set your own hour of availability for full-time hours/week
PTO includes: vacation, sick leave, and holiday
401K and equity
Free online CE training
Malpractice liability insurance policy
Reimbursement for licensure renewal, up to 5 state licenses
Opportunity for cross-licensure sponsorship if eligible
A full caseload of motivated clients
Dedicated business support from Operations, HR, and IT professionals + a monthly technology stipend
Requirements:
Master's degree from a clinical track (e.g., MSW, MFT, MC, MMHC)
Unrestricted license (i.e., able to work independently, without supervision from a licensed supervisor) without current, past, or pending disciplinary action
Experience providing evidence-based treatments (e.g., CBT, DBT)
Experience providing video therapy
Experience maintaining a full clinical caseload of adult and/or adolescent clients/week
Full-time resident of the United States
Qualities for Success:
You're thrilled to provide excellent quality clinical care, by video, to a full caseload of clients
You're adept at learning and comfortable using tech tools
You enjoy the balance of independent ownership of key tasks, and regular team communications
You're eager to join a rapidly growing business, and comfortable with processes that evolve quickly
You possess excellent interpersonal skills, and a willingness to receive feedback
You're open-minded, non-judgemental, flexible, and have good humor
You show up as your authentic self at work, each day. This is part of the magic that makes up Lyra.
For questions about this full-time employment therapist role, please reach out to lyrarecruiting@lyrahealth-duplicated.com

We are an Equal Opportunity Employer. We do not discriminate on the basis of race, color, religion, sex (including pregnancy), national origin, age (40 or older), disability, genetic information or any other category protected by law.