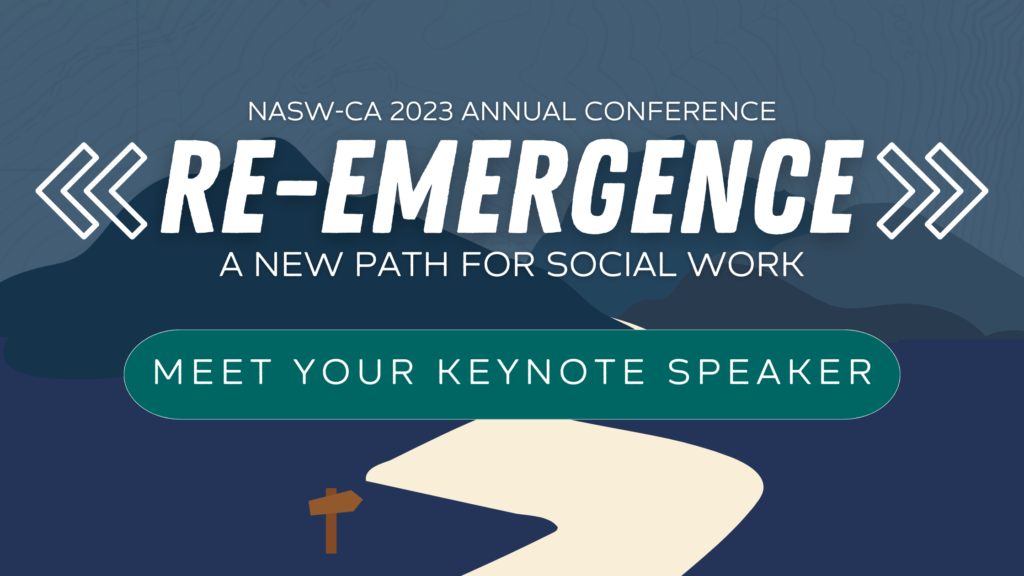 Join Dr. Anthony Estreet, PhD, MBA, LCSW-C at the Annual Social Work Conference
For the first time in three years, hundreds of social work and social service professionals throughout California will convene to re-engage, reimagine, and reconnect at the 2023 Annual Conference – all in-person in Burbank, California! On Friday, October 20, we will immerse ourselves in innovative workshop topics, networking opportunities, continuing education classes, exhibit hall and reception events, the NASW-CA Social Work Awards Ceremony, and much more.
As part of the event, we are proud to announce that our very own NASW CEO Dr. Anthony Estreet, PhD, MBA, LCSW-C will be joining us as the Keynote Speaker! Dr. Estreet will kick off the two-day conference by sharing his journey and illustrating the impact our profession has on social justice, policy, and beyond. We look forward to welcoming hundreds of practitioners and Dr. Estreet to the stage to share how social workers can lead change together.
Breaking Barriers: Empowering Social Workers as Agents of Change
As the world keeps evolving, social workers are rising to meet the needs of their communities, advocating in the state legislature, and working on the frontlines of social change. Throughout the COVID-19 pandemic, social service professionals have continued to work hard to equip themselves with a wide variety of skills and knowledge they need to provide necessary care. Despite the challenges and impacts on telehealth, misinformation, and physical and mental health, our profession continues to break barriers through education, advocacy, and leadership.
Dr. Estreet will highlight the importance of our work, our combined contributions, and the transformative changes in our practice that allow us to embrace our roles as changemakers. Together, we will explore the endless ways social workers and social service professionals can invigorate and strengthen our commitment to social work and its values. We are honored to have Dr. Estreet join us in Burbank and celebrate the collective power of social work with us.
About Dr. Anthony Estreet, PhD, MBA, LCSW-C
Dr. Anthony Estreet is currently the CEO of the National Association of Social Workers (NASW) and is a highly esteemed leader in the field of social work. Dr. Estreet, who has more than two decades of experience in the social work profession, has made significant contributions to the field through his academic and professional endeavors.
Dr. Estreet began his career as an adjunct professor at Morgan State University in Baltimore, Maryland, and later became the MSW Program's chair and a full professor. While at Morgan State, he co-edited a groundbreaking book on African-centered clinical interventions in social work mental health practice. He published over 40 peer-reviewed journal articles on social work education, workforce development, and social work practice.
In addition to his academic work, Dr. Estreet has held several leadership positions within the social work profession. He served as Vice President of the NASW Board of Directors and as Chair of the NASW Alcohol, Tobacco, and other Drugs Specialty Practice Sections and the National Ethics Committee. In addition, he co-chaired a committee tasked with planning and executing an innovative National Social Work Conference.
Dr. Estreet has served as a clinical director, the chief executive officer of a treatment facility, and a senior executive consultant. He is the founding President of the National Association of Black Social Workers' Baltimore Legacy Chapter.
Dr. Estreet's dedication to serving vulnerable populations and enthusiasm for the social work profession make him the ideal candidate to lead NASW. His extensive knowledge and expertise will be invaluable in advancing the organization's goals and improving the lives of those who rely on social workers for advocacy and support.
Dr. Estreet earned a bachelor's in science in psychology from Bowie State University, an MSW at Virginia Commonwealth University, a doctorate in social work at Morgan State University, and an MBA at the University Maryland-College Park. He is a member of Alpha Phi Alpha, the oldest intercollegiate African American fraternity.
Please contact eventreg@naswca.org with any questions about the Conference.