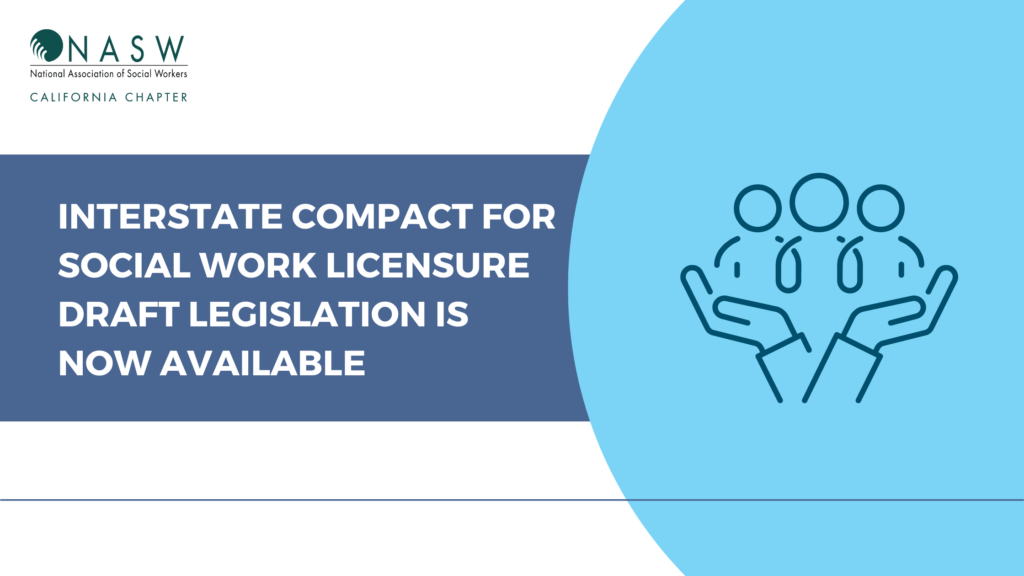 NASW shared the recent announcement regarding our association's collaborative work with other stakeholders to develop the first draft of an interstate compact for social work licensure. We are moving closer to greater license mobility. A draft is now available for public comment. Please participate and weigh in your input! Your feedback is pivotal during this time to ensure California social work voices are heard and integrated into planning.
While many thoughtful social workers from across the country have been part of the drafting process – including several representing NASW – licensure is different in every state and this legislation will affect each state differently. It is vital that social workers across the country review this draft legislation and weigh in during this public comment period. Once finalized, we hope it will be a bill we can get passed in the (state &/or chapter name) Legislature so that social workers in our state can participate in the compact.
To download a copy of the draft legislation, review the fact sheet, read FAQs, register for CSG's weekly stakeholder review sessions, and access the survey link to provide your comments – visit the Council on State Governments (CSG) website. Beginning July 18th, CSG will host weekly review sessions to explain the provisions of the compact. These meetings are open to the general public. Register to attend one of these meetings here.
Want to learn more about what it all means before submitting your comments? Check out this opportunity:
NASW National Stakeholder Review Sessions – July 26 & Aug 31 from 5:30-7:00pm Eastern Time
Join these live sessions on NASW's Facebook page to review the draft legislation with CSG representatives and hear analysis and reflections from NASW leaders with a national perspective. For all NASW activities and information about the licensure compact visit https://www.socialworkers.org/Advocacy/Social-Justice/Interstate-Licensure-Compact-for-Social-Work."
For any questions, contact NASW national's Policy Director, Sarah Butts, at sbutts.nasw@socialworkers.org.
Not an NASW member? Consider joining us to work alongside us on the frontlines of vital political and social change. Learn more here.