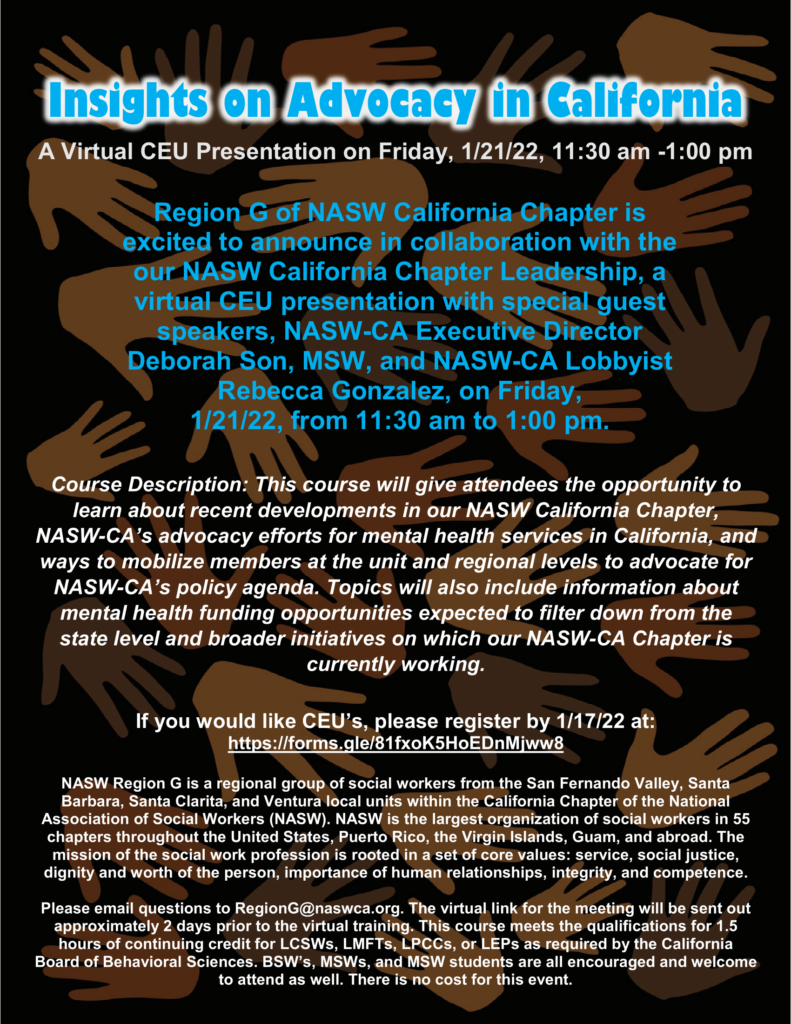 Region G of NASW California Chapter is excited to announce in collaboration with the our NASW California Chapter Leadership, a free virtual CEU presentation with special guest speakers, NASW-CA Executive Director Deborah Son, MSW, and NASW-CA Lobbyist Rebecca Gonzalez, on Friday, 1/21/22, from 11:30 am to 1:00 pm PST.
This course will give attendees the opportunity to learn about recent developments in our NASW California Chapter, NASW-CA's advocacy efforts for mental health services in California, and ways to mobilize members at the unit and regional levels to advocate for NASW-CA's policy agenda. Topics will also include information about mental health funding opportunities expected to filter down from the state level and broader initiatives on which our NASW-CA Chapter is currently working.
Please register by January 17 if you would like to receive CEUs
Please email questions to RegionG@naswca.org. The virtual link for the meeting will be sent out approximately 2 days prior to the virtual training. This course meets the qualifications for 1.5 hours of continuing credit for LCSWs, LMFTs, LPCCs, or LEPs as required by the California Board of Behavioral Sciences. BSW's, MSWs, and MSW students are all encouraged and welcome to attend as well. There is no cost for this event.
NASW Region G is a regional group of social workers from the San Fernando Valley, Santa Barbara, Santa Clarita, and Ventura local units within the California Chapter of the National Association of Social Workers (NASW). NASW is the largest organization of social workers in 55 chapters throughout the United States, Puerto Rico, the Virgin Islands, Guam, and abroad. The mission of the social work profession is rooted in a set of core values: service, social justice, dignity and worth of the person, importance of human relationships, integrity, and competence.