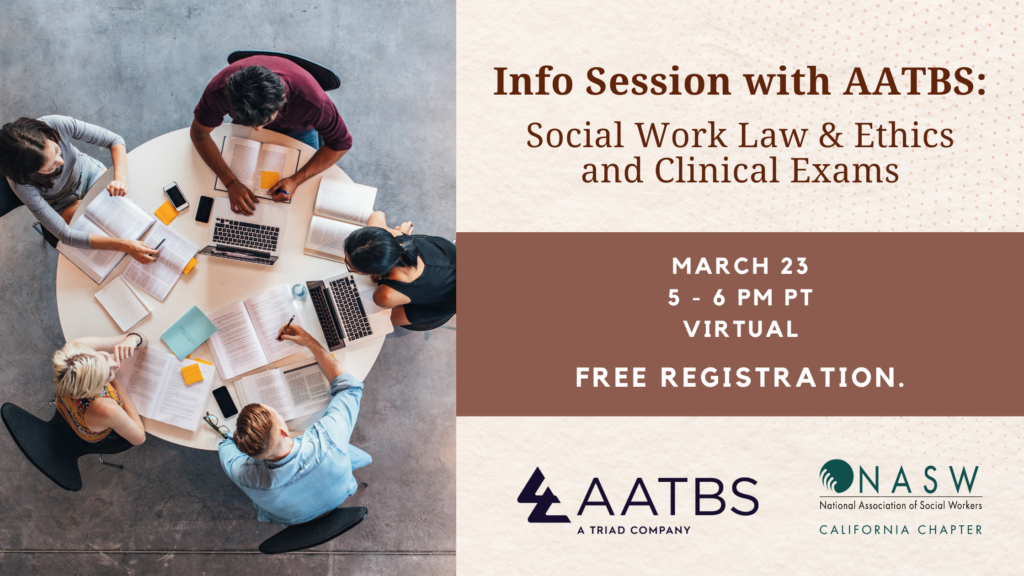 Join NASW-CA and AATBS for an informational session on the CA Social Work Law and Ethics and Clinical level exams! This workshop will be led by Natalie Liberman, M.A., LMFT; MSW, LCSW on March 23rd at 5pm PT.
During this session, you will learn about the structure and content of the Law and Ethics and Clinical level exams, how to prepare, and strategies for exam day success. This event is hosted in collaboration with AATBS, one of NASW-CA's partners in clinical exam prep for social workers. This event is free for all!
About the Presenter:
Natalie Liberman is a multi-lingual Licensed Marriage and Family Therapist, as well as a Licensed Clinical Social Worker. She earned her Bachelor's degree in Psychology from the University of California, Los Angeles and her first Master's degree in Clinical Psychology with an emphasis in Marriage and Family Therapy from Pepperdine University. Natalie also holds a Master of Social Work degree from the University of Dubna. Natalie has over 10 years of experience working with candidates to pass their licensing exams. Learn more here.
Interested in Discounted Exam Prep? NASW-CA Members have access to discounted exam prep packages through AATBS. If you are interested in accessing this discount, please email membership@naswca.org.
Please contact Alex Brown at abrown.naswca@socialworkers.org with any questions.