By Eric Lindberg
Six individuals who spent decades tackling issues such as lack of diversity in social work education, racial barriers and segregation, and the negative effects of divorce on children and families have been inducted into the California Social Work Hall of Distinction.
The new inductees are Janet E. Black, a central force in the advancement of social work education throughout California; Howard H. Carey, a leading figure in San Diego County's social services sector; David Kuroda, a seminal pioneer in social work and family law; Jane Kurohara, who led the charge to diversify social work programs; Armando Torres Morales, a lifelong advocate for the Latino community and other underserved populations; and Terrence J. Roberts, a civil rights activist who has promoted ideals of social injustice throughout his career.
Since 2002, the Hall of Distinction has honored more than 100 individuals, with a particular emphasis on practitioners, advocates and educators. The inductee biographies and interviews preserved in the Hall of Distinction provide the basis for research projects by social work students throughout California.
"It identifies, recognizes and salutes social workers who have made significant contributions to the field of social welfare in California," said Esther Gillies, president of the California Social Welfare Archives and retired clinical associate professor at the USC Suzanne Dworak-Peck School of Social Work. "Without having a special arena and forum to take on this function, those contributions of social workers throughout the state would get lost over time."
Throughout her many roles in the profession of social work, from chief of long-term care at Sepulveda Veterans Administration Hospital to professor, director of field education and interim director at California State University, Long Beach's Department of Social Work, Black has held a steadfast passion for social work education.
Photo caption: Janet E. Black, MSW (right). Presented by Dr. Beverly J. Buckles, Dean, School of Behavioral Health, Loma Linda University. NASW-CA Executive Director Janlee Wong is on the left.
She is well known as an early advocate of distance education, has developed curricula and training programs for dozens of schools of social work and served as a consultant to the California Social Work Education Center, promoting the advancement of competent professionals in mental health care.
Beverly J. Buckles, dean of Loma Linda University's School of Behavioral Health, introduced her friend and colleague with words such as dedication, passion for service, unwavering integrity and humility. "Jan is all those things and many, many more," she said.
Reflecting on her 45-year career, Black highlighted her efforts to establish distance education programs that have since grown into full-fledged MSW programs. She also noted she is currently involved with efforts to develop competencies for mental health workers throughout Southern California.
"I am still a practicing social worker and plan to continue with that as long as I can," Black said, adding later, "I'm so very proud to be a social worker and to uphold the values and ethics of our profession."
Howard H. Carey

Carey is best known for his service as president and CEO of Neighborhood House Association, a nonprofit organization that delivers comprehensive health and human services to underserved and vulnerable populations in San Diego County. He led programs that provided child development support, youth gang diversion, adult physical rehabilitation and housing and rental assistance, among many others.
Described as a mentor, friend and surrogate uncle by Rudolph A. Johnson III, the association's current president and CEO, Carey oversaw an expansion from a staff of 35 and budget of $400,000 to more than 800 employees and a budget of nearly $100 million.
"We now serve 8,000 children and families a day," Johnson said.
Accepting the posthumous award on his father's behalf, Rodney Carey said his father would have been grateful and humbled by his induction to the Hall of Distinction.
"Those who knew my father would attest that no matter what he accomplished in his professional life, he would always say, I am just a social worker," he said. "It's fitting that, as he would say, this self-proclaimed country boy from Lexington, Mississippi, is being recognized for his lifelong achievements and commitment to the work he loved so much."
David Kuroda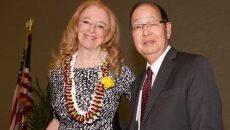 A licensed clinical social worker, Kuroda is a pioneer of an area of family law known as collaborative divorce, which focuses on creating a forum for out-of-court resolution and conflict-free divorce that minimizes negative effects on children.
                                         Photo caption: Colleen Friend, PhD, Chair, California Social Work Hall of Distinction Committee with inductee David Kuroda.
"I believe the greatest public health concern in this county is divorce and its effect on children and families," he said. "My job as peacemaker is to encourage parents to resolve disputes themselves, with the help of collaborative lawyers and other professionals."
After earning his MSW at USC in 1972, Kuroda spent nearly three decades in the public sector, serving as division chief and director of the Mediation and Conciliation Service in the Superior Court of Los Angeles, the first and largest court mediation program in the nation. He also oversaw the county's district court mediation programs, including Parents and Children Together and a program designed to find solutions for parents with high levels of conflict who chronically violated custody and visitation orders.
In 1999, Kuroda left public service to help establish A Better Divorce, an interdisciplinary group of professionals devoted to the collaborative divorce process.
Jane Kurohara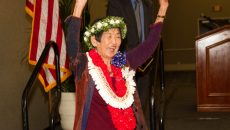 A leading figure in the campaign to diversify social work programs throughout California, Kurohara's dogged efforts led UCLA to establish a quota system in its School of Social Welfare in the late 1960s.
Raised in Hawaii, Kurohara earned her MSW at Washington University and eventually made her way west to Southern California, where she became a field instructor for UCLA. She noticed that few minority students were in the program, particularly Asians, despite a clear need for culturally competent social workers in the local community.
One of the graduates of that program, Y. Bill Watanabe, said Kurohara's subsequent meetings with school leaders as part of a coalition pursuing increased diversity prompted the school to open its doors to a diversified student body.
"Jane is very pushy, but in a good way and about the right things," said Watanabe, who established the Little Tokyo Service Center in Los Angeles and now sits on its board of governors.
Kurohara continued her affirmative action work after joining the UCLA faculty in 1971, serving on its admissions committee and traveling throughout the state to recruit undergraduate students from racial and ethnic minority groups.
"Affirmative action today is not the politest word to use, but it really brought us together," she said, adding later, "It's heartwarming for me to see our Asian community is now well served with Asian social workers."
Armando Torres Morales

Described as a Chicano Renaissance man, Morales served in the U.S. Air Force and was a boxer and a musician. He is best known, however, for his tireless work as an advocate for the Latino community, particularly in terms of advancing mental health services and ending abusive policing.
A Los Angeles native, Morales earned his MSW at USC in 1963 and returned to complete the DSW program in 1972, becoming the first Latino in the nation to earn a doctorate in social work. Concerned about the lack of mental health services being accessed in the Latino community, he founded the first psychiatric clinic for Spanish-speaking patients at the UCLA Neuropsychiatric Institute.
He also directed the institute's Clinical Social Work Department and Clinical Internship Training Program from 1979 to 2000, eventually rising through the ranks to attain the highest level of professorship possible at UCLA.
In addition to his academic and community work, Morales is known for his service as an expert witness in dozens of criminal cases, including the infamous Reginald Denny beating trial. He also authored a seminal book focused on the Chicano political movement, Ando Sangrando (I Am Bleeding): A Study of Mexican American Police Conflict.
His son Rolando and daughter, Christina, accepted the posthumous award on his behalf.
"He would have been so honored and so proud to have been inducted," said Rolando Morales.
Terrence J. Roberts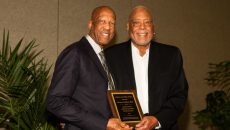 In the wake of the 1954 Supreme Court decision in Brown v. Board of Education, public schools were no longer allowed to segregate students. In 1959, that legal decision was put to the test during efforts to integrate Central High School in Little Rock, Ark. As one of the so-called Little Rock Nine, the first black students enrolled in the school, Roberts arrived for the first day of class to face an angry crowd of white students and other community members, who hurled invectives and rocks as he approached with his fellow black students.
         Photo caption : Terrence J. Roberts, PhD (left) was presented the award by Joseph A. Nunn, PhD, Professor Emeritus, UCLA Department of Social Welfare
Joseph A. Nunn, a professor emeritus of the UCLA Department of Social Welfare, recalled watching the events at Central High School on television as a ninth-grade student in Los Angeles.
"I saw soldiers, I saw National Guard, I saw police," he said. "And I saw these kids steadily moving forward."
Thanks to the efforts of the Little Rock Nine, the barriers to racial segregation in public schools slowly began to crumble. As a result of his experience, Roberts took up the mantle of civil rights activist, eventually establishing a consulting firm that advises organizations on issues of social justice. He returned to Little Rock in the 1990s to serve as the official desegregation consultant for its school district. In 1999, he received the nation's highest honor for civilian contributions to society, the Congressional Gold Medal.
In addition to his civil rights work, Roberts earned a master's degree in social welfare from UCLA and a doctorate in psychology at Southern Illinois University. He served as director of mental health at St. Helena Hospital and Health Center, then as assistant dean at the UCLA Department of Social Welfare, where he oversaw admissions to the master's program and taught courses on group conflict, social change and cross-cultural awareness. He later chaired the psychology department at Antioch University in Los Angeles.
In accepting the honor, he recalled a line by author Bernard Malamud: "In a sick country, any sign of health is an insult to those who live off the sickness."
Roberts challenged social workers and other helping professionals to continue to press forward and seek progress, even as those who are living off the status quo fight their efforts.
"I have seen that when you are truly dedicated to what you do, good things do happen," he said.
Hall of Distinction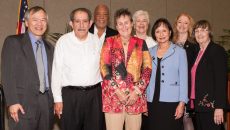 The California Social Work Hall of Distinction is part of the California Social Welfare Archives, housed at the USC Doheny Special Collections Library and supported by the USC Suzanne Dworak-Peck School of Social Work. The archives identify and preserve documents and memorabilia related to social work and social welfare programs in California, including oral histories by professional and volunteer social welfare leaders.
HOD Committee photo. Left to right. Front row: Janlee Wong, Benjamin Cuellar, Suzanne Dworak-Peck, Nancy Lim-Yee, Esther Gillies. Back row: Joseph Nunn, Catharine Ralph, Colleen Friend. Not pictured: Frances Caple, Manuel Fimbres, Kim Gaghagen, Anita Harbert, Jim Kelly
The induction ceremony and oral history interviews are available online at http://www.youtube.com/USCSocialWork under the California Social Welfare Archives playlist. Visit http://www.socialworkhallofdistinction.org for more information about the Hall of Distinction and its honorees.