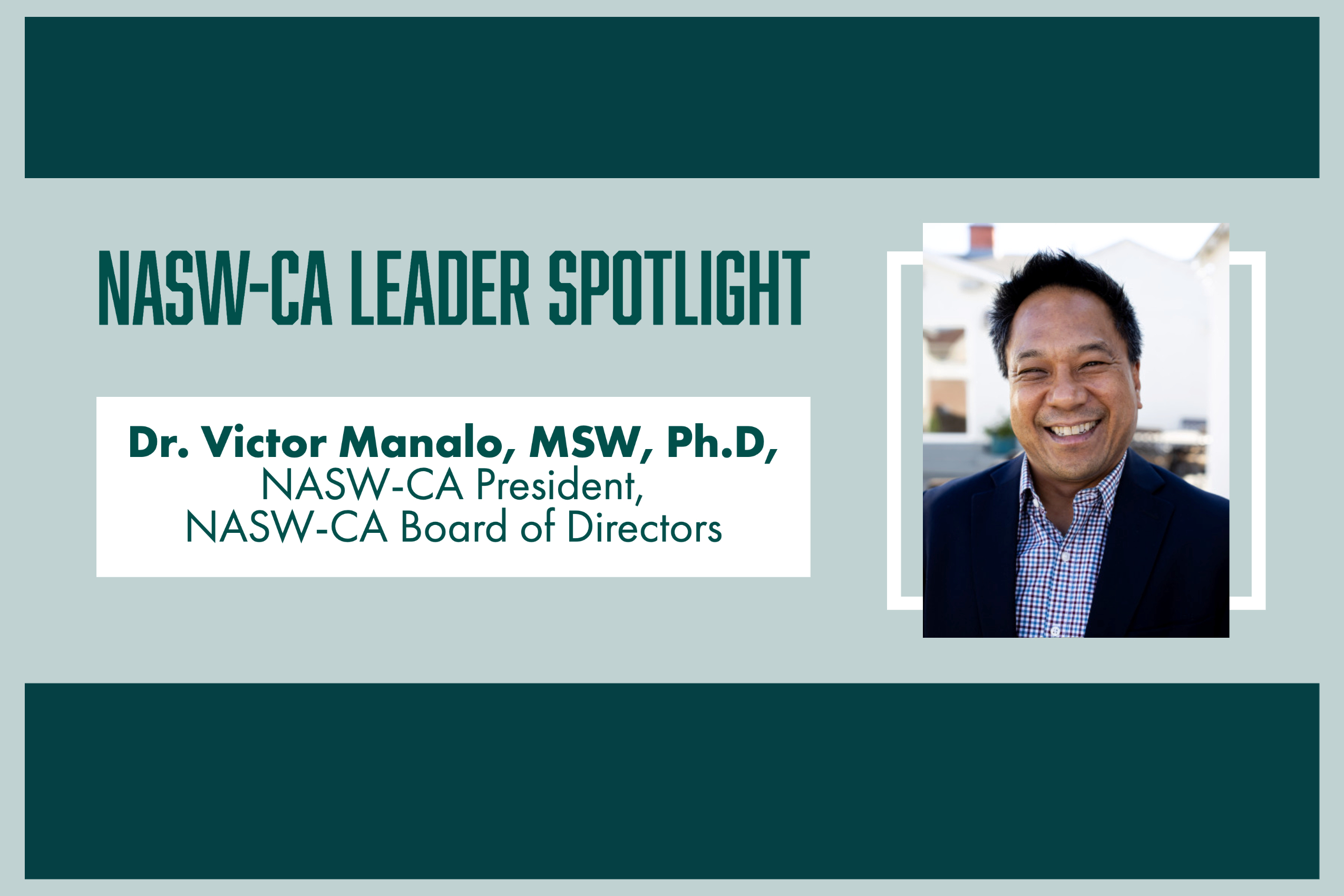 Dr. Victor Manalo is the President of the NASW-CA Chapter Board of Directors and President-Elect of the NASW Council of Chapter Presidents. He is a retired university professor, former city councilman and Mayor, and local government consultant. He earned a Ph.D. in Social Work from the University of Southern California and a Master's Degree in Social Work from California State University, Long Beach.
For nearly 12 years, he served on the Artesia City Council in Southeast Los Angeles County, California and was active as President of the California Contract Cities Association, Regional Council Member of the Southern California Association of Governments, and Policy Board Member of the Southeast Los Angeles County Workforce Investment Board. He continues to serve as a Planning Commissioner for the City of Artesia and a member of the board of directors of a local nonprofit.
Victor has continued to lecture at California State University, Los Angeles, in the School of Social Work, teaching graduate and undergraduate policy, policy practice, and community organizing. As a consultant, he has established a nonprofit organization called the Downey Cares Collaborative whose mission is to facilitate public-private coalitions to create healthy communities, and he engages local governments to address pedestrian safety in their cities.
1. What has been your favorite part as a regional leader? Or what do you look forward to as a regional leader?
I look forward to connecting with my fellow social workers throughout California, listening to their stories, and engaging them in our association at all levels.
2. What type of social work experience do you possess?
I have had direct practice experience with children and families in after-school programs, in group homes, and with the Department of Children and Family Services in Los Angeles County. Since earning my MSW, I focused on teaching macro practice courses and gaining experience as a local elected official and consultant.
3. What is your favorite type of self-care practice?
I find it helpful for me to start off my day in prayer and contemplation.  I really like to read books that help me to learn and to find new ways of looking at things. I do exercise regularly, and I love to listen to music from the 70s and 80s. 
4. What are the benefits of reaching out to regional leadership and interacting with social workers in your area?
The most valuable benefit of my NASW membership is the network of social workers that I have been able to assemble that I can connect with other social workers. We all know that we social workers are valuable connections for each other, and we are all doing amazing work! I am looking forward to meeting more social workers throughout California to continue to make these connections.
5. Can you share about the events you host (or plan on hosting) in your area and how members can get involved or benefit from this?
I would like to attend an event in each region by July 1, 2021. I will also be working with the NASW-CA Chapter staff to host some macro practice-oriented events this year.
6. What is the best way to reach you?
The best way to reach me is by email at Victor@VictorManalo.com. You can also follow me on Instagram @drvictormanlo or go to my website at www.victormanalo.com.