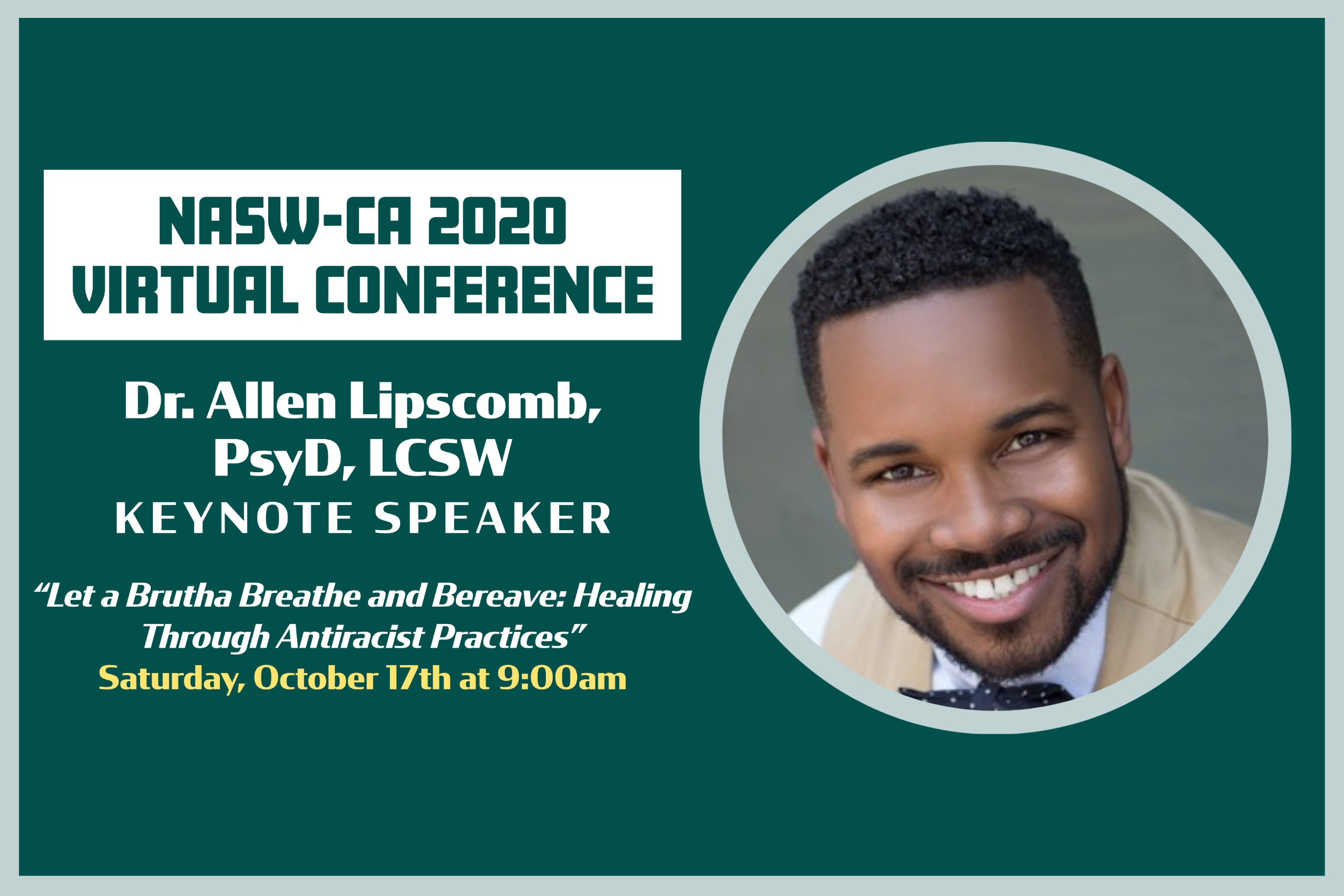 Dr. Allen E. Lipscomb will give the keynote address, "Let a Brutha Breathe and Bereave: Healing Through Antiracist Practices," at the 2020 NASW-CA Virtual Conference on Saturday, October 17 at 9:00am. 
In the article, Black Male Hunting: A Phenomenological Study Exploring the Secondary Impact of Police Induced Trauma, written by Dr. Lipscomb, based on a (2018) study found that police killings of unarmed Black men have severe psychological and emotional impact on not only Black men but Black people in general in the United States.  
Allen E. Lipscomb is an Associate Professor at California State University Northridge in the Department of Social Work. Dr. Lipscomb is a clinical psychologist by highest degree earned and a Licensed Clinical Social Worker in the State of California. Dr. Lipscomb received his doctorate in Psychology (Psy.D.) with a clinical emphasis in marriage, family and child psychotherapy from Ryokan College and his master of social work (MSW) from the University of Southern California. Upon completing his doctorate, he earned a certification in mixed-methods community based research from the University of Michigan in the School of Social Work. In addition, Dr. Lipscomb studied diversity and inclusion practices within organizations through Cornell University; earning a certification from the School of Industrial and Labor Relations at Cornell.
Dr. Lipscomb specializes in providing anti-oppressive and inclusive mental health services to individuals, children, youth and families of color. His areas of research are centered on the psychiatric epidemiology among racialized and marginalized individuals who have experienced trauma (i.e. complex trauma, traumatic-grief and race-based trauma). Specifically, Dr. Lipscomb has conducted numerous qualitative research studies on racialized Black identified men across the Black/African Diaspora exploring their grief, loss and complex-trauma experiences. His pedagogy is centered on cultural anti-oppressive and clinically-responsive inclusive practices with communities of color. Dr. Lipscomb maintains a private practice; conducts local, national and international trainings; is a clinical consultant and keynote speaker. Dr. Lipscomb has numerous peer review journal articles that centers Black male grief experiences, and has a published book titled: Black Male Grief Reaction to Trauma: A Clinical Case Study of One Man's Treatment.
The NASW-CA Virtual Conference is October 16-17. Registration deadline is October 5. Professionals can get a 40% discount by using the discount code VIRTUAL40 and students can use the code STUDENT40 when checking out.
For more information or to register visit: https://bit.ly/3131nos or email CRaynak.naswca@socialworkers.org.