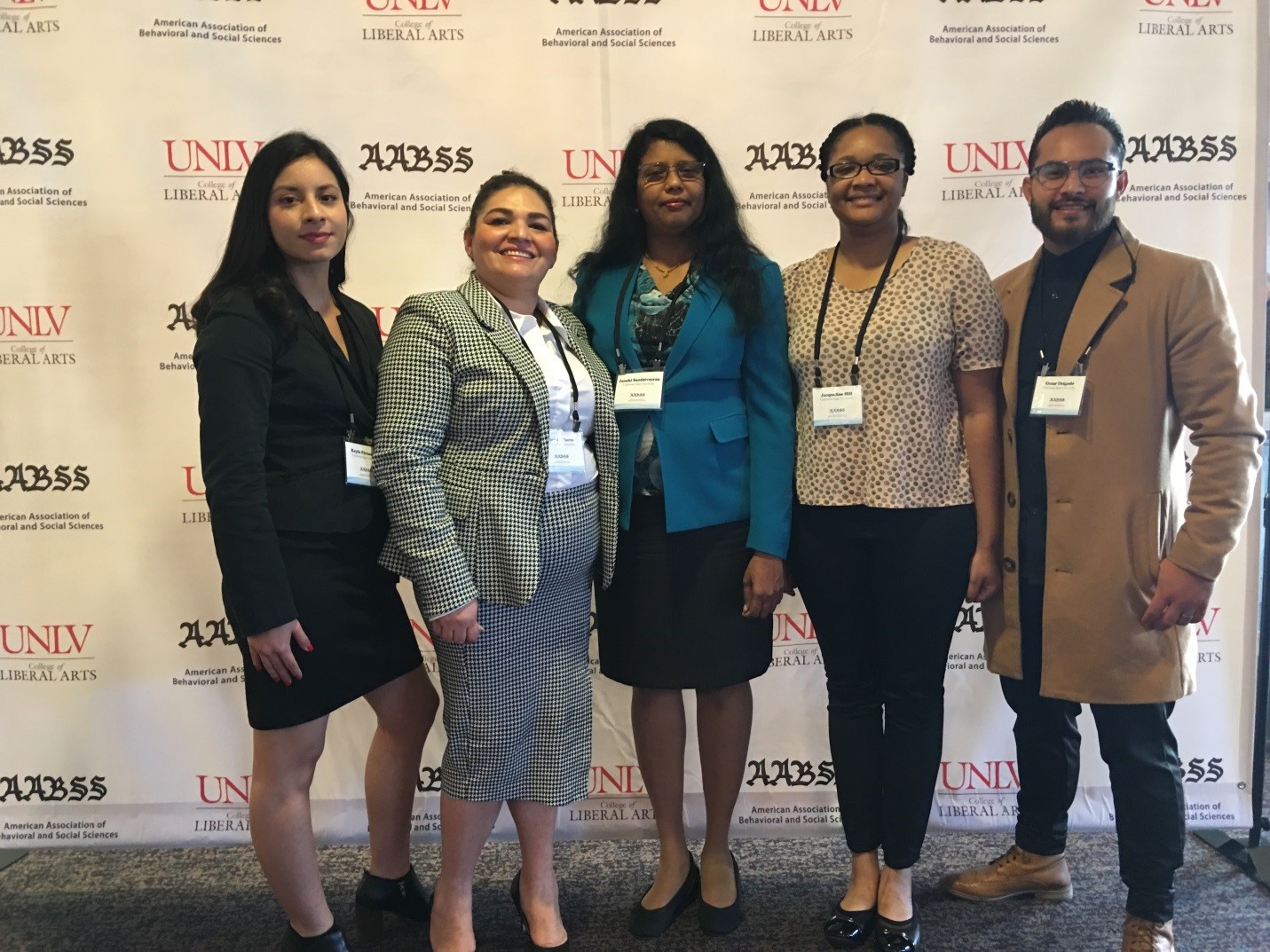 Left to right: Kayla Fernande, Ramona Flore, Janaki Santhiveeran, Jacqueline Hill, Cesar Delgado
Four students show cased their MSW theses in Las Vegas on Feb 26-27, 2018 through their peer-reviewed scholarly presentations at the 21st Annual American Association of Behavioral and Social Sciences (AABSS) Conference.
The AABSS is one of the interdisciplinary, professional conferences for social science scholars who presented their scholarly papers from variety of disciplines including social work, psychology, health sciences, marketing, and allied disciplines.
To present their MSW thesis at the conference, students had to submit a brief summary of their thesis research/project, which—in turn—had to pass a rigorous review process. Only select papers were honored by offering opportunities to make paper or poster presentations.
Of the 300 scholarly presentations, four were presented by CSULB School of Social Work students. The following students made presentations along with their MSW Thesis Chair and Mentor, Dr. Santhiveeran:
Jacqueline Hill*
Paper Presentation Topic: Marijuana Use, Prescription Medication Misuse, and Suicidality among African American Adolescents
Kayla Fernandez*
Poster Presentation Topic: Utilization of Emergency Department Services by Homeless Individuals in Pomona, California: A Quantitative Study
Ramona Flores**
Paper Presentation Topic: Is there a Case for Juvenile Immigration Policy? A Critical Survey.
Cesar Delgado**
Paper Presentation Topic: Increasing Academic Success for Young Males of Color: A Grant Proposal.
*These two students chose quantitative research involving several hours of problem formulation, writing a research proposal, literature search and writing literature review, data analysis, and presentation of findings. One of them retrieved data from YRBSS, a national database. Another student obtained an evaluative data from an Emergency Department from a hospital in LA County. Both of them were eloquent in answering several questions posed by the attendees.
**These two students presented their thesis projects on policy analysis and grant proposal.  They both were brilliant in transforming their projects into scholarly conceptual papers, which created considerable interest among attendees.
All four students spent several hours to complete their conference presentation with meticulousness due to their diligence and passion for their topics. It is always rewarding to have the superb work MSW students are doing recognize through these kinds of acknowledgements, but one of the finest parts of the AABSS Conference presentation is the prospects for these students to network with academic faculty from other universities who could inspire them to pursue a PhD or prospective employers or students from other universities.
Despite the fact all four of their theses were not funded research from external sources, each student received several hours of mentoring from Janaki Santhiveeran, Ph.D., full professor, School of Social Work, as a part of their MSW curriculum. Dr. Santhiveeran has mentored around 300 students during her tenure as a professor in the past 19 years. The students are appreciative of the conference grants from CSULB Student Services to meet their expenses related to conference registration, travel, stay and food.
The School of Social Work is one of the largest schools located at the College of Health and Human Services, CSULB. The school has been offering research opportunities for their MSW students for the past several years. Faculty members have generously spent their time mentoring MSW thesis students year after year.