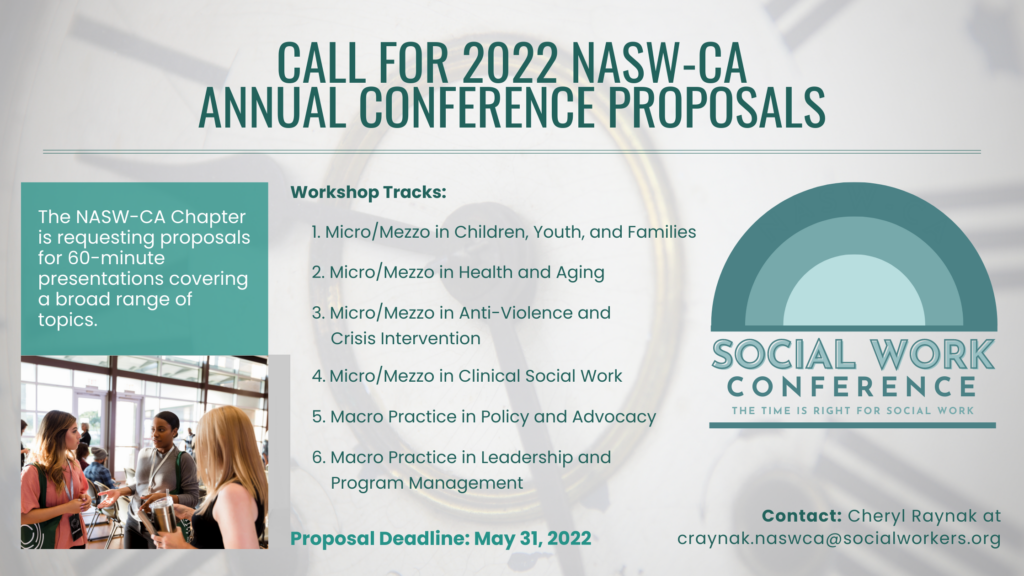 The NASW-CA Chapter is requesting proposals for 60-minute presentations covering a broad range of topics related to clinical practice issues for experienced practitioners.
Theme: The Time is Right for Social Work
Workshop Tracks:
Micro/Mezzo in Children, Youth, and Families
Micro/Mezzo in Health and Aging
Micro/Mezzo in Anti-Violence & Crisis Intervention
Micro/Mezzo in Clinical Social Work
Macro Practice in Policy & Advocacy
Macro Practice in Leadership and Program Management
NASW-CA 2022 Annual Conference – Virtual
Friday – October 14, 2022 – 9:00am – 3:00pm
Friday – October 21, 2022 – 9:00am – 4:00pm
Optional in-person networking receptions will be announced.
Presentation Requirements:
Provides advanced-level themes taught by licensed and non-licensed experts (annual conference attendees have an average of 15 to 25 years of social work experience)
Offers curriculum that has been highly rated by other audiences
Includes content specific to treatment modalities
Include how content may apply to Macro level social work
Emphasizes activities such as group discussion, vignettes, and case studies
Include content that demonstrates respect, appreciation and knowledge of current diversity, inclusion, and equity issues related to the topic.
Application Deadline: Please complete and submit the application before 5:00pm on Tuesday, May 31, 2022
Presenter Benefit: Presenters receive complimentary conference registration.
Contact: Cheryl Raynak at craynak.naswca@socialworkers.org