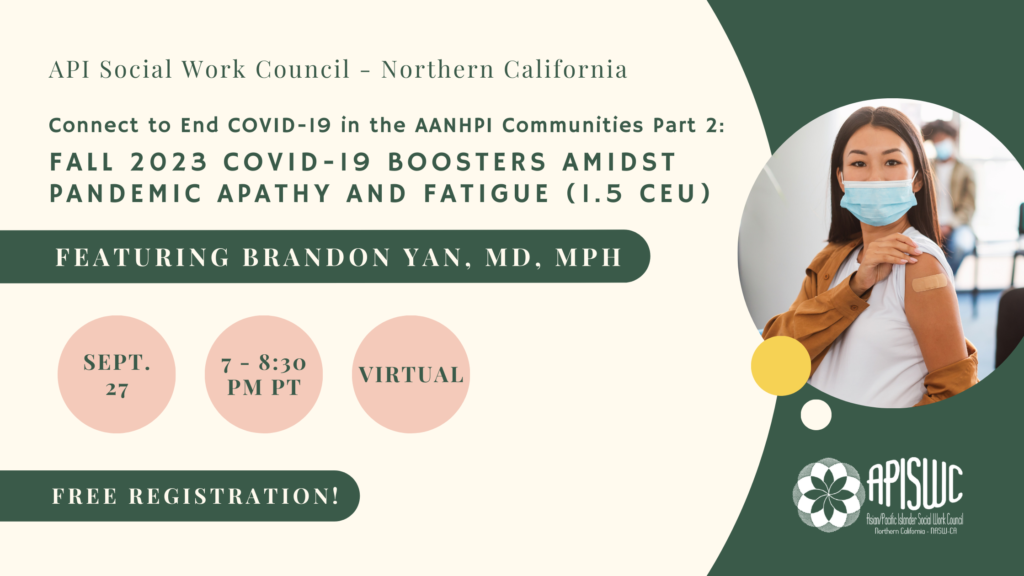 The API Social Work Council Northern California invites you to a free continuing education webinar on effective outreach and educational intervention strategies for the Asian American Native Hawaiian and Pacific Islanders (AANHPI) community. This second installation of our two-part webinar series is centered around the rollout of Fall 2023 COVID-19 Boosters and highlights the work of Brandon Yan, MD, MPH, a resident physician in the UCSF Department of Medicine and his groundbreaking research on pandemic health disparities impacting API communities.
The Connect to End COVID-19 initiative aims to provide accurate information to social workers about COVID-19 and the COVID-19 vaccines, including its safety and effectiveness, barriers to vaccination, and the role of social workers in supporting informed decision making.
Learning objectives:
Foster research-informed awareness of COVID-19 disparities impacting API communities
Acquire up-to-date information about Fall 2023 COVID-19 Boosters and their importance in light of pandemic fatigue
Learn best practices for promoting vaccine awareness and uptake among API communities
About the Presenter:
​Brandon Yan, MD MPH is a resident physician in the UCSF Department of Medicine dedicated to providing high-quality clinical care and bringing evidence to health policy reform. He earned his MD at the UCSF School of Medicine and trained in policy anaglysis and public health at Duke and Harvard, respectively. Brandon's academic pursuits broadly investigate how public policy can help improve healthcare access, value, and equity. Cited in major media including the SF Chronicle, LA Times, US News & World Report, Newsweek, and KRON4 News, his publications include those on COVID-19's impact on Asian Americans, Medicare Accountable Care Organizations (ACOs), cost-effectiveness of heart failure treatment guidelines, U.S. elections and mental health, and the Affordable Care Act's Medicaid expansion. His research was the first to uncover why reduction in deaths from Medicaid expansion did not translate into reduction in population mortality. He led some of the first work on COVID's impact on Asian Americans that went on to impact public policy at local, state, and national levels. Brandon further consults on public health policy.
Please contact Jane Kim at jkim.naswca@socialworkers.org with any questions.
CEU Provider Statement: Course meets the qualifications for 1.5 hour of continuing education credit for MFTs, LPCCs, LEPs and/or LCSWs as required by the California Board of Behavioral Sciences, provided by NASW-CA.
Chapter Event Policy: NASW-CA is dedicated to providing a harassment-free experience for everyone, regardless of gender, gender identity and expression, age, sexual orientation, disability, physical appearance, body size, race, ethnicity, religion (or lack thereof), nationality, level of experience or technology choices. We do not tolerate harassment of program participants in any form, nor do we tolerate behavior that would reasonably lead to another participant being made to feel unsafe, insecure, or frightened for their physical or emotional well-being. All communication should be appropriate for a professional audience. Program participants, vendors, and stakeholders, violating these rules may be expelled from the program without a refund at the discretion of the conference organizers. By registering, you are agreeing to follow the code of conduct at NASW-CA virtual events.
The Connect to End COVID-19 initiative is supported by the Centers for Disease Control and Prevention of the U.S. Department of Health and Human Services as part of a financial assistance award totaling $3.3 million with 100 percent funded by CDC/HHS. The contents are those of the author(s) and do not necessarily represent the official views of, nor an endorsement by, CDC/HHS, or the U.S. Government.