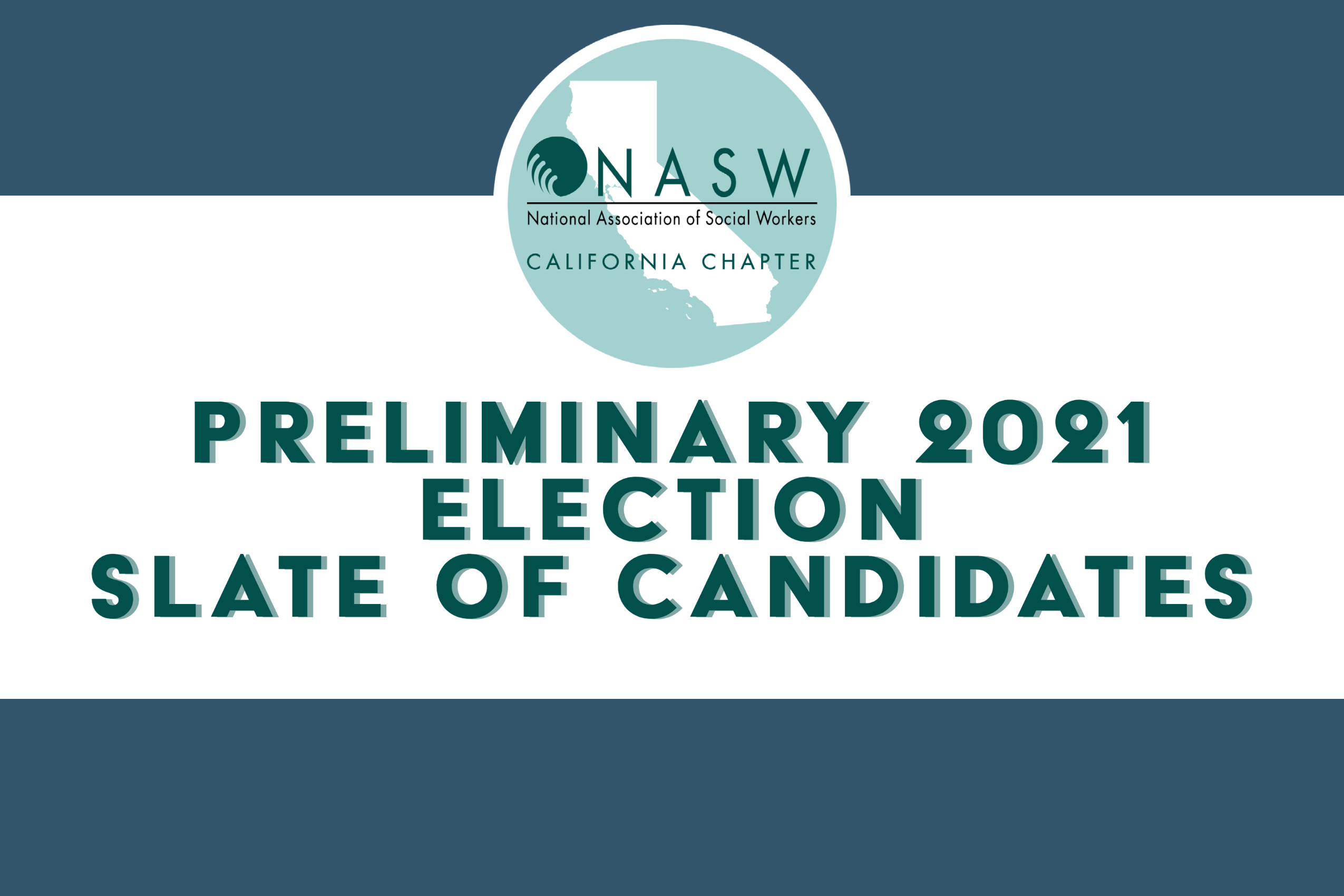 The Chapter Committee on Nominations and Leadership Development (CCNLI) announces the following election slate for the 2021 California Chapter Elections. Elections will be held in April.
Members nominated but not selected by the CCNLI who are interested in petitioning the CCNLI to be placed on the ballot should follow the petition process described below the slate.
First Vice President
Jennifer Vallejo
Elisa Lewis
VP Professional Development
Melissa Castro
Philip Chang
VP Finance
Kristine Kwok
Director Region B
Carlos Bejarano
Director Region F
Melissa "Elle" Ortega
Director Region H
Ahmanise Sanati
Assistant Director Region A
Daniel Mango
Assistant Director Region C
Briahn Badelle
Assistant Director Region G
Stephanie Cotcher
Jacqueline Rousseaux-Pershing
Assistant Director Region I
Deborah Villanueva
Julia Romero
Student Director N (BSW)
Rio Bauce
Miranda Johnson
Student Director S (MSW)
Chloe DePledge
Alexa Hernandez
Delegate Assembly (MAL)
Mike Foster
Brian Kaufman
Nida Khalil
Peggy Polinsky
Christina Paddock
Patrick Mace
Delegate Assembly (A)
(No Candidates)
Delegate Assembly (B)
Carlos Bejarano
Delegate Assembly (C)
Prem Pariyar
Delegate Assembly (D)
Alicia Dienst
Delegate Assembly (E)
(No Candidates)
Delegate Assembly (F)
Linda Sewerbridges-Williams
Delegate Assembly (G)
(No Candidates)
Delegate Assembly (H)
Hector Palencia
Ahmanise Sanati
Delegate Assembly (I)
Julia Romero
CNLI Chair
Chisato Hotta
CNLI Regions A & C
(No Candidates)
CNLI Regions G, H, & I
(No Candidates)
Election Schedule:
January 30 – Slate Presented (Petitions due, if any, 30 days after slate is presented – March 2, 2021)
March 1 – Ballot statements and photos due
April – Election 
May – Election Results Announced
June – New leaders invited to June BOD meeting
Un-slated nominees wishing to petition to be added to the slate shall contact the NASW-CA Executive Director Deborah Son (dson.naswca@socialworkers.org) for instructions.  Deadline to submit petitions must be within 30 days of this slate being posted.