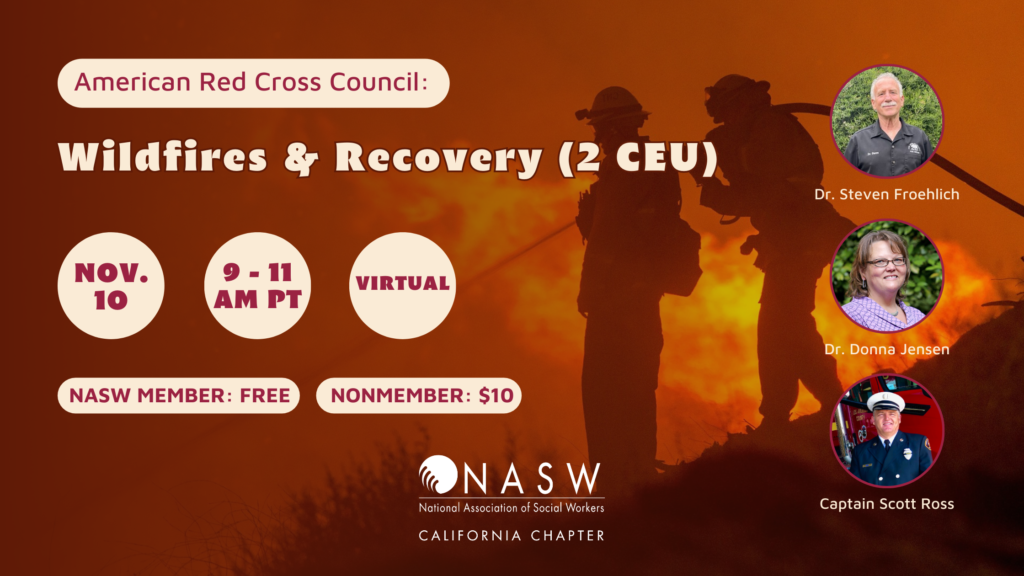 Wildfires have increased in communities throughout the world. Loss of life, property and destruction of communities takes a physical and mental health toll. Recovering from these traumatic events is essential to the behavioral health of individuals and communities alike. This workshop will address two vulnerable populations with wildfires: seniors, and first responders. Case examples, ways to assess risk, and specific disaster mental health tools will be presented for these populations.
Learning objectives:
Identify ways wildfires affect mental health and physical health
Implement tools to gather information, assess risk and prioritize assistance
Learn skills in emotional support and crisis intervention following fires
Identify specific populations for risk with case examples: older adults/disabled persons, and first responders
Provide a basic overview of common senior behavioral and physical health challenges and available treatment options
Describe behavioral health issues and cultural competencies typical of fire service professionals
Information on Peer Driven, Mental Health Guided behavioral health program for the Fire Service Culture and available treatment options.
Fees:
NASW Member: Free
Nonmember: $10
NASW members are required to include their Membership number during registration checkout to receive the member rate. Non-members must write "n/a" in the Membership number section during registration checkout. NASW-CA will verify your membership after registration.
Not a NASW Member? Join the largest association for social workers to access more exciting opportunities and great member benefits: www.joinnasw.org.
Please contact Robin Siegal, LCSW at robin.siegal@gmail.com with any questions.
About the Presenters:
Dr. Donna Jensen is the Chair and associate professor in the Gerontology Department at California State University, Sacramento. Her practice and research with older adults are extensive. She has been a long-term Red Cross Disaster Mental Health Services volunteer. Dr. Jensen's current research examines resilience in Older Adults after the devastating 2018 Camp Fire in Butte County which initially killed 85 people, 55 of whom were older adults. In 2014, the California Chapter of the National Association of Social Workers selected Donna Jensen as the Social Worker of the Year.
Dr. Steven Froehlich serves as Director of Behavioral Health and Lead Clinician, Local 1014 & The Los Angeles County Fire Department. He has an extensive career in the behavioral health care needs of firefighters and their families. He has led numerous trainings on Critical Incident Stress Management, Peer-Support, and various Mental Health topics relevant to the Emergency Service Professions (i.e., Fire, EMS, Police, FBI). Dr. Froehlich has also been deployed on major fires throughout California and other states.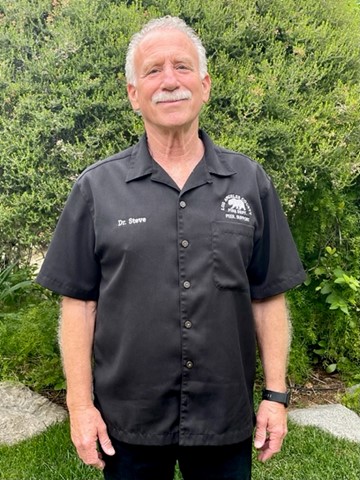 Captain Scott Ross is an active duty Fire Captain with the Los Angeles County Fire Department with over 30 years working in the fire service. Captain Ross leads the LA County Fire Department's 200 member Peer Support Team. As Peer Support Coordinator, Captain Ross oversees a team that serves over 3,200 Firefighters, 700 Lifeguards and over 1,000 civilians. He is a respected trainer, consultant, presenter, and advocate for Peer Support programs nationwide.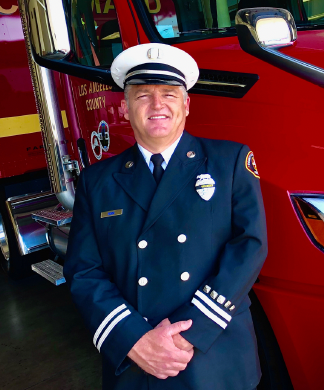 CEU Provider Statement: Course meets the qualifications for 2 hours of continuing education credit for MFTs, LPCCs, LEPs and/or LCSWs as required by the California Board of Behavioral Sciences, provided by NASW-CA.

Chapter Event Policy: NASW-CA is dedicated to providing a harassment-free experience for everyone, regardless of gender, gender identity and expression, age, sexual orientation, disability, physical appearance, body size, race, ethnicity, religion (or lack thereof), nationality, level of experience or technology choices. We do not tolerate harassment of program participants in any form, nor do we tolerate behavior that would reasonably lead to another participant being made to feel unsafe, insecure, or frightened for their physical or emotional well-being. All communication should be appropriate for a professional audience. Program participants, vendors, and stakeholders, violating these rules may be expelled from the program without a refund at the discretion of the conference organizers. By registering, you are agreeing to follow the code of conduct at NASW-CA virtual events.

NASW-CA Refund Policy: To receive a refund, requests must be emailed to naswca@socialworkers.org at least one (1) week prior to the event date. No refunds granted after the event, no exceptions. This policy also applies to group registrants. The refund for group registrations will go directly to the original payer of the registration fee. Refunds may take up to 10 days to process. If attendees pay with a credit card, the refund will be made to the same card. If attendees pay with a check, the refund will be made by check to the person or organization that originally paid for the registration.