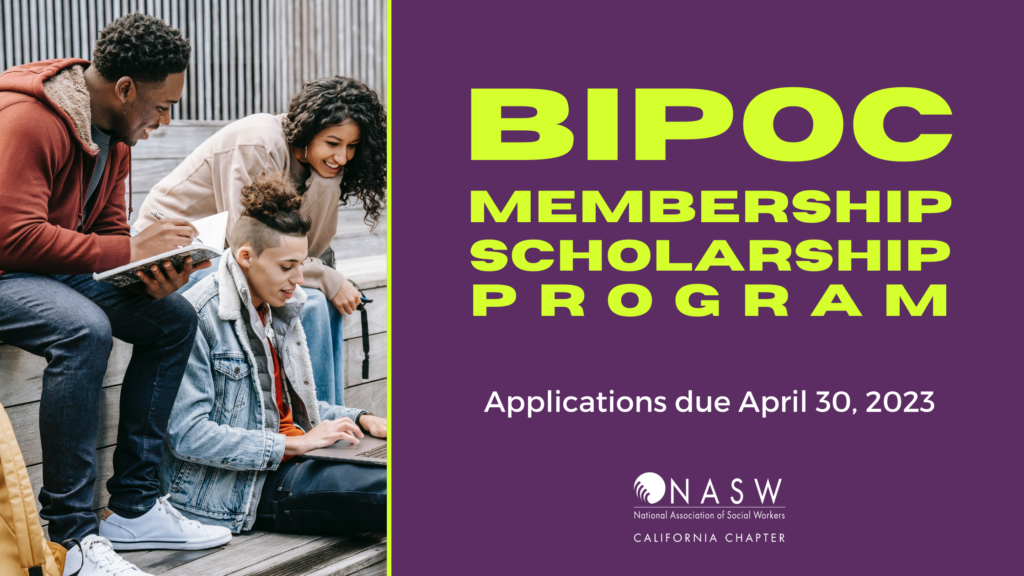 Last year, NASW-CA and its Diversity and Inclusion Committee launched the BIPOC Membership Scholarship Program to support and uplift the diversity of voices collectively leading the California Chapter. The scholarship covered a year of full membership dues for 20 social work students, professionals, and retirees who identify as Black, Indigenous, and Persons of Color (BIPOC). We received over 100 applicants in 2022, and our Diversity & Inclusion Committee took on the challenging task of selecting awardees from the pool of applications.
We are proud to announce that the application for the 2023 BIPOC Membership Scholarship is now open and that, this year, we are doubling the scholarship program award! The 2023 program will cover membership dues for 40 BIPOC identified social work students, professionals, and retirees who would like to be more deeply involved and engaged in the California Chapter's efforts, such as our professional development programming, our advocacy for social justice causes statewide, and other leadership opportunities within our association.
NASW-CA is committed to supporting the pipeline through which we are able to engage more BIPOC social workers who help break barriers and uplift individuals, families, communities, and our world. We are excited to collaborate with you to encourage diversity and engagement with our organization and profession, and we invite you to consider applying to join the largest Chapter of the National Association of Social Workers.
Applications are due April 30, 2023.
Please contact naswca@socialworkers.org with any questions, and please help to uplift this effort by sharing it widely with your networks. Download or print the 2023 BIPOC Membership Scholarship Program flyer to spread the word.