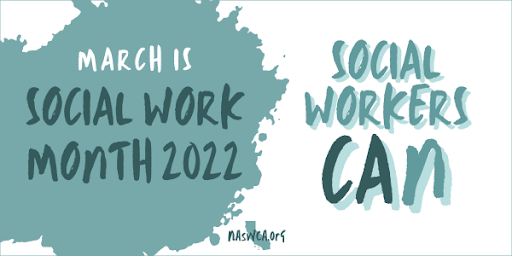 March is Social Work Month, and we're ready to celebrate.
This year's Social Work Month theme, "The Time is Right for Social Work," could not be more relevant to our profession. There are nearly 720,000 social workers in the United States, and nearly 80,000 in California alone. That number continues to grow as helping professionals are stepping up to serve and advocate for communities in need, fight for social justice, and educate the next generation of change-makers in our nation.
In California, we are taking this theme one step further by launching the "Social Workers CAN" campaign. Throughout March and beyond, we will be celebrating California social workers, the diverse roles they represent, and the stories that lead us to this field. From advocacy, to education, to leadership, to therapeutic settings and beyond, CA social workers are on the frontlines of social change. We are proud to honor and uplift their contributions at this pivotal time in history for our profession.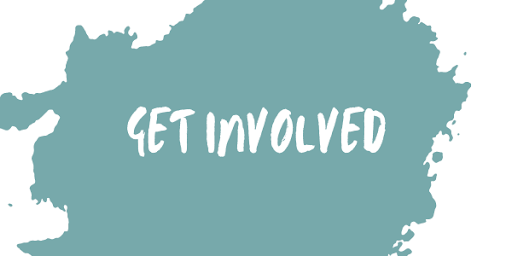 View instructions for uploading a Zoom background here, and be sure to to click "Mirror My Video" so text displays correctly on the screen.
---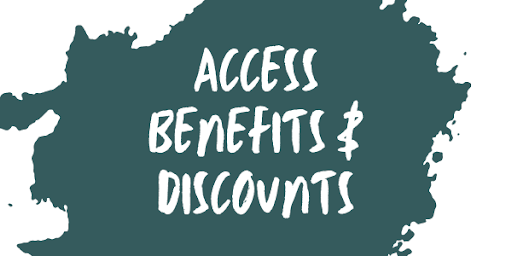 Social Work month is a time to celebrate our profession and the members that drive our association. Take advantage of the following events, discounts, and opportunities to connect with others in the field.
Social Work Month Discounts
---
Social Work Month Events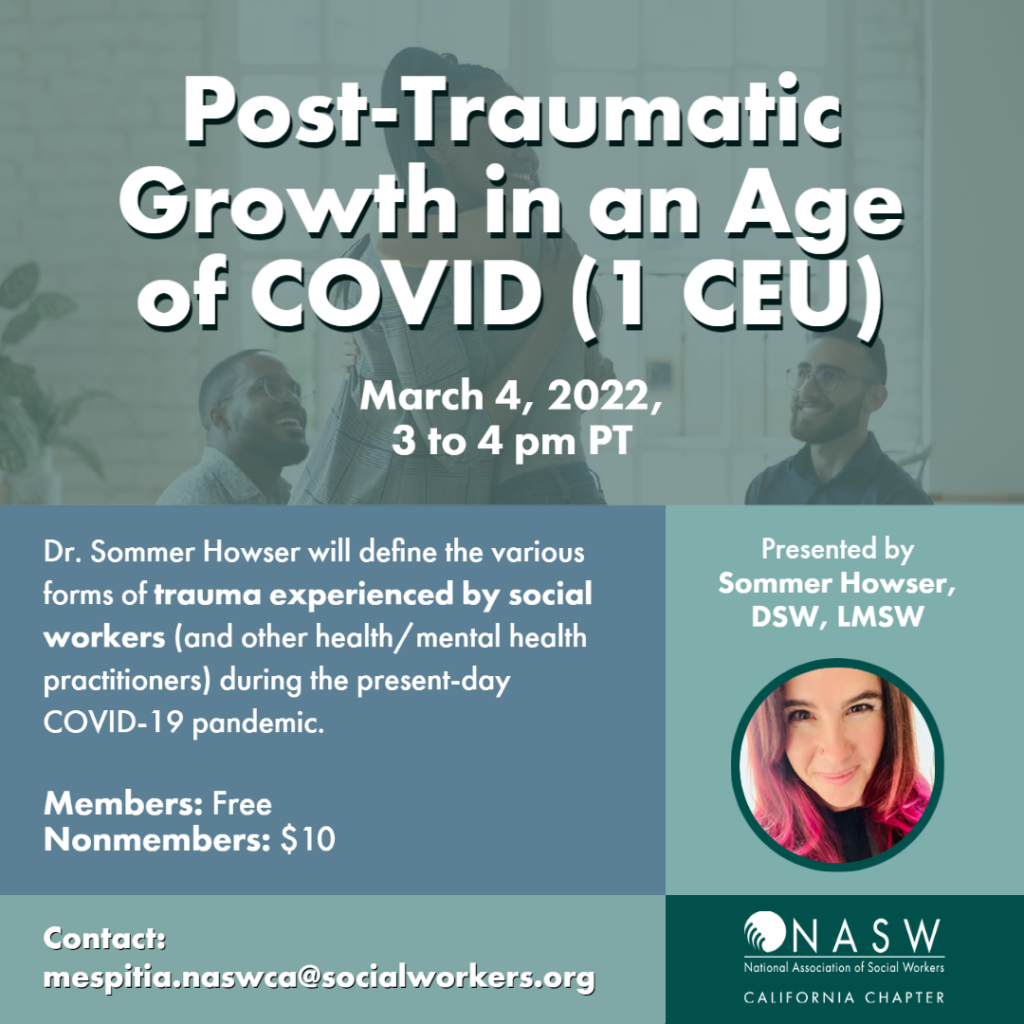 Post-Traumatic Growth in an Age of COVID – March 4, 3PM PST
Kick off Social Work Month 2022 by joining us for a presentation by Dr. Sommer Howser. Gain understanding of post-traumatic stress disorder versus post-traumatic growth and learn how to implement trauma stewardship in your daily life. Free for members, $10 for non members. 1 CEU provided.
Inland Empire Annual Social Work Month Celebration – March 7, 6PM PST
All social workers are welcome to join Region F for a virtual evening exploring this year's Social Work Month theme, "The Time is Right for Social Work," presented by Dr. G. Victoria Jackson and Dr. Craig R. Jackson. $10 for members, $40 for non members, $5 for students. 1.5 CEU provided.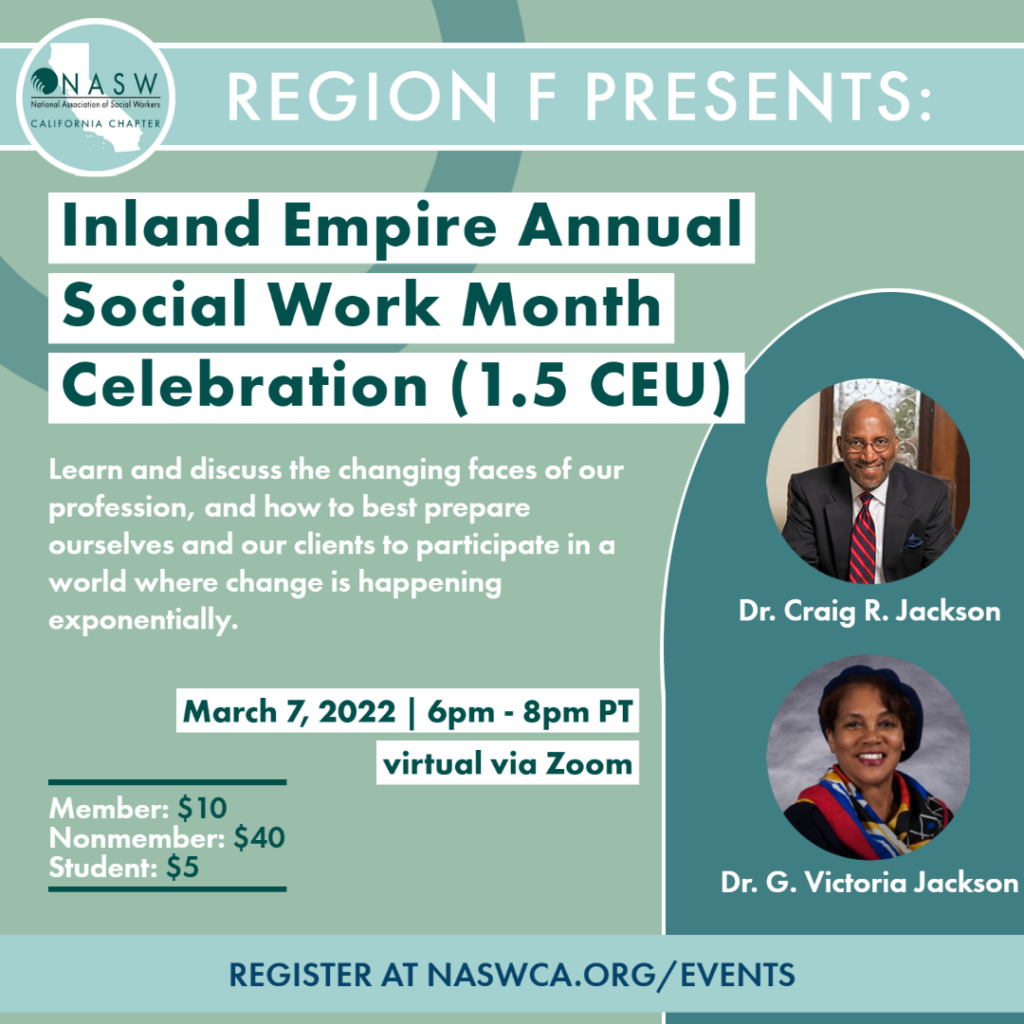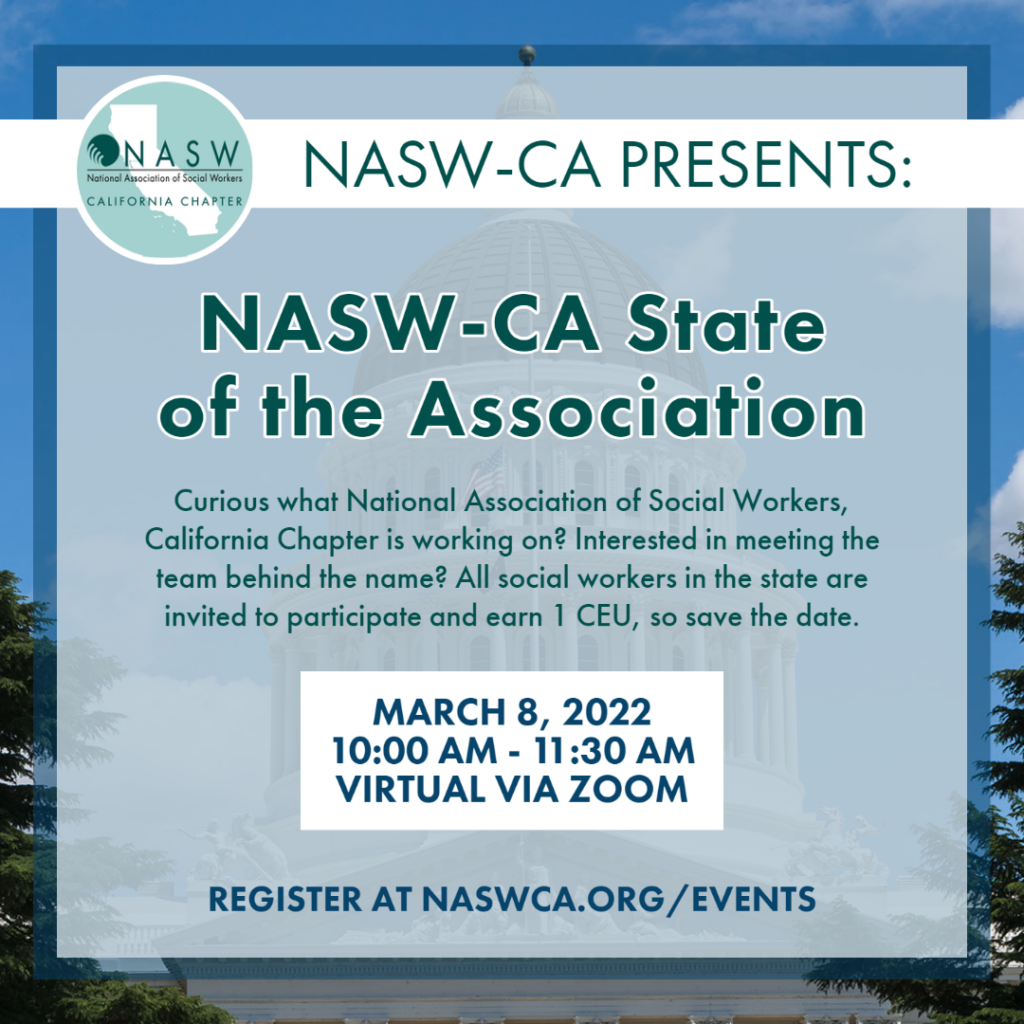 State of the Association – March 8, 10AM PST
Join NASW-CA chapter staff, Board Members, and Regional Leaders to learn about what's new at the Chapter, benefits available to members, and how you can get more deeply involved in advocating for social justice alongside us. Free to attend, 1 CEU provided.
BIPOC Social Worker Support Group – March 24, 6PM PST
NASW-CA welcomes you to our quarterly Black, Indigenous, and People of Color (BIPOC) support group for social workers. This is a safe space for conversation about common experiences and challenges that arise for BIPOC social workers within their personal and professional lives. Free to attend.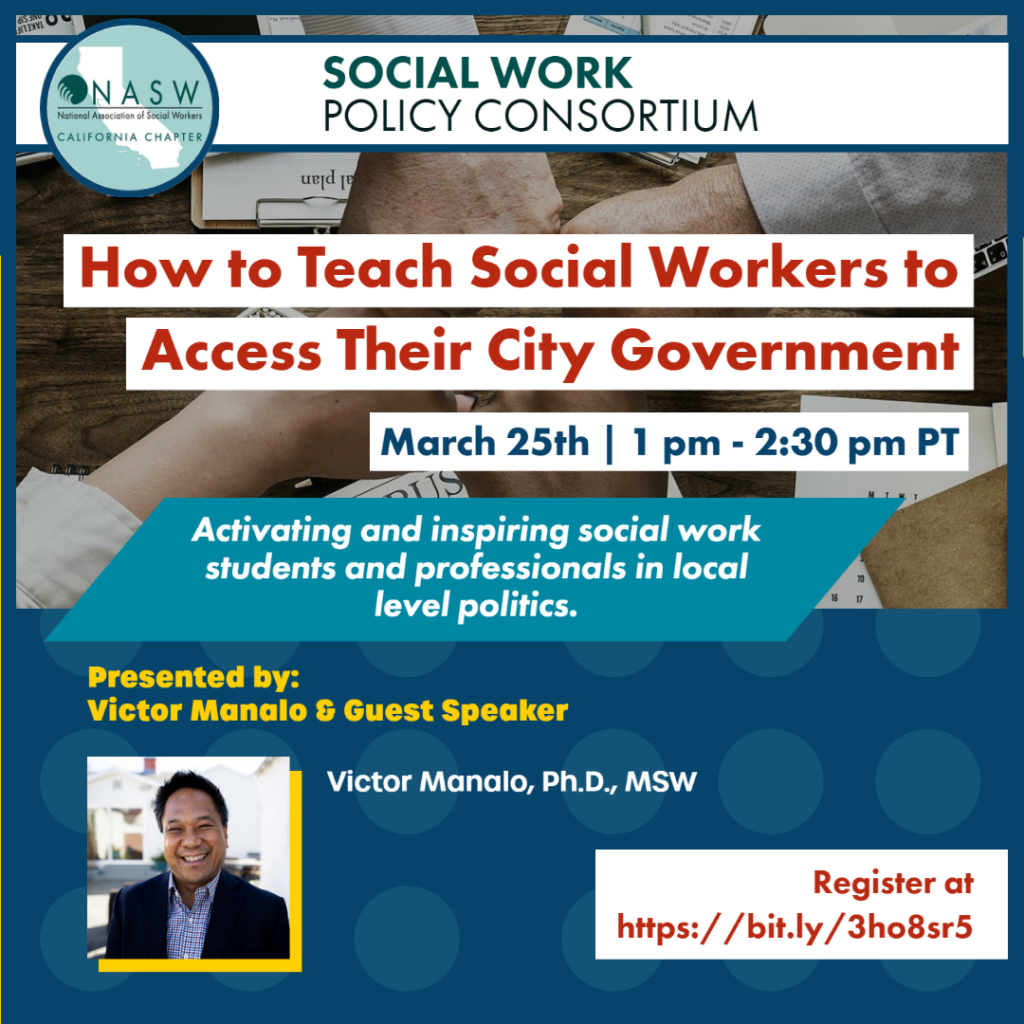 Social Work Policy Consortium: Teaching Social Workers to Access Their City Government – March 25, 1PM PST
This consortium will activate and inspire social work students and professionals in local level politics, and will be hosted by Victor Manalo, Ph.D., MSW and a guest speaker. Learn about local political issues, assignment samples to use in the classroom, and how to teach social workers to maximize their impact with local leaders. Free to all.
Yoga For Social Workers – March 25, 3PM PST
The time is right for social work, the time is always right for self-care, healing, and growth! Dr. Sommer Howser returns for Social Work Month to guide us through an hour of trauma-informed yoga practice. Learn skills that you can use in your daily life to support and nurture your body, mind, and spirit. Free to members, $10 for non members.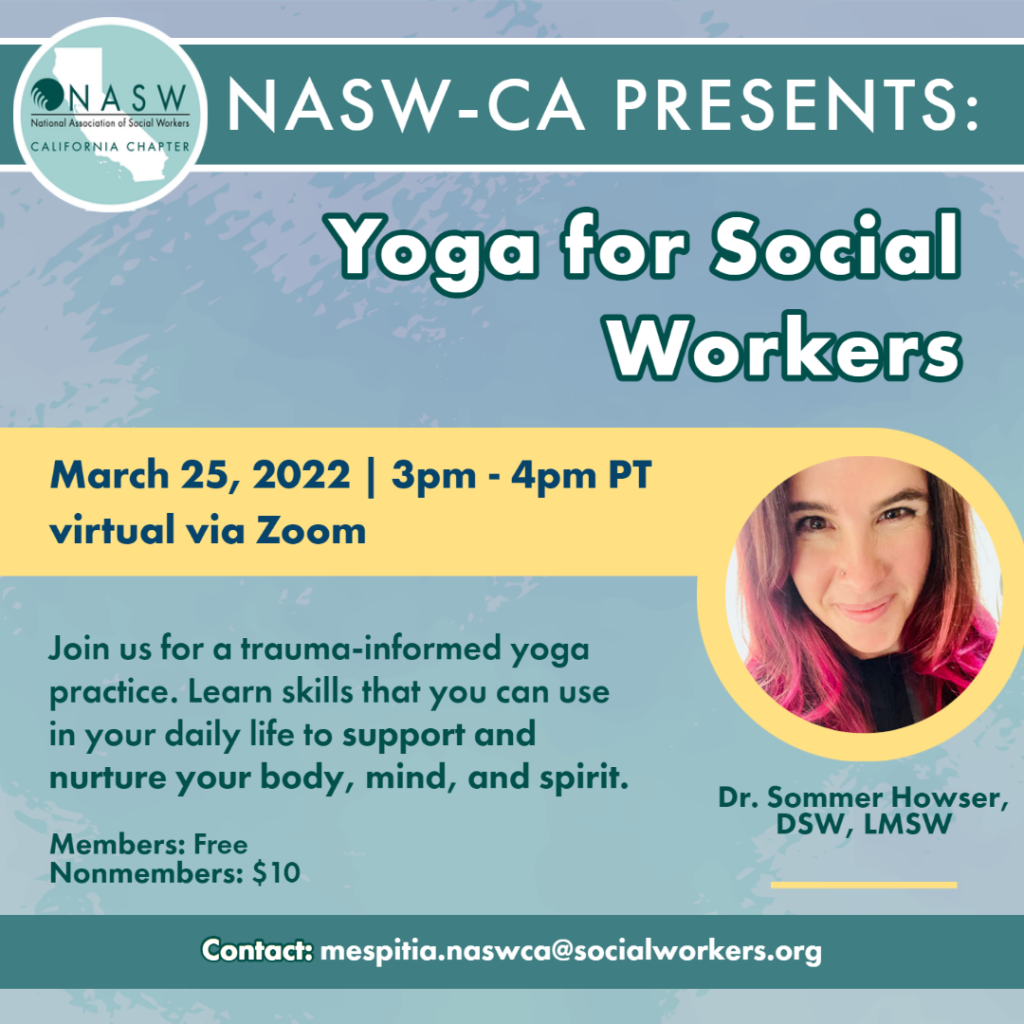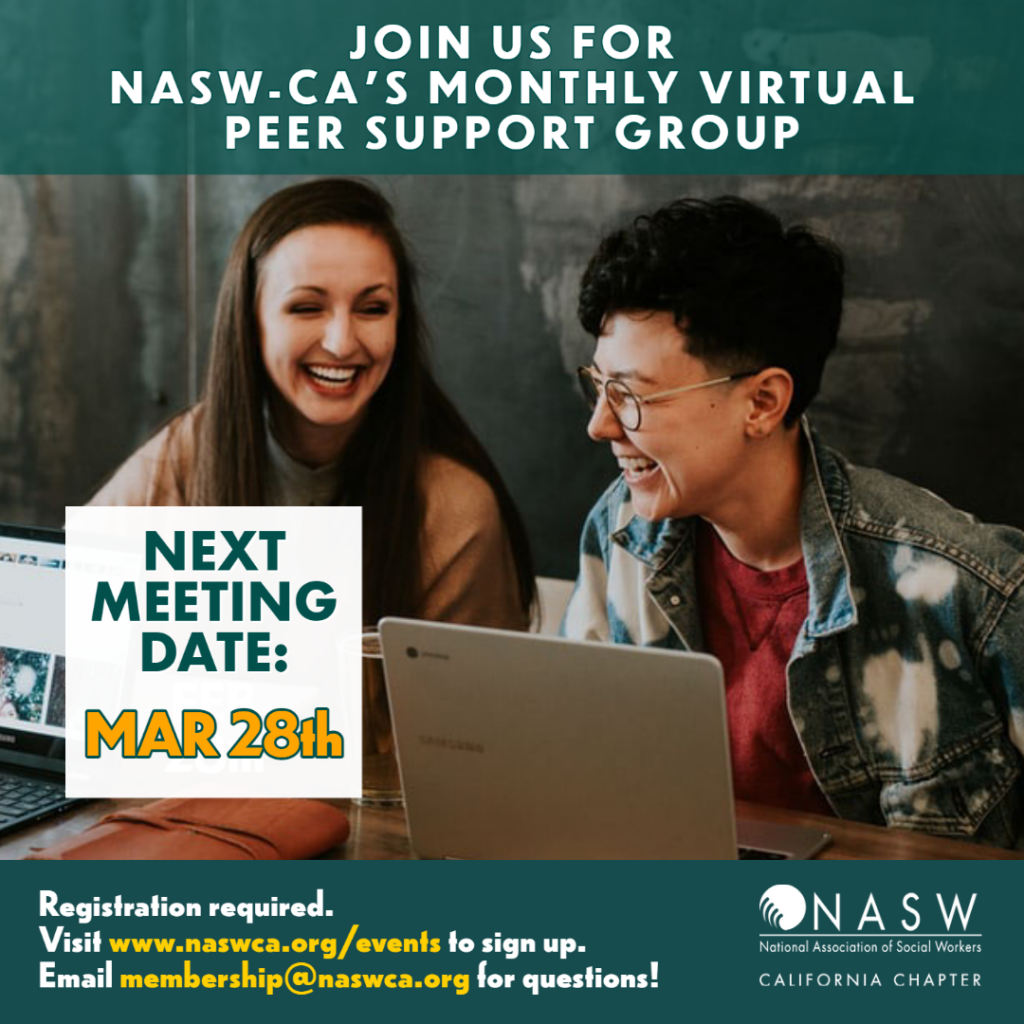 Monthly Virtual Peer Support Group – March 28, 7PM PST
If you would like to meet fellow Social Workers, have career-related questions, or are looking for a space to discuss anything Social Work related, you are in the right place! Whether it's professional, personal, or juggling the two, we are here for you every month for professional and/or peer support. Everyone is welcome to join, regardless of the area you are in! Free to all.
We look forward to celebrating with you this month and beyond. Thank you for your service to and interest in our diverse field.