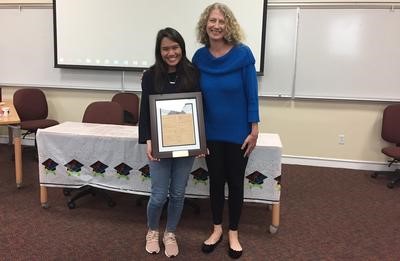 Infographic Contest winner Jo Chriselle Viray of USC is pictured with Tina Paddock, head of the NASW-CA Image Council.
Congratulations to Jo Chriselle Viray, the winner of the 2017–18 CalSWEC Infographic Contest!
Viray, an MSW student at USC, received $250 and her framed winning infographic depicting the contest topic "Key Moments and Milestones in U.S. Social Welfare from 2010 to 2017." Her winning entry is posted on CalSWEC's new website in the Infographics section under Resources.
The contest, held in February, was sponsored by CalSWEC in partnership with the Image Council and Technology Council of NASW-CA. The winning entry was announced April 20 at the CalSWEC Title IV-E Summit in San Mateo.
For those who are unfamiliar with infographics, this is a form of data visualization expressed in a single-page format as graphs, images, visual stories, timelines, or other representations that makes the information compelling and memorable.
Special thanks to all the contest entrants for their great submissions, the panel of judges from NASW–CA and CalSWEC, and the Image and Technology Councils for funding the award.
Questions? Please contact Christopher Cajski at: calswec_tech@berkeley.edu.