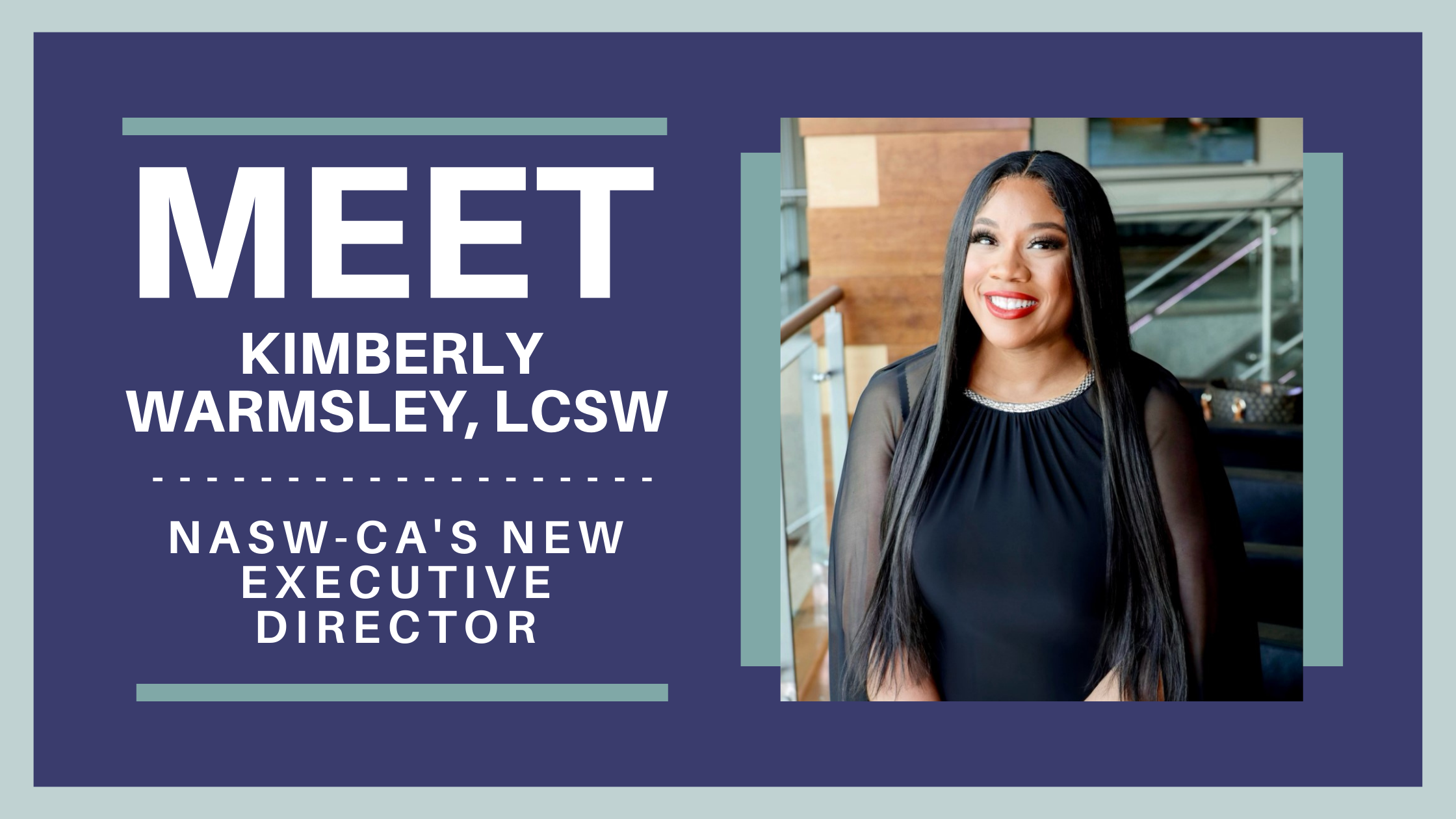 NASW California Chapter is excited to announce our new Executive Director, Kimberly Warmsley, LCSW (she/her)! Kimberly assumed the Executive Director role starting May 15, 2023. Please join us in giving Kimberly a warm welcome as we share her background and history with you.
Kimberly Warmsley is an Licensed Clinical Social Worker, advocate, transformative leader and social justice advocate born and raised in South Stockton. Kimberly's mother is a public health advocate, and her father is a US veteran. Kimberly has extensive experience as a medical social worker, trauma-informed practitioner, policy influencer, and organizer. She has worked collaboratively with various community-based organizations and held many positions on sitewide steering committees, local commissions and grassroots movements working collectively to improve people.
Kimberly graduated from CSU Stanislaus (Class of 2009) with her master's degree in social work and obtained her bachelor's degree in (2005) in Sociology.
As a policy influencer, she has worked at the helm of many historical, social justice movements, such as the country's first guarantee income study, the transformative healthy community's initiative, Stockton's Status of Women Report, while ensuring equity and inclusion policy setting opportunities in regard to BIPOIC communities during the global pandemic. Growing up in one of the county's most impoverished communities, Kimberly has formulated the lessons and strategies she has endured as a survivor, professional, and clinician into comprehensive policy implementation for all.
"As the Director of the California NASW, I am truly honored and humbled. I am committed more than ever to the empowerment of social workers and vow to transform the profession into a more effective and inclusive force for change. With years of experience in the field, I bring a unique perspective to the role, driven by the belief that every person deserves to live in a just and equitable world.
I am committed to promoting best practices and advocating for policies that protect our vulnerable communities. My leadership style emphasizes collaboration, innovation and a relentless focus on results. Above all, I am passionate about building stronger communities and ensuring that social workers have the tools and support they need to create lasting positive change within the world. We live in critical times, and mental health and wellness require real solutions. We can and will create a more fair, just, and equitable world for all".
You can reach Kimberly at kwarmsley.naswca@socialworkers.org.