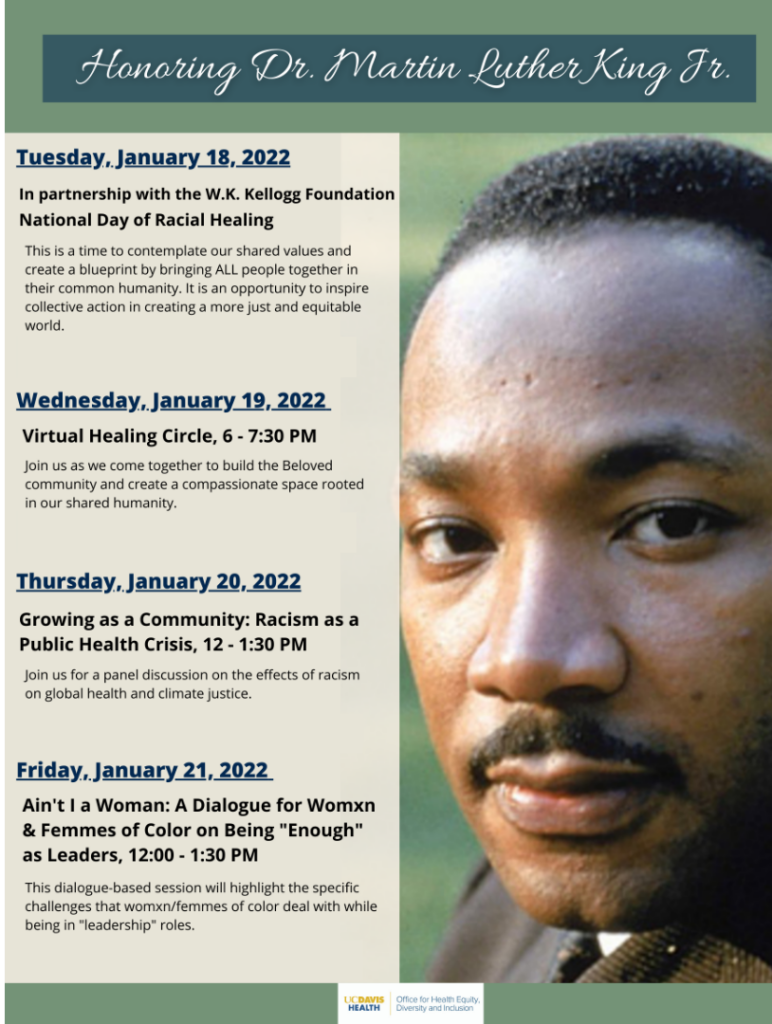 In honor of Dr. Martin Luther King Jr., beginning on January 18th, the UC Davis Office for Health Equity, Diversity, and Inclusion will be hosting a number of events aimed at building The Beloved community. The National Day of Racial Healing offers us an opportunity to reflect upon the principles set forth by Dr. King. We welcome all to join us as we learn from our shared humanity to address the historic and contemporary effects of racism. 
Tuesday, January 18 | 12 pm PST
National Day of Racial Healing: In partnership with the W.K. Kellogg Foundation. This is a time to contemplate our shared values and create a blueprint by bringing ALL people together in their common humanity. It is an opportunity to inspire collective action in creating a more just and equitable world.
---
Wednesday, January 19 | 6 pm – 7:30 pm PST
Virtual Healing Circle: Join us as we come together to build the Beloved community and create a compassionate space rooted in our shared humanity.
---
Thursday, January 20 | 12 pm – 1:30 pm PST
Growing as a Community – Racism as a Public Health Crisis: Join us for a panel discussion on the effects of racism on global health and climate justice.
---
Friday, January 21 | 12 pm – 1:30 pm PST
Ain't I a Woman – A Dialogue for Womxn & Femmes of Color on Being "Enough" as Leaders: This dialogue-based session will highlight the specific challenges that womxn/femmes of color deal with while being in "leadership" roles.
A shareable PDF is available below:
https://naswcanews.org/wp-content/uploads/2022/01/Week-of-Racial-Healing-2022.pdf