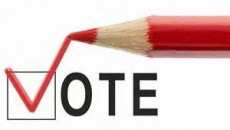 A reminder that voting for the NASW 2018 Election has begun!
Your electronic was sent to your email address on record. Voting ends on Friday, May 25, 2018.
In order for your vote to be counted, your completed ballot must be submitted by 8:30 pm EDT on May 25. It only takes a few minutes to vote online!
For candidate biographies, platform statements and to vote directly through the NASW website go to:
https://www.socialworkers.org/about/governance/national-elections/2018-nasw-national-election-slate